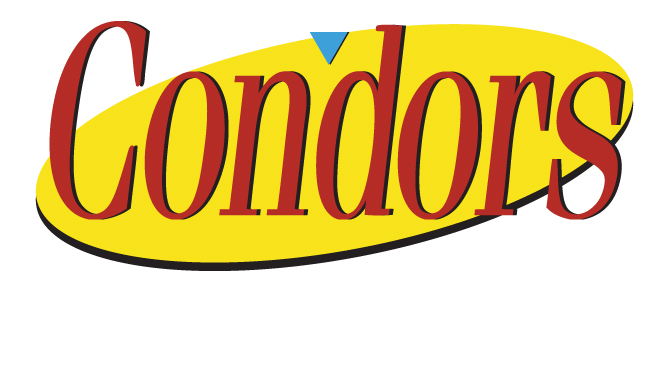 Seinfeld Puffy Shirt Jerseys on Nov. 16
CONDORSTOWN, Calif.
– The Bakersfield Condors, owned by the Edmonton Oilers, announced today that the team will wear special 
"Puffy Shirt"
 jerseys on Sunday, Nov. 16 in honor of the 25th Anniversary Year of the first Seinfeld episode. These specialty jerseys are part of an entire Seinfeld-themed game night event.
And in case you were wondering, the jerseys are real … and they're spectacular.
About the jerseys:
The name bars will feature characters from the show instead of the players' actual surnames. 20 names confirmed for the evening:
Jerry, George, Kramer, Newman, Frank Costanza, Puddy, J. Peterman, Steinbrenner, Morty Seinfeld, Uncle Leo, Art Vandelay, Kenny Bania, Lloyd Braun, Jackie Chiles, Crazy Joe Davola, Mandelbaum, Bubble Boy, Keith Hernandez, Mickey Abbott, Assman
Suggestions for the "final five" names (must be related to the show) on the jerseys are now being accepted on the team's Facebook, Twitter, and Instagram accounts. Or you can email them tocondors@bakersfieldcondors.com and your suggestions may just end up on a sweater!
Of course, these jerseys would not be possible without the support of our great sponsors, featured prominently on the backs: Vandelay Industries, Pendant Publishing, Kramerica, Del Boca Vista, and "RESTAURANT."
The jerseys will be auctioned off for the M.A.R.E. Riding Center in Bakersfield. PLUS everyone in attendance will have a chance to win one of five to be given away. M.A.R.E. stands for Mastering Abilities Riding Equines and provides therapeutic equine assisted activities for the benefit of people living with special needs and disabilities. For more information, click here. Just please do not feed the horses beef-a-reeno.
Condors jersey auctions have raised a remarkable 
$894,893
 for various local charities in Bakersfield and Kern County in their history.
About the night: 
OPENING WEEKEND IS OCTOBER 17 & 18 … THAT'S SOON!
Condors ticket plans to the most affordable family fun in Bakersfield are on sale now ensuring you get to take home the best giveaways and promotions. Fantastic ones have already been announced. Click here to download the listing. Huge savings on box office pricing, discounted parking, exclusive access to VIP events, early entry for desired giveaways into all Condors games and much much more! Check out our mini-plans as well, with plans to fit every lifestyle. Click here or contact the team's front office at 324-PUCK (7825).
JUMP BACK ON BOARD AND GET 50 TICKETS TO JERSEY RALLY TOWEL GIVEAWAY! 
Had a Condors ticket plan in the past and looking to jump back on board? After the team's most successful season, the Condors are giving anyone who did not have a ticket plan in 2013-14 (but was a past season ticket holder), 50 tickets to Opening Night featuring a Condors Jersey Rally Towel Giveaway, simply by purchasing a full season ticket for the upcoming season. You can even purchase a mini-plan and receive 20 tickets to Opening Night!

Opening Night is just 44 days away on Oct. 17. 

Click here

 or call 324-PUCK (7825)
https://www.bakersfieldcondors.com/wp-content/uploads/2014/09/2014_09_01_seinfeldjersey.jpg
380
669
condors
https://www.bakersfieldcondors.com/wp-content/uploads/2023/06/BAK-Website-Header_2324.png
condors
2014-09-03 10:46:04
2014-09-03 10:46:04
Seinfeld Puffy Shirt Jerseys on Nov. 16