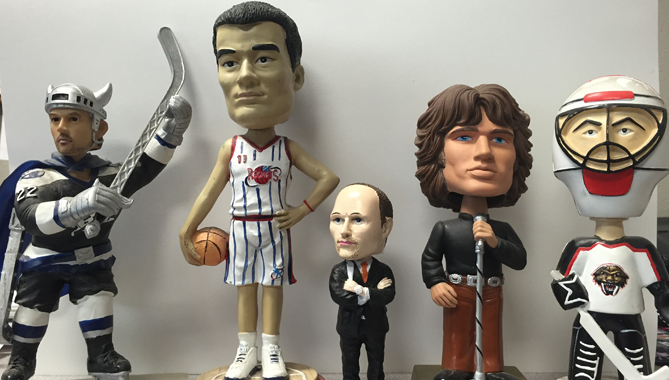 Top 5: Most Random Condors Office Bobbleheads
There are hundreds. We mean HUNDREDS of bobble-somethings in the Condors front office. Walk around and you'll see bobbleheads, bobblehips, bobblefists etc. If it bobbles, we have it. We have some really random ones as well. As a kick-off to a weekly series where we'll highlight certain things about hockey and Condorstown, here are the Top 5 most random bobble-somethings in the Condors front office:
This list is exclusively non-Condors, since most would expect a team's front office to have bobbleheads of the team. BUT what about these five? (Click the name to view it close up)
5. Pat Curcio, San Francisco Bulls – The Bulls came out swinging in their 16 months of existence and Curcio was their everything…literally.
He was the head coach, president, general manager, entertainer, pre-game host, game ops coordinator, and PR guy…. OK a few of those are made up, but we swear he was selling popcorn during intermissions as well. They did this bobblehead in year 2. It's small. Really small.
4. Tacoma Sabercats Goalie Bobble-Spring head – The Tacoma Sabercats were a team in the old West Coast Hockey League. This bobblehead is on a spring that bounces in all directions and it has to be an original style because the pads and equipment are painted on. Random? Yes. Awesome? Absolutely.
3. Yao Ming, Houston Rockets – This is the anti-Curcio. They probably cost roughly $20 to make and retailed for around $200. It's heavy and it's about a foot tall. It's the Rolls Royce of bobbleheads. It has his name on the base in English and Chinese. Phenomenal.
2. Jim Morrison, the Lizard King – Who remembers the Jacksonville Lizard Kings? This is how they got their name. Doors singer Jim Morrison graces the Condors front office. Completely random.
1. Dan Boyle the God of Thunder – Dan Boyle won a Stanley Cup with the Tampa Bay Lightning. He also was turned into a superhero apparently. This bobblehead comes complete with accessories including a cape and a viking helmet. It's not just a bobblehead. It's an action figure.
What are some of your random bobbleheads? Tweet to us @Condors and show us! We'll have another Top 5 list next week.
https://www.bakersfieldcondors.com/wp-content/uploads/2015/06/2015-06-11-Top-Five-Bobbles.jpg
380
669
condors
https://www.bakersfieldcondors.com/wp-content/uploads/2023/06/BAK-Website-Header_2324.png
condors
2015-06-12 08:55:08
2015-06-12 09:06:38
Top 5: Most Random Condors Office Bobbleheads