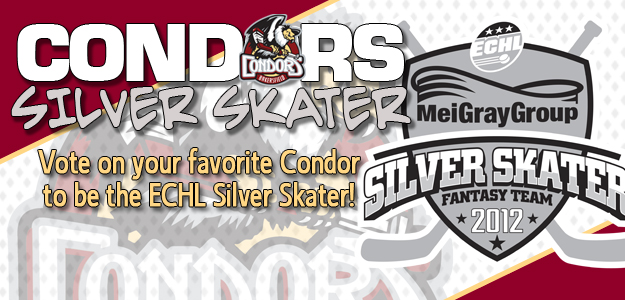 Voting is under way for the MeiGray ECHL Silver Skater Fantasy Team
PRINCETON, N.J. – The ECHL, in conjunction with The MeiGray Group, announced on Monday the opening of the fan ballot for the 2012 Silver Skater Fantasy Team.
In lieu of an All-Star Game this season, the ECHL and The MeiGray Group are giving fans the opportunity to vote for players to comprise the 2012 Fantasy Team. Two players from each member team will be selected to wear the Silver Skater Fantasy Team jerseys at a predetermined, upcoming home game.
Each ECHL team has preselected four players to appear on their team's ballot, while fans have the opportunity to also write-in a selection of their choice. The top two vote-getters on each team will wear a team jersey with adramatic and unique silver teamcrestand event patch during the designated dates.
Condors players on the ballot include RW Scott Freeman, F Robby Dee, F Peter Boyd and LW Jesse Gimblett.
Click here to view the complete 2012 Silver Skater Fantasy Team ballot.
Voting is now open on ECHL.com. Fans are limited to one ballot during the voting period, which runs until 11:59 p.m. ET on Sunday, Feb. 5. Fans can vote for up to one player on each ECHL member team's ballot before hitting the "Cast Vote" button at the bottom of the voting page. The results of the Silver Skater Fantasy Team voting will be announced the week of Feb. 20.
"The Meigray/ECHL partnership has brought our fans authentic game-worn jerseys for over a decade now, and we are excited to announce the new ECHL Silver Skater Fantasy Team Program," said Tara Crane, ECHL Vice President of Marketing & Licensing. "Fans will be involved now more than ever as they have the opportunity to select which players will make the Silver Skater Team and adorn the customized Silver Skater jersey, which will be limited to only two jerseys per team."
"Fantasy meets reality," said Barry Meisel, MeiGray President and COO. "The ECHL has done it again, thinking outside the box to give fans a new and exciting opportunity to tell us who the Silver Skaters should be. These are going to be very special, specialty jerseys – one of a kind."
Silver Skater jerseys will be available for bid starting Monday, March 5. A complete list of teams and auction dates will be announced at a later date. 
The selected Silver Skaters will wear the one-of-a-kind jersey per the game schedule below.
Silver Skater Jersey Schedule
Friday, Feb. 24
Bakersfield
Colorado
Kalamazoo
Saturday, Feb. 25
Alaska
Chicago
Cincinnati
Idaho
Trenton
Wednesday, Feb. 29
Florida
Friday, March 2
Elmira
Ontario
Toledo
Saturday, March 3
Greenville
Gwinnett
Reading
Stockton
Friday, March 9
South Carolina
Utah
Friday, March 16
Wheeling
Tuesday, March 20
Las Vegas
About The MeiGray Group
The leading distributor of game-worn hockey jerseys, The MeiGray Group sold more than 700 game-worn ECHL jerseys in 2010-11 and has sold more than 6,000 since it became "The Official Game-Worn Jersey Source of the ECHL" in 2002-03.
The MeiGray Group, which has sold more than 50,000 game-worn jerseys since its inception in 1997, partners with USA Hockey and directs the NHL-MeiGray Game-Worn Jersey Authentication Program. MeiGray Group also partners with the National Basketball Association.
https://www.bakersfieldcondors.com/wp-content/uploads/2012/01/2012-01-25-SIlver-Skater.jpg
300
625
condors
https://www.bakersfieldcondors.com/wp-content/uploads/2023/06/BAK-Website-Header_2324.png
condors
2012-02-04 15:07:33
2012-02-04 23:59:51
Voting is under way for the MeiGray ECHL Silver Skater Fantasy Team