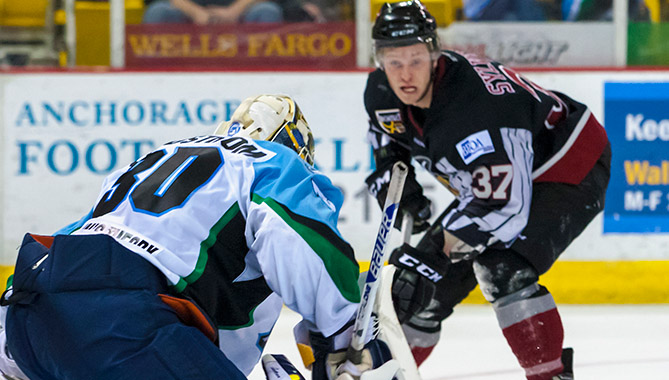 Watson scores in Condors loss to Alaska
ANCHORAGE- The Bakersfield Condors (14-12-1-2, 31pts), owned by the Edmonton Oilers, saw a two-goal lead evaporate in a 5-2 loss to the Alaska Aces (12-13-0-0, 24pts), on Friday night at Sullivan Arena.
FIRST PERIOD
CONDORS GOAL: C Ryan Watson (1) snapped a shot from the bottom of the right-wing circle. Assists: Kremyr, Menton; Time of goal: 17:49; BAK leads, 1-0
Shots: BAK – 11 | AK – 8
SECOND PERIOD
CONDORS GOAL: C Josh Currie (6) fired home a rebound after a shot hit the post.Assists: Schaber, Sylvestre; Time of goal: 1:55; BAK leads, 2-0
ACES GOAL: F Olivier Archambault (14) wrist shot from the slot. Assist: Bussieres; Time of goal: 4:08; BAK leads, 2-1
ACES GOAL: F Greg Wolfe (11) from the bottom of the left-wing circle on the power play. Assists: Archambault, Bussieres; Time of goal: 7:36; Game tied, 2-2
ACES GOAL: Archambualt (15) with his second on an individual effort twisting through defenders and sniping a shot under the crossbar. Assists: Hayes, Lundstrom; Time of goal: 9:12; AK leads, 3-2
Shots: BAK – 9 | AK – 6
THIRD PERIOD 
ACES GOAL: F Ryan Walters (1) broke in on a shorthanded breakaway. Assists: Wolfe, Syvret; Time of goal: :43; AK leads, 4-2
ACES GOAL: D Colten Hayes (4) with an empty-net goal. Time of goal: 19:59; AK leads, 5-2
Shots: BAK – 13 | AK -7
GOALTENDERS
BAK: Tuohimaa (23/19; 6-4-2)
AK: Lundstrom (38/36; 10-10-0)
CONDORS DROPPINGS:
Three Stars: 1. Archambault (AK) 2. Lundstrom (AK) 3. Wolfe (AK)
Final shots: BAK – 38 | AK -26
Power Plays: BAK – 0/5 | AK – 2/6
The Condors are now 4-3-0 against the Aces this season
F Cameron Abney fought in the first period, his second fight in a week since joining the team
C Josh Currie dropped the mitts in the second period for his first fight of the season; he has four goals in four games
C Connor Jones and LW Kellen Jones returned from the AHL tonight after spending the past week with Oklahoma City
Scratches: F Nick MacNeil, RW Brendan Brooks, D Corey Fienhage
NEXT HOME GAMES
The Condors finish the road trip on Saturday in Alaska. They return home for four straight and eight of their next 10 games. The Condors return to Rabobank Arena for two straight games after Christmas.
Friday, Dec. 26 vs. Stockton Thunder (7 p.m.)
Laptop Giveaway – everyone has the chance to win one of 10 HP Chromebook 14 laptops to be given away (sponsored by My45, La Caliente 96.9 and XIT Solutions)
Saturday, Dec. 27 vs. Stockton Thunder (7 p.m.)
The Hobbit Jersey Off Our Backs Raffle and Auction – the Condors will wear special Hobbit-themed jerseys, adorned with hobbits, dragons, fire and more! (sponsored by Eyewitness News)
Everyone has the chance to win one of five to be given away for free, we will auction off the rest for charity
2-for-1 admission – bring your Maya Cinemas ticket stub from a showing of the new Hobbit movie and get 2-for-1 admission
Click here for the complete promo schedule.
HOLIDAY 3-PACKS MAKE THE PERFECT GIFT FOR THE HOLIDAYS!
Save over 20% and choose ANY three games to attend the REMAINDER of the regular season. Computer Tablet Giveaway (Dec. 26), Cap Giveaway (Jan. 30), and the always popular Youth Jersey Giveaway (Feb. 21) are all available with the Holiday 3-Pack. Packages start as low as $30, so get yours today by calling 324-PUCK (7825) or
click here
.
https://www.bakersfieldcondors.com/wp-content/uploads/2014/12/2014-12-19-Slate.jpg
380
669
condors
https://www.bakersfieldcondors.com/wp-content/uploads/2023/06/BAK-Website-Header_2324.png
condors
2014-12-19 23:52:44
2014-12-19 23:52:44
Watson scores in Condors loss to Alaska