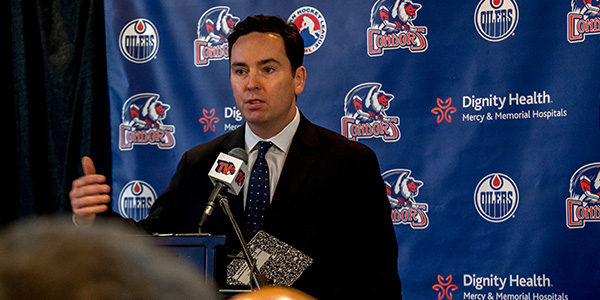 WOODCROFT INTRODUCED IN BAKERSFIELD
"I've had 13 years to prepare for this test and I've had some of the best teachers along the way. I took a lot of notes and I'm ready for this position."
That test, for new Bakersfield Condors Head Coach Jay Woodcroft, is taking the reins of an AHL franchise eager to have success on the ice.
"My mandate is clear," he said at a press conference officially introducing him to Bakersfield. "To develop players in a winning environment. We're going to make sure these players meet their full potential and when you do that, the rising tide floats all boats."
Woodcroft, 41, spent the past 13 seasons in the National Hockey League as an assistant coach with Detroit, San Jose, and most recently, the Edmonton Oilers. His resume includes a Stanley Cup Championship in 2008 with the Red Wings, three Presidents Trophies as the top regular season team, and five Western Conference top seeds.
He was introduced to the gathered media by Oilers Entertainment Group Chief Executive Officer Bob Nicholson, who had nothing but praise for the newest member of Condorstown.
"We're naming a head coach today who is one of the best teachers in the game," Nicholson said. "We expect the Oilers and the Condors to both be in the playoffs next season. You talk to young players in our organization, but when you hear from players like Sidney Crosby and how Jay has helped his career is something that is going to make us better. We couldn't have brought you a better person."
Woodcroft will get to work assembling his staff this summer and beginning the foundation of his tenure in Bakersfield. Or as he put it "rolling up his sleeves, digging in, and getting work."
That work begins in earnest on October 6 when the Condors open the season at home. For a full photo gallery from the press conference and Condors365 Members Only Meet & Greet, click here . Hear more from Woodcroft and Nicholson below from their post-press conference media availability.
https://www.bakersfieldcondors.com/wp-content/uploads/2018/05/Woddy_Press.jpg
300
600
condors
https://www.bakersfieldcondors.com/wp-content/uploads/2023/06/BAK-Website-Header_2324.png
condors
2018-05-30 07:51:29
2018-05-30 07:51:29
WOODCROFT INTRODUCED IN BAKERSFIELD