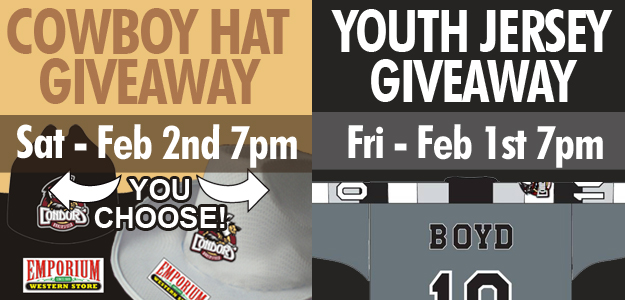 Youth Jerseys and Cowboy Hats Giveaways on Tap this Weekend
CONDORSTOWN, Calif.
– There's nobody hotter in a Condors sweater than alternate captain Peter Boyd and your kids will have their chance to dress like him with the Condors 
Youth Jersey Giveaway
on Friday night. The weekend wraps up on Saturday with a western-themed 
Condors Cowboy Hat
giveaway with two options to make sure you look stylish around Condorstown.
** WE'RE WARNING YOU NOW. WE WILL RUN OUT OF BOTH THESE GIVEAWAYS, SO GET HERE EARLY. SAVE UP TO 35% OFF BOX OFFICE PRICES WITH A FUN 4-PACK FOR JUST $32 BY CALLING 324-PUCK (7825)**
Boyd has scored six goals in his last five games, including scoring the
overtime game-winner on Sunday in Kalamazoo. On Friday, the first 2,000 kids, 12 and under, will receive  a #10 Peter Boyd grey jerseypresented by KGET-TV 17,Hot Hits 93.1 FM andRabobank. The jerseys come in two different sizes (while supplies last) and features one of the hardest working Condors on the back.
During the first intermission of Friday's game, the Condors will auction off 
G Scott Greenham's Jake Varner Gold Medal Olympic Wrestling
jersey to benefit League of Dreams. The jersey is signed by both Scott and Jake. 
Click here
to view the League of Dreams website.
Bakersfield is known for its country music
history, so we thought it would be good to get in on the fun with a Condors Cowboy Hat Giveaway presented by the Emporium Western Store. The hats will be given away to the first 2,000 fans, five and older, and come in black and tan with fans having the choice between the two while supplies last. Show your Condors country pride around town by sporting these stylish hats.
Fundraisers are a huge way to use the Condors to raise money for your organization and receive some great perks. This weekend, the Norris School District and Valley Schools will play broomball on the ice among other great benefits such as signing the national anthem. To find out more information on how you can use the Condors to help raise money for your organization, 
click here
.
Before Saturday's game, 
Condors Owner Jonathan Fleisig
will hold a special question and answer session for season ticket holders in 
The Space Between
beginning at 5:45 p.m. You will have an opportunity to say hi or meet him after the Q&A session.
After this weekend's games be sure to pop by the Bakersfield Marriott Autograph Booth located at the north end of the concourse near the main doors. On Friday night, C Peter Boyd and C Tyler Maxwell will sign for fans while on Saturday, ECHL All-Star RW Francis Verreault and C Parker Stanfield will man the booth.
Both games start at 7 p.m.; doors open at 6 p.m. (5:45 p.m. for season ticket holders)
The Condors begin the week with a 7 p.m. game in
Las Vegas on Wednesday. Tune in to all the action on Fox Sports Radio 970 AM,
www.foxsports970am.com
, through iheartradio or on 
www.americaonesports.com
. "Condors Countdown" starts 15 minutes before the drop of the puck.
KUSH JERSEY RAFFLE ON FRIDAY
The Condors will hold a special raffle of a 2011-12 game-worn #18 Chris Kushneriuk jersey with all proceeds benefiting his fight against testicular cancer. Fans can also purchase a special magnet, puck, and patch set at the front merchandise stand OR by clicking here. Help us help Kush KRUSH CANCER.
SAVE MONEY WITH A FUN 4-PACK-FREE SNUGGIES!!!!
Get your Condors ticket plan, become a season ticket holder, and enjoy all the great benefits of being in Condorstown, including saving big money on your tickets.
Friday's Youth Jersey Giveaway is a marquee game with higher walk-up box office pricing, so save over 35% on that game alone when you purchase a Fun 4-Pack today.
Starting at just $32, if you purchase two Fun 4-Packs you get free Condors Snuggie!!
Check out the plan to fit your needs by 
clicking here
or calling 324-PUCK (7825).
https://www.bakersfieldcondors.com/wp-content/uploads/2013/01/2013-02-02_jerseycowboy_1.jpg
300
625
condors
https://www.bakersfieldcondors.com/wp-content/uploads/2023/06/BAK-Website-Header_2324.png
condors
2013-01-18 23:32:42
2013-01-29 15:36:45
Youth Jerseys and Cowboy Hats Giveaways on Tap this Weekend