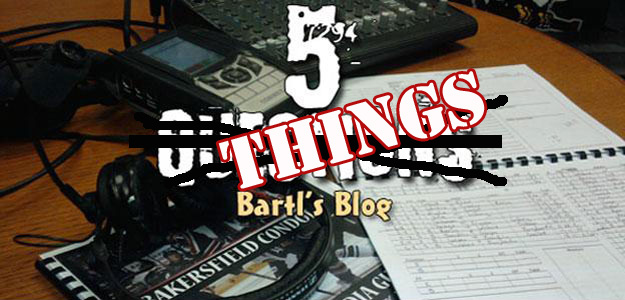 5 Interesting Moves By Our Rivals (Bartl's blog)
A month away from training camp, it's time to "roster watch." While most teams' rosters are only about half full by this time, it's hard not to look at what other teams are doing and try to see where they're going and how talented they may be. But I perused the teams in our conference, and some names jumped off the page for me… here are the Top 5 signings by our Western Conference rivals that could make an impact, or are at least interesting signings to me.
5. Adam Chorneyko (Colorado Eagles) – Sometimes as a coach you like a guy as a rookie, and think he can do something good to help your club, even though you've never seen him in game action before. Chorneyko was that guy with Marty Raymond last season, and he actually stuck around for a week after the season started without having a roster spot. Eventually, Marty had to let him go, and he ended up signing in the CHL with Colorado, where he posted 32 points (14g-18a) in just 40 games, ranking 7th among rookies. Pretty good. But in the post-season he exploded, leading the league with 28 points (10g-18a) and a +19 in 22 playoff games while the Eagles reached the finals. There are some, including your humble narrator, who don't believe all CHL stats translate equally in the ECHL, but it's hard not to wonder what could have been if he'd stuck around. We'll see how he does this season…
and did I mention the Eagles also signed Liam Huculak? FYI… Opening night vs. Colorado is only 47 days away.
4. Judd Blackwater (Las Vegas) – When rivals lose players to other rivals, it always makes for an interesting story line. The Wranglers, who also re-gained D Mike Madill from a season in the Asian league, attracted some attention by getting former Stockton/Alaska winger Judd Blackwater. Blackwater returns to the West conference after scoring 20 goals in just 49 games last season with Allen in the CHL. He had 26 goals and 55 points in 2009-10, when he was dealt from the Thunder to the Aces in mid-season. He can be a game-breaker, even though I didn't think he always played to his potential. He was talented enough that two AHL clubs gave him a serious look during his rookie season, which started out in Fresno. He'll play for his 4th Western Conference team this season.
3. Dylan Yeo (Ontario Reign) – This should be a familiar name to Condors fans, who saw the 5-11, 200-lb blueliner skate for two seasons with the Victoria Salmon Kings. He resurfaces on the West Coast this season with Ontario, after splitting the last two campaigns between South Carolina and Hershey in the AHL. Yeo is a bonafide superstar d-man at the ECHL level. He has accumulated 105 points in 166 ECHL games, with 54 AHL games to his credit. The Reign's penchant for defensive play over the last few seasons will make him look like Paul Coffey in an Ontario uniform. He'll quarterback their power play, he can rush the puck, he can make a good breakout pass. In 2008-09 he was a 1st Team All-ECHL and the league's Defenseman of the Year, posting 43 points (10g-33a) in 52 games.
2. Jack Combs/Chad Costello (Colorado Eagles) – The Eagles have made some interesting moves this summer, picking up these two from their CHL rivals in their move to the "new" league. I'm cheating here, counting this as one move since they were announced together (it's my blog, I can do what I want!). Any time you can nab two Top-10 scorers from any league, you know you're getting pretty good players. Combs pounded home 40 goals and 82 points in 64 games, and appeared in a handful of AHL games, while Costello rang up 34 goals and 84 points in just 54 games, and added 19 points in 10 playoff games, while also skating in eight games in the A. The catch here is that they played together in Tulsa, which adds a comfort and familiarity factor as well. Together again, but on a new club, even in a new league, they could do some damage.
1. Kevin Baker (Stockton) – When you score 57 goals in the ECHL and win an MVP, people tend to remember your name, even if they don't see it again for a few years. The Thunder made a big splash this summer by digging up Baker from Italy, where he spent last season. He posted 102 points with Florida in 2008-09, winning a scoring title and being named a 1st Team All-Star as well. He has recorded 21 goals and 36 points in 83 AHL games (good full-season numbers to judge his value in the AHL), and has 141 goals and 297 points in his ECHL career as well (249 games). That 2008-09 campaign, everything seems like it came together for Baker, but in 2006-07 he had 81 points and 36 goals, earning him 1st Team All-ECHL honors as well. He has bounced around in his career, and at 32 he probably doesn't have 102 points in his bag, but he will be a force out West in 2011-12 and that was a huge pickup for the Thunder.
Kevin Bartl is the Vice President of Communications and broadcaster with the Condors, entering his 9th season with the team. His blog comes out every Tuesday. Follow him on twitter @KevinBartl.
https://www.bakersfieldcondors.com/wp-content/uploads/2011/08/Bartl-Blog-NEW3.jpg
300
625
condors
https://www.bakersfieldcondors.com/wp-content/uploads/2023/06/BAK-Website-Header_2324.png
condors
2011-08-30 15:25:40
2011-09-06 15:51:54
5 Interesting Moves By Our Rivals (Bartl's blog)