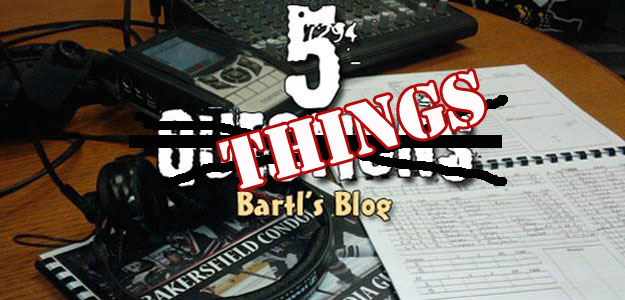 5 Questions: Are hockey suspensions are a joke? And other stuff – Bartl's Blog
Here are five questions on my mind on this Monday morning, after a busy sports weekend…
5. How's my ECHL Kelly Cup Playoff Bracket? It's looking pretty good, although it has a couple glitches in it.
I didn't anticipate Las Vegas slicing through Utah like a hot knife through butter, though, and now that they're getting players back I'm a little weary of their resurgence. Heading into the post-season, I was under the impression that their record this season was pretty much smoke-and-mirrors.
Color me shocked as well that Stockton stole a game away from Alaska on the road over the weekend. I still have the Aces dispatching with the Thunder en route to the Conference Finals. They are my pick to win it, over South Carolina in the final.
But the big surprise for me was the debacle of Ontario losing to Idaho in Round 1. They were the best team in the conference, maybe even the league, in the second half of the season. I had them advancing to the Western Conference Finals against the Aces. Oops.
I also have South Carolina over Kalamazoo (Wings lead 2-0), Elmira over Florida (1-1) out east.
*  *  *  *  *
4. Is everything spiraling out of control in the NHL playoffs because Brendan Shanahan didn't suspend Shea Weber for his face-slam in Game 1? I submit yes.
Some of the stuff that's been happening in other series is ridiculous, and it's all because there was no punishment for Weber. Here's why: everybody in the hockey universe saw that play. Everybody collectively had the same reaction to it. And when it was announced that he was only fined pocket change and not even suspended for a single game, everybody – fans, players, coaches, referees, general managers – everybody thought "Oh well, I guess this is the playoffs."
My guess is if Weber had gotten five games, which I believe he should have, Matt Carkner probably doesn't jump Brian Boyle as he did in the Rangers/Senators series. And then the list goes on and on. If Weber is hammered with five games, the players know if they act up, they're out. (more on that below)
*  *  *  *  *
3. Is this the first instance in the history of mankind in which a person can repeatedly punch a man in the face while he's on his back practically defenseless, and then 15 seconds later is referred to as "classy"?
The classy thing is not to climb on top of him while he's down and beat him in the face, but that's what the UFC is about – the ultra-violent. Within the rules of this sport, I suppose you could say it was "sportsmanlike", but only in a twisted version of reality can it be considered "classy".
*  *  *  *  *
2. Is the Condors front office still employed during the summer? Yes!!! We live here, we work here, all year 'round.
At the risk of sounding sarcastic, we don't just open the doors an hour before a game and have 6,000 people file through the turnstiles. We sell season tickets and group outings and corporate partnerships all summer, there's a schedule and team travel to work on, phone calls and orders need to be placed for promotional nights, and countless community appearances to work on, among other things.
Actually, those community appearances aren't countless… We know for a fact there are 16 of them in the month of April alone, and already eight scheduled for May. Having a non-profit event? Call us at 324-PUCK to see what we can do to help.
*  *  *  *  *
1. Are hockey suspensions are a joke? YES, they are a joke. A big, fat, glaringly not-funny joke. A player takes an illegal hit to the head that sidelines him for a month, and the offender gets 2 games. What's TWO GAMES do? Nothing. Instead of calling that a suspension they should call that a vacation. That's one-1/40th of the season in the NHL. It's 1/36th in the ECHL.
In the NFL, when they give you two games for a headshot, that's 1/8th of the season. That's the equivalent of a 10-game suspension… for one hit to the head that injures an opponent. In baseball, they suspended Manny Ramirez 50 games for violating the PED policy. 50 games!! That's a 25 games suspension in the NHL, and he didn't even do anything violent to another player during a game. The NFL suspends people for things they do off the field. ECHL players don't even get more than 1/79th of a season for Intent to Injure. By the way, that, by definition, means he actually intended to injure somebody… on purpose… not even accidentally… he tried to injure someone on purpose.
Only in hockey do you get multiple offenders – guys who are suspended multiple times in a single season. Some of them are multiple offenders in multiple seasons. Why is that? Are there no really bad individuals playing other sports? Of course not, it's because hockey suspensions are a joke. It wouldn't be possible to be suspended four times in a season in the ECHL if each time it was for eight or 12 games. A team would just release you if you were that stupid. They wouldn't even wait around for you to clear suspension. That would change the culture in hockey, quickly. But that's OK, teams will just continue to fork over millions of dollars in workers comp payments repeatedly because of cheap shots until they go broke and fold, because players roam the ice taking liberties, fearing nothing for retribution from their respective league, spearing people, elbowing guys to the head, hitting them from behind. (But hey, that's entertainment right UFC?)
The Condors lost four players to concussion on headshots this season, and the offenders COMBINED for two games in suspension time. That's it.
Back to Shea Weber of the Predators. This hit earned him no suspension and a $2,500 fine. He makes $7.5 million a year. I'm pretty sure if I walked outside and grabbed a stranger and did that to him I'd get fined more than that by the state of California.
A suspension is a suspension. It's supposed to penalize players with the intent of altering behavior. Giving someone a weekend off isn't a punishment, and isn't altering behavior. It just means they don't have to spend a weekend riding the bus for eight or ten hours, they can stay home and play video games and drink beer.
Kevin Bartl is the Vice President of Communications with the Condors and part of the broadcast team, entering his tenth season with the team.
https://www.bakersfieldcondors.com/wp-content/uploads/2012/04/Bartl-Blog-NEW.jpg
300
625
condors
https://www.bakersfieldcondors.com/wp-content/uploads/2023/06/BAK-Website-Header_2324.png
condors
2012-04-16 11:06:12
2012-04-16 11:38:23
5 Questions: Are hockey suspensions are a joke? And other stuff – Bartl's Blog