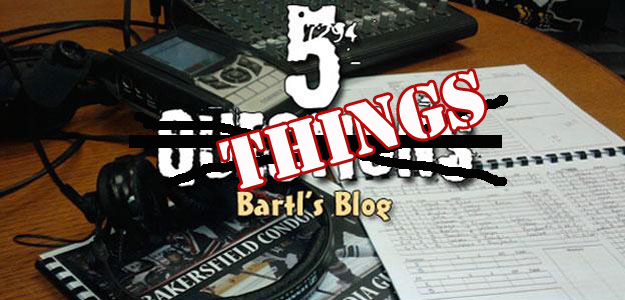 5 Things – Fog Favorites (Bartl's Blog)
I was never here for the Fog years… they played from 1995-98 – three memorable seasons for all who partook in enjoying one of Bakersfield first pro hockey games. But I see the names every year, in various locations as old press release archives, programs, the media guide, etc. Just because I never saw a Fog game doesn't mean I can't have favorite players. So here I want to put down my favorites from the Fog record books.
Incidentally, I'd love to hear feedback from fans who remember those days. Who were your favorites and why? What are some of your favorite memories? I  guarantee that I'll get an email from someone who rehashes the story of how Steve Martinson refused to bring his San Diego Gulls back out onto the ice because he allegedly feared for their safety, but alas, those are some of the funny moments from Fog history. But anyway, here are my five.
5. Kevin Barrett – I know the guy well, I know his attitude and his mentality as a retired player, but I would love to go back in time and see "The Bear" in action in his heyday. In 1996-97, Barrett had 271 penalty minutes in 61 games, and also chipped in five goals and 30 points, which is a pretty solid contribution. He's the kind of guy I'd want as a defensive partner when a line brawl broke out – I imagine he'd have my back.
4. Lee Schill – I really feel bad for anybody who was a goalie in the beginning stages of the West Coast Hockey League. There just didn't seem to be too much defense. Schill appeared in 81 games over two seasons with the Fog and posted a winning record, with a 4.82 GAA and an .890 save pct. He joined the Fog as a D-I goalie who played college hockey at the University of Alaska – Anchorage, and went on to appear in four games at the next level in the IHL in 1997-98. Before you judge his numbers, keep in mind the WCHL's top goalie in 1995-96 had a 3.75 GAA… which would probably cost you your roster spot in the ECHL before Christmas.
3. Rob Milliken – A physical d-man who had good offensive upside, Milliken played parts of all three Fog seasons, and is one of only a couple of players in Bakersfield history to post back-to-back 200+ PIM seasons. He had 516 penalty minutes in 151 games with the Fog, but also had back-to-back 30-point campaigns, including a then-team record (for defensemen) 18 goals in 59 games in 1997-98. I later saw Milliken play in the UHL with my team in Rockford, and he was a fun guy to have around.
2. Steve Dowhy – Bakersfield's first superstar, his tenure here was nothing short of prolific. Everyone loves the guys who can score at will, and for all intents and purposes, Dowhy seemed to be that guy. He had the only 50-goal season in Bakersfield history. Never one for posting a strong +/-, when he had over 120 points he was a +2… in his other two Fog seasons he was a combined -84. That tells me he wanted his points… and he got them. His 124 points in 63 games in 1996-97 equals out to about 2-points per game, which is ridiculous. Can you imagine someone on the Condors scoring 140 points this season? Neither can I.
1. Wade Welte – Another guy I had the chance to see later in his career, Welte is one of those guys that doesn't come around too often: a guy that can score, drop the mitts and just annoy the hell out of everyone on the other team. You might never call him an enforcer, but he was a Paul Rosebush-type guy. Teams hated him, home fans loved him, and at the end of the season, his stat line drew your attention. In 1996-97, Welte had 280 PIM while also recording 28 goals (with three hat tricks) and 49 points in 61 games. The next season he led the Fog with 346 PIM, and is 4th in Fog/Condors combined history in penalty minutes with 710. I'll bet if he could play like that for the Condors, he'd be the most popular player on the team.
Kevin Bartl is the Vice President of Communications for the Condors and part of the broadcast team, entering his ninth season with the club. Follow him on twitter @KevinBartl.
https://www.bakersfieldcondors.com/wp-content/uploads/2011/07/Bartl-Blog-NEW.jpg
300
625
condors
https://www.bakersfieldcondors.com/wp-content/uploads/2023/06/BAK-Website-Header_2324.png
condors
2011-07-19 15:11:34
2011-07-21 09:38:05
5 Things – Fog Favorites (Bartl's Blog)