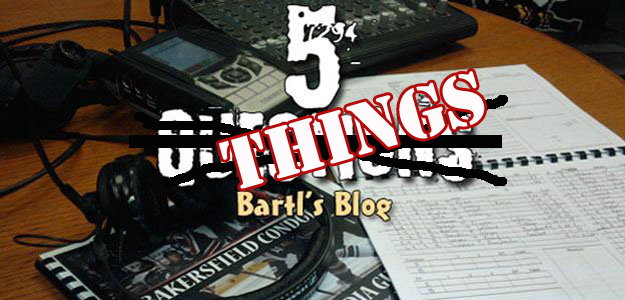 5 Things to do before the season starts (Bartl's Blog)
I have a "to do" list. I make a new one every week. Sometimes items are on that list week after week, as I seemingly make no progress toward the end-goal, but alas, every year when the puck drops on Opening Night, these things are done. I thought I'd give you a little peek into my front office life and take 5 Things from my "to do" list that I definitely need to finish before the season gets here.
5. Hire an assistant – This is something that isn't very hard, but is time-consuming. We received just over 100 resumes for the position in a week; the vast majority of which were eliminated upon simply reading the resume. The great thing about posting jobs on the internet these days is also the worst thing – it's WAY too easy to apply for jobs. As an applicant, you can have a resume on file and within a few clicks on your computer, have it uploaded for a job that you aren't qualified for, don't know anything about, or don't even care if you get.
And here's a little unsolicited advice for young job seekers out there: your cover letter MEANS A LOT. Don't start your cover letter for a Condors job with "I'd like to apply for the position with the Abbotsford Heat." The only reason I would even keep reading is to count your errors. There are 100 resumes to sort through… when you have the employer wrong in your cover letter, I'm going to assume you sent it to me by accident, and delete it immediately.
4. Finish the media guide – the trick here is that the media guide has to have the upcoming season's team info in it. And that isn't finalized until a week before the season starts. So the other 130 pages or so needs to be done and ready to go, because I don't have time to proofread miscellaneous statistics during training camp.
Part of the media guide preparation is preparing the game notes, which I start during the summer. As Coach O'Dette has signed players, I have researched them, dug up photos or videos, and put together their bios for the game notes. Even with websites dedicated to players' histories and stats and various teams, it still takes many, many hours to put together information on every player we have joining the team each year. Now is when I have time to compile honors and awards that each guy has accumulated every season, not the Thursday before Opening Night.
3. Finalize team travel plans – believe it or not, most of this is done prior to training camp even starting. I have a travel agent we work with to find flights for us, call group reservations desks and process our purchases. This gets started the second we have a finalized schedule in the middle of the summer. As it stands right now, we have all of our flights reserved for the regular season. We have a bus company we're working with as well, and after mapping out a rough outline of our travel schedule in June, I collected quotes, met or spoke with the various companies, and selected a carrier to work with.
I still need to find out exact travel dates of the teams coming into town for submission to our host hotel, the Bakersfield Marriott (so they can make sure they have rooms available for those dates), have Coach O'Dette approve my proposed travel schedule, and also make sure other teams know the dates that we'll be in town, and communicate with their host hotels.
2. Get the players into town – To me this includes everything to do with Training Camp. I have my contact list. I talk to each guy – find out where they are coming from and when they need to arrive. Do they have a wife or girlfriend or a pet they are traveling with? Are they driving here or do they need a flight? If physicals are on Thursday night and the first day on the ice is Friday, and they are traveling by car from Nova Scotia, perhaps I should suggest they get here on Tuesday or early Wednesday, to get rid of their road legs. But I can't control their driving time. Most flights will have them arriving Wednesday or Thursday.
I also need to have a rooming list and inform the hotel when they will arrive. I need to make arrangements for airport pick ups and make sure they have a training camp schedule. We have to organize the team meals during training camp, which is waaaaaay more complicated than it sounds ("platter serving size = 10 people" is translated as "platter serving size = 6 hungry hockey players"). I need to put together exact numbers for per diem. I need to alert Pearsey's Rentals and Whispering Meadows so they can plan the move-ins. And to top it off, I need to put together all of our immigration paperwork.
Training camp is one of the most hectic two weeks of my life, every season. The more I can do before the players actually arrive, the better.
1. Relax – This is supposed to be a fun, renewing time of the year for us. The new team is here, everybody has their eyes on the prize, and mostly, we're just excited for hockey to get started. The ice is in, the arena is filled with sounds of whistles blowing, skates grinding, pucks hitting the boards, and players yelling. All the guys are happy to be here and many are taking in Bakersfield for the first time. Wading chest-deep in the duties and minutia can drown the fact that this is a unique, privileged position that I have.
It's really easy to get overwhelmed with everything that needs to get done, and trying to take care of all the last-minute, unexpected hiccups that will arise when your life is tied to 25 people who are all just visiting. It's like trying to plan your wedding every year. During training camp I keep a paper and pen next to my bed so when I wake up in a cold sweat in the middle of the night, or lay in bed staring at the ceiling thinking about all the things I've forgotten to do, I can just write it down and rest peacefully. As I've been through this, that bedside list gets smaller and smaller year after year.
Maintaining a good "to do" list in June, July and August and looking ahead can mean the difference between a good night's sleep in October and completely stressing out.
Come to think of it, that's more unsolicited advice for the youngsters: a good "to do" list = less stress. Trust me.
Kevin Bartl is the Vice President of Communications and broadcaster for the Condors, entering his 9th season with the team. His blog comes out every Tuesday. Follow him on twitter @KevinBartl.
https://www.bakersfieldcondors.com/wp-content/uploads/2011/08/Bartl-Blog-NEW1.jpg
300
625
condors
https://www.bakersfieldcondors.com/wp-content/uploads/2023/06/BAK-Website-Header_2324.png
condors
2011-08-17 10:39:24
2011-08-19 16:55:00
5 Things to do before the season starts (Bartl's Blog)