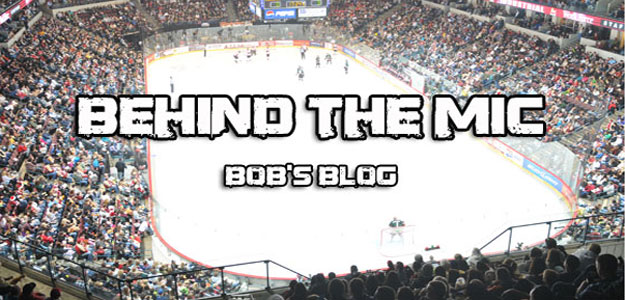 Behind the Mic: The End of the Hockey Season (Bob's Blog)
Well, it's finished. As a Hawks fan, I could never have taken any joy in watching the Canucks hoist the cup, so I'm glad Boston was able to take it. I also think during the course of the series the Bruins proved to be more of a likeable bunch, probably led by the charm of Tim Thomas.
I would guess the Canucks lost some fans after the reaction of the crowd to the Game 7 result. I can understand booing when Thomas was announced as the Conn Smythe winner in his opponents building, but show some appreciation for what he accomplished. And booing through Commissioner Gary Bettman's entire speech didn't exactly show great sportsmanship either. For a fan base that largely believes that as Canadians they are more knowledgeable and die hard about hockey than their United States counterparts, they didn't do much to help their case.
I don't remember clearly, maybe you will and if so I'd like to read your thoughts on the Condors Facebook Page, but I think when the Blackhawks won in Philly last year there was a pretty decent applause when Jonathan Toews won the Conn Smythe and when the Cup was presented. Yes, the same Philadelphia that infamously booed Santa Claus appears to have acted with more class after seeing their team lose at home.
And don't even get me started on the riots. The amount of damage that local businesses sustained is, I'm sure, astronomical, and they deserved better than that. I bet these are the same businesses that pour large sums of money into helping the Canucks success through buying tickets and corporate sponsorships. (i.e. the Canucks need these business to support them in order to pay players like the Sedins and Kesler, etc.) These fans who destroyed their businesses in the name of the Canucks should certainly feel ashamed, and I can only hope that they are eventually rounded up and forced to pay for what they did.
Moving on… I always feel a degree of sadness when the hockey season comes to a close. I have always liked baseball (although I must admit that after playing it for 15 straight years as a kid, in middle school, and high school that once I graduated from high school I was so sick of the sport that I couldn't bear to watch or play for about 5 years), and football is entertaining to watch as well. But this time of year for me always represents the doldrums of the sporting world. I pretty much won't pay any attention to sports until baseball is in the pennant hunts and the NFL announces it will not play starts the 2011-12 season.
That means I have a chance to take a bit of a break from sports. I always find it interesting that sports, for people who don't work in the sports business, usually represents an opportunity to escape from daily life. Since sports is my life for most of the year, it is nice sometimes to not be watching a sporting event. (Being a Cubs fan in the summer means it is easy and usually beneficial to ignore what they are up to.)
I still need to finish up my spring cleaning, so there are no more excuses now to put that off. Hopefully I can get that done soon. I will also have a lot more time now to get back on track with my workouts, which I began over the weekend.
One final thing before I close for today. For those that haven't heard, Bethany Moore, the Condors Office and Special Events Manager, had a family emergency. Her brother-in-law was in an accident that required hospitalization. We are hopeful he will pull out of it ok, but your prayers and thoughts are appreciated by the Moore Family.
Bob Mills is the Broadcasting and Media Relations Manager for the Condors, and part of the Broadcast team. He just completed his first season with the Condors. His blog will be posted every Thursday on bakersfieldcondors.com.
Follow Bob's new Twitter: @Mills_Bob
https://www.bakersfieldcondors.com/wp-content/uploads/2011/06/BobsBlog-New.jpg
300
625
condors
https://www.bakersfieldcondors.com/wp-content/uploads/2023/06/BAK-Website-Header_2324.png
condors
2011-06-20 09:01:01
2011-06-21 11:21:50
Behind the Mic: The End of the Hockey Season (Bob's Blog)