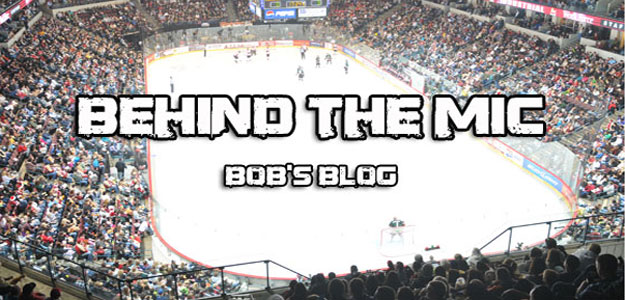 Behind the Mic:Trading injured players (Bob's Blog)
Now that the Stanley Cup has been awarded, the draft is over, and most of the big name free agents have been signed, it's that time of the year when there just isn't a lot of news coming from the hockey-world. However, there always seems to be a type of quirky story that people can latch on to. Last year, it was Ilya Kovalchuk and his massive contract from the Devils that was eventually ruled as a salary cap circumvention. This year, it seems to be a tug of war between whether or not Chris Osgood will make it into the Hall of Fame and the Ryan Smyth to Edmonton trade.
What a debacle this has been.  First, Ryan Smyth (who has earned the nickname Captain Canada for both his NHL and International exploits), requests to be traded back to where he made his name, the Edmonton Oilers. The Kings interest in trading the winger was to dump salary, so they received Gilbert Brule on the idea that they would buy him out. But the CBA does not allow teams to buy out players that are injured, as Brule was, so the trade was voided, Brule went back to the Oilers, and the Kings looked for a new trade.
The second time, they settled on Colin Fraser. Another player who is not making a ton of money and is eligible for a buyout, Fraser appeared to be a good solution. Now everyone goes home happy, right? Wrong. Upon further inspection, Fraser did not clear his physical and is apparently not able to be bought out either.
But here is where things get a little bit foggy for me. If Fraser is really injured, and the Kings are really just looking for a player to buy out, why not just void the trade? The two sides are reportedly working with a mediator to come to a conclusion, but I think if I were the Kings, I would be trying to void the trade. It sounds like there is some disagreement about whether or not the trade was technically completed, but if it isn't and the Kings have a choice, I'd void the trade.
Here's why: Ryan Smyth is local legend in Edmonton, and the fans there are loving the idea of his return to the city. The backlash the Oilers felt for trading him in 2007 was not insignificant, and I doubt a franchise that has been struggling to win games wants to ostracize their fans by refusing to take Smyth when the Kings are basically giving him away. I bet at this point Lombardi could get Edmonton to overvalue Smyth and give up more than he's worth at this point in his career.
I know the Kings are trying to shed some salary, but I'm sure with how bad the Oilers have been of late that they must have some good prospects in the system. Also, getting draft picks from the Oilers right now is a pretty good bet for a high pick, so that could be a good option as well.
Hopefully, this resolution will either not come quickly or the ruling will be a point of contention. I want the attention to be drawn towards that, because I really don't want to hear Chris Osgood Hall of Fame debates for the rest of the summer.
Bob Mills is the Broadcasting and Media Relations Manager for the Condors, and part of the Broadcast team. He just completed his first season with the Condors. His blog will be posted every Thursday on bakersfieldcondors.com.
Follow Bob's Twitter: @Mills_Bob
https://www.bakersfieldcondors.com/wp-content/uploads/2011/07/BobsBlog2.jpg
300
625
condors
https://www.bakersfieldcondors.com/wp-content/uploads/2023/06/BAK-Website-Header_2324.png
condors
2011-07-21 16:04:01
2011-07-22 09:08:20
Behind the Mic:Trading injured players (Bob's Blog)