#BiebsInBako – The Story Behind The Story (Holty's Blog)
Let me take you back to two weeks ago. I was sitting down in friend of the blog and Condors Head Coach Matt O'Dette's office (@BigOdie2). We were chatting about #ToppleTheThunder and how the Condors can have a bigger impact on Twitter through followers and interaction. He laughed and said it would be funny if Justin Bieber tweeted us. I said, "well he's tweeted our buddies The Green Men recently, so he likes hockey." Then, out of nowhere, he joked that he should offer him a contract…
Fast forward to two weeks later, many sleepless nights thinking some other team was going to push the idea out there before us, waiting for Kevin Bartl (@KevinBartl) to get back from vaca, and reaching out to Bieber's management team led by Scooter Braun (@ScooterBraun).
#BiebsInBako was born. On Sept. 11, 2012 at 12:38 p.m. Pacific. From a Dell Latitude E5500 laptop situated on my desk in the back Condors communications office while I ate a Celeste Suprema pizza (best .89 cents money can buy) and drank a Pepsi.
BREAKING NEWS: The @condors have offered @justinbieber a contract. #BiebsInBako #Condorstown Read here > condors.co/?p=10796

— Bakersfield Condors (@Condors) September 11, 2012

Countless retweets later, some creative help from our good friend E! news/Condors Goalie Ken Baker (@KenBakerNow), and appearances in some of the most influential blogs (Yahoo! Puck Daddy), newspapers (more later), websites (ESPN, NBC, CBS, MTV, E! News, Fox Sports, NHL, TSN…) made sure that #BiebsInBako would take off beyond our wildest imagination.
Whether this happens or not, we have succeeded. Not in creating a mockery of the game of hockey. But, in highlighting what a great organization we have here, what a tremendous fan base Condorstown has, and how fun minor league hockey, especially the ECHL is.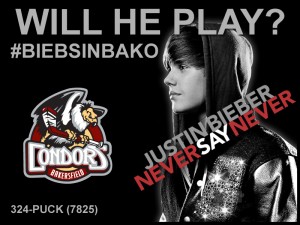 For those wondering, no, O'Dette has no belief that Biebs is on the same level as an ECHL player. The quotes are funny, lighthearted, and the media response reflects that.
Talking about #BiebsInBako is better than the impending lockout on Saturday. I won't sugar coat it. A lengthy NHL Lockout would suck. For players, fans, front office members, and those just down here kicking it in the minors hoping to one day live the dream.
I digress. Though, I want to take you inside some numbers though which have started to come in, exactly 48 hours after the #BiebsInBako splash took hold.
Our website has received 31,221 page views in 48 hours. Remember the fight against Ontario on Jan 28, 2012? (click here – that never gets old, sorry Ontario). Well, that WEEK we had 4,442 page views. #BiebsInBako was so popular when it hit that it crashed our site and subsequently we had to be moved temporarily to a larger server. Of the nearly 17,000 that have visited just OUR website, 89% of them came for the first time. They got a glimpse of what we are all about for sure.
Where are people from that have viewed our website in the last three days? It's widespread. Only 700 visits separate 1st (Bakersfield) from 10th (Chicago). Rounding out the top five are Toronto, Montreal, Edmonton, and Ottawa. You think hockey is popular in Canada? Six of the top ten are Canadian cities, with Chicago, San Francisco, and Los Angeles representing the USA. Six of the seven continents are represented (what gives Antarctica?) with the top five countries being USA, Canada, Germany, Finland, and Sweden. Big shout out to whoever was the one person vacationing in Antigua and Barbuda who stopped by for :30 seconds.
We were featured in four of the top 10 US newspapers – USA Today (2), Los Angeles Times (4), The Washington Post (6), and the New York Daily News (7). Also, were in every major Canadian city's paper thanks to the Canadian Press (the AP of Canada). Of course, we were in the Bakersfield Californian as well and we all know Griff (@MikeGriffith54) is the best.
On television and radio, we appeared nationally on E! News Tonight, and have been talked about on at least one or more major network in most major cities across the country and Canada. O'Dette has done two major radio interviews in Toronto which continue to be circulated. We've been on radio in Los Angeles and Matthew Riley will be on in Pittsburgh Monday morning. However, our local TV coverage has been awesome and what I most enjoy watching. Thanks Mark Haas (@markhaasTV), Greg Kerr, and Preston Mitchell.
We've been tweeted at in 10 languages, received shout outs from NHL players, and been heckled by guys who play in a local beer league OUTRAGED that we didn't offer them a contract.
It's all been fun. The "puck" is now in @justinbieber + @ScooterBraun's defensive zone. We will wait.
'Til that time. We'll continue to be who we are with wacky promotions, entertainment, and a general good heartedness. We won't lock you out. And we'll still put our pants on one leg at a time. What a ride the 2012-13 season will be. The best yet in #Condorstown.
Until next Thursday #Condorstown …
Have an idea for #HoltysBlog? Tweet him @BroadcastHolt or e-mail rholt@bakersfieldcondors.com
Ryan Holt a.k.a. 'Holty,' is the younger half of the Condors broadcast duo, and recently completed his first season in #Condorstown. His favorite Bieber song is 'Boyfriend.' Follow him on Twitter @BroadcastHolt for random stuff confined to 140 characters.
https://www.bakersfieldcondors.com/wp-content/uploads/2023/06/BAK-Website-Header_2324.png
0
0
condors
https://www.bakersfieldcondors.com/wp-content/uploads/2023/06/BAK-Website-Header_2324.png
condors
2012-09-13 13:32:35
2012-09-13 14:12:05
#BiebsInBako – The Story Behind The Story (Holty's Blog)