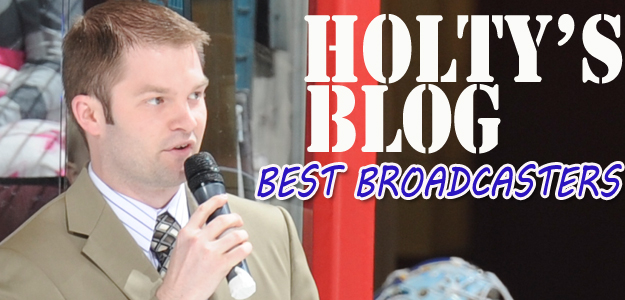 HOLTY'S BLOG: BEST BROADCASTERS
What a great start to the NHL Playoffs. The hometown Bruins crushed the Leafs last night and my pick to win the Stanley Cup, the Sharks, probably sent Roberto Luongo to the bench for game two. If you haven't seen it, CBC's Hockey Night in Canada had an awesome playoff opening montage video. Click here to watch it. I also vote that whoever the Condors next head coach is, a fedora must be worn at all times behind the bench.
Now for the blog…
Sitting down last night and watching the B's game at good friend of the blog, @LoweDog21's pad, I actually got to hear the game, rather than typically visiting local establishments who refuse to turn the sound up. I don't think I had ever heard the broadcaster for the game, Rick Peckham, before last night. He was great to listen to (aside from calling the ECHL the East Coast Hockey League) and got me thinking, who are five guys currently in the NHL that are just great to listen to call a game?
You're not getting Doc Emrick, because with Doc you get Pierre and with Pierre you get "Ryan Holt, he was in Corpus Christi, and before that was at Holy Cross where he studied Political Science, so he's a pretty smart guy, I'll tell ya. Edzo you agree?" I'm definitely not qualified to make such a judgment, but as I'll remind you again, it's my blog and I'll do what I want…
HONORABLE MENTION: Dave Goucher – He is the radio voice of the Bruins and for my money, is the best radio guy out there at this very moment. Yes, it's a homer pick, but he started in Wheeling, went to Providence, and is now in Boston. Listen here.
#5 Bob Miller – Kings fans know how good he is, but I've only come to appreciate it since I've been out here the past two years. Not only that, but he's a great guy. @KevinBartl and I had a chance to chat with him for a while in the booth at Staples recently and he could not have been nicer to the two of us. This Kings Vision piece on him is pretty sweet – Watch here.
#4 Dave Strader – Does games for the Coyotes and mostly all the western conference NBC games. I like the way he doesn't throw all sorts of numbers at you and get bogged down in them. Instead, examples and points are made by using the numbers. Don't just tell me something, tell me why it's important. He does a great job with that. Watch here.
#3 Joe Beninati – The voice of the Capitals, Beninati was also a former voice of the Providence Bruins. I just like his goal call to be honest. But his energy and actual excitement is good too. Watch here.
#2 Gary Thorne – Woah, Holty… He doesn't call hockey anymore. You're wrong. He's the voice of NHL video games now so he makes the list. Why he's not still calling actual hockey is beyond me. Just enjoy this video. Darrreennnn MACCCAAAAAATYYYYY! Awesome.
#1 Jim Hughson – Hey, I don't know that name Holty! You might not. He's the national voice of Hockey Night in Canada and the former voice of the Vancouver Canucks. He was also the voice of the NHL video games before Thorne. Even though he loves Roberto Luongo, he's the best out there in my opinion. Watch here. Plus, Hughson was the color guy for the Kelowna Buckaroos in the BCJHL (1976) with none other than John Olver playing.
Until next time Condorstown…
Ryan Holt a.k.a. Holty, is the voice of the Condors and just wrapped up year two in Condorstown. For Derby Day here's the trifecta: #12 Itsmyluckyday – #9 Overanalyze – #16 Orb. Have a #HoltysBlog idea? Follow him on Twitter @BroadcastHolt or shoot him an email with ideas to rholt@bakersfieldcondors.com
https://www.bakersfieldcondors.com/wp-content/uploads/2013/05/2013-5-2-HoltysBlog.jpg
300
625
condors
/wp-content/uploads/2022/08/WebSite-Top-Bar-1.png
condors
2013-05-02 10:47:22
2013-05-02 11:08:50
HOLTY'S BLOG: BEST BROADCASTERS