HOLTY'S BLOG: Best Hockey Team Nicknames
The Houston Aeros of the American Hockey League are, as widely reported now, moving to Des Moines, Iowa. There's no word on whether they will revive the "Iowa Chops" name, but it got me thinking, What are the Top Five Hockey Team Nicknames of All-Time? Sidenote: The Iowa Chops (survived only one season) and the Houston Aeros are the only AHL affiliates in Condors history.
Now for the blog…
Condorstown. I'm here to inform. To dig a little deeper. To give you more than what others might. For instance, friend of the blog @Joe_Babik said that my list "begins and ends with the Macon Whoopee." (I'll wait five seconds for you to get your laughs out…5..4…3..2…1)
Macon Whoopee is not on my list. Nor are any weather related teams (take a hike Thunder, Storm, Tornado, Hurricanes), any team with "ice" in their name (sorry IceRays, IceHogs, Ice Flyers, IceCats, IceCaps, Ice Bears… and even ICE), and any team with nickname that tries to fit in with its royal affiliates but is really awkward (know any such team, Ontario?)
You may think I'm crazy for not including the Whoopee (also hate team names which aren't plural), but as I will remind you … It's my blog and I'll do what I want.
#5 Calgary Hitmen – Brett Hart (along with Joe Sakic and Theo Fleury) founded the major junior team in the Western Hockey League. For those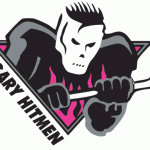 that don't know, Brett was a WWE wrestler and his nickname is "The Hitman." Perfect. Buy a team and name it after yourself. I like wrestling and I like mob movies. I'm on board. Only non-pro team on my list. My only gripe is they should have kept their original pink and black color scheme. (logo to right)
#4 Omaha Ak-Sar-Ben Knights – Yeah, I did it. This is perhaps what that team in Ontario could have called themselves to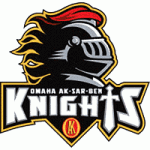 go along (and make sense) with their affiliates. The Ak-Sar-Ben (Nebraska in reverse) Knights are similar to the Knights of Columbus, just exclusive to Nebraska. They were an AHL team that didn't last long, but still a funny nickname.
#3 Binghamton Dusters – Again, another AHL team with a name reference to their location. Note to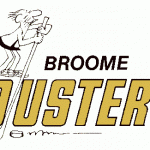 all expansion teams: tie your team name into your geographic area. There are no Flames in Calgary, no lakes in Los Angeles, and if there is Jazz music in Utah, I didn't find it. The Dusters played in "Broome County." Nice work.
#2 Hartford Wolf Pack – Nobody liked the Hartford Whalers when they were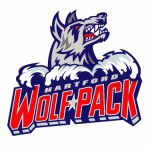 in existence. That's why I did not like when the Wolf Pack, IN MID-SEASON, changed their name to the Whale. THE WHALE! Not only is it not plural, but it's dumb. The colors are cool, but the Whalers are more popular in extinction than when they actually were around. Great news folks, the Wolf Pack might be coming back next season (click here). The Wolf Pack (they get a pass on not being "really" plural) are named after a group of submarines, which when traveling together, are called a Wolf Pack. That's why there are waves in the logo. Stick tap to friend of the blog, @KevinBartl, for pointing that out. Little did you know that Hartford is a leader in submarine making, even though it's landlocked. Again, I'm here to inform.
#1 Augusta Lynx – Hello friends. (Jim Nantz voice) It's plural, yet it doesn't have an "s." It's Masters week. It's a tradition unlike any other. And this former ECHL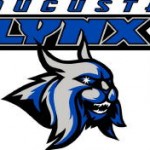 team takes the cake for me.
Until next time Condorstown…
Ryan Holt a.k.a. Holty, is the voice of the Condors and just wrapped up year two in Condorstown. He's picking Keegan Bradley to win The Masters. Have a #HoltysBlog idea? Follow him on Twitter @BroadcastHolt or shoot him an email with ideas to rholt@bakersfieldcondors.com
https://www.bakersfieldcondors.com/wp-content/uploads/2023/06/BAK-Website-Header_2324.png
0
0
condors
https://www.bakersfieldcondors.com/wp-content/uploads/2023/06/BAK-Website-Header_2324.png
condors
2013-04-11 08:55:33
2013-04-11 09:31:46
HOLTY'S BLOG: Best Hockey Team Nicknames