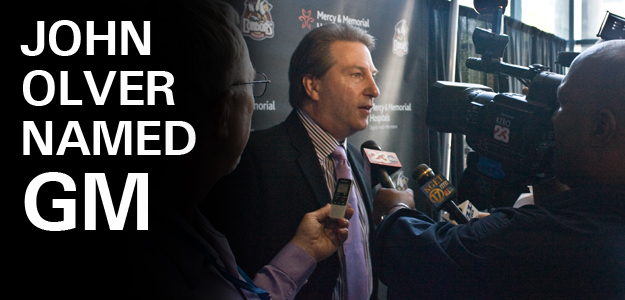 John Olver introduced as Condors General Manager
CONDORSTOWN, Calif. – The Bakersfield Condors and Team President Matthew Riley announced today that John Olver has been named general manager. Olver will manage the hockey operations department, and will head up the search for the team's next head coach, as well as oversee player personnel.
Olver, 54, has a long history of building championship-caliber teams, making a remarkable seven appearances in the league finals during his nine seasons as a head coach. He served as the head coach and
vice president of hockey operations of the Idaho Steelheads in the West Coast Hockey League and the ECHL from 2000 – 2005. He also was the head coach and general manager of the Tacoma Sabercats in the WCHL from 1997-00, and the GM of the Fresno Falcons from 1995-97, serving as head coach in 1995-96.He guided the Steelheads to an ECHL Kelly Cup in 2003-04, won a WCHL Taylor Cup Championship with Tacoma in 1998-99, and is the only coach to win a title in both leagues. In addition to his two championships, Olver has led his team to the finals on five other occasions, including three straight with the Sabercats. Olver was awarded the WCHL Coach of the Year four times, and he also coached two All-Star Teams in the WCHL.
The North Burnaby, British Columbia native played an integral role in the foundation of the WCHL, and in helping Bakersfield land their first professional hockey team in 1995 (the Bakersfield Fog).
Olver went from Idaho to Northern Michigan University, taking advantage of an opportunity to coach his oldest son, Darin, while serving two seasons as assistant coach. He then he
aded to Des  Moines, Iowa to serve as president and general manager of the American Hockey League's Iowa Stars in 2007-08.
Since 2009-10, he has served as GM/head coach of the Idaho Jr. Steelheads in the Western States Hockey League, winning the league title in each of the past three campaigns. This season, his team rolled to a 57-1-1 record en route to also claiming the AAU National Championship.
What Matt Riley says:
"Bringing John in at this time is a move intended to put the Condors at the top of the conference as a serious contender. You cannot find somebody with a more impressive record as a coach and as a team builder than J.O., and we're confident that he can guide us in the right direction and get the horses in here we need to win."
Matt Riley will be on First Look with Scott Cox, on KERN 1180 AM, Friday morning at 9:00 a.m. for further discussion. Go here to watch the live stream.
What J.O. says:
"I'm very excited to be here and be given the task of turning this team around on the ice. This is the best minor league hockey city in America and they deserve a winner. And the ownership is giving us the tools to do that. There will be no excuses for us; the resources will be here and we're going to make it happen." Originally drafted by the Colorado Rockies, in the 8th round of the 1978 NHL Entry Draft, Olver played three seasons at the University of Michigan and later passed over signing an NHL contract to focus on coaching. He became assistant coach of New Westminster in the British Columbia Junior Hockey League for his first coaching position at the age of 23. At 25, Olver earned his first head coaching position with Langley in the BCHL, and guided his team to a 40-8-2 record.
Olver has two sons who play professional hockey. Darin, 27, was a 2nd round draft pick of the New York Rangers currently playing in the DEL, the top league in Germany. Mark, 25, currently plays with the Colorado Avalanche, the team that drafted him in the 5th round.
JOHN OLVER CAREER HIGHLIGHTS
Championships
1998-99, WCHL, Tacoma Sabercats
2003-04, ECHL, Idaho Steelheads
Individual honors
Coach of the Year, WCHL, 1997-98
Coach of the Year, WCHL, 1998-99
Coach of the Year, WCHL, 1999-00
Co-Coach of the Year, WCHL, 2001-02
Co-Coach, WCHL All-Star Team, 1999
Co-Coach, WCHL All-Star Team, 2000
Drafted
(8th round, 125th overall), Colorado Rockies, 1978
Professional Head Coaching record
Regular Season               Playoffs
Season      Team                  GP  W-L-OTL Pts  Win%      GP W-L Win %
1995-96   Fresno(WCHL)    58   3 0- 21- 7    67   .578           7   4-3  .571**
1997-98  Tacoma(WCHL)    64   42-19-3    87   .680          12  8-4   .667**
1998-99 Tacoma(WCHL)  70  44-18-18  96  .686        11  9-2  .818
1999-00  Tacoma(WCHL)    72  51-12-9     111  .771         10  6-4   .600**
2000-01  Idaho(WCHL)       72   47-21-4     98   .681          13  9-4   .692**
2001-02   Idaho(WCHL)      72   47-17-8    102  .708          15  8-7   .533**
2002-03  Idaho(WCHL)       72   52-16-4    108  .750            6  2-4   .333
2003-04  Idaho(ECHL)       72  40-23-9   89   .618         18  13-5   .722
2004-05  Idaho(ECHL)         72   42-23-7     91   .632            4   1-3    .250
Totals                                 793   519-210-74  871.680        95  59-36  .621
Bold – won league championship
** – Lost in the finals
GET TICKETS!!
Season ticket packages for the 16th season of Condors hockey are on sale now, and renewals are still continuing for the 2013-14 season. Ticket packages are on sale now, with plans for a family of four starting at just $20 per month. Call 324-PUCK (7825) for more information.
Best ways to use your season tickets, #58: Reward the employee who renews the most sales accounts.
For a complete list of 84 ideas your business can use Condors season tickets, click here.
https://www.bakersfieldcondors.com/wp-content/uploads/2013/04/2013-04-11-13.jpg
300
625
condors
https://www.bakersfieldcondors.com/wp-content/uploads/2023/06/BAK-Website-Header_2324.png
condors
2013-04-11 14:04:53
2013-04-11 15:01:20
John Olver introduced as Condors General Manager