HOLTY'S BLOG: BEST LIVE MASCOTS
Queen Victoria, the Andean Condor with a 10-ft. wingspan, is not our mascot. I repeat, she is NOT our mascot.
But, she is live, internationally known, and as announced two days ago, coming back to Condorstown on "Angry Birds Plush Hat Giveaway," opening night, Friday, Oct.18. Condors, Angry Birds, a REAL Condor, and oh by the way, we're playing the Colorado EAGLES. For the rest of the announced promotional schedule, including something about One Direction, click here.
Thanks to good friend of the blog, @Joe_Babik, for giving me the perfect tie-in for this week's blog. You see, he tweeted a story out about Oral Roberts University (they're the Golden Eagles) bringing a LIVE BALD EAGLE into their chapel. The chapel has CLEAR GLASS windows. I'll let you watch what happens next. (Click here) Sidenote: I dare you to challenge me on any Division I school's nickname.
Now for the blog…
I'm mixing things up and giving you the 10 best LIVE sports mascots (as in they show up every game) separated in half for @WillHoenike. They are in order and all of them are college teams. Well, because it's mostly only college teams that have live mascots. Notably missing is USC's Traveler. Why? Because it's my blog and I'll do what I want…
#10 – Handsome Dan (Yale) – Bulldog. But, not the best bulldog. (Click here)
#9 – Sir Big Spur (South Carolina) – Rooster that hangs out on the goalposts. (Click here)
#8 – Stryker and Ranger III (Army) – Black mules, better than goats! Plus they defend our country. (Click here)
#7 – Boomer and Sooner (Oklahoma) – Small ponies, but great entrance. (Click here)
#6 – UGA VIII (Georgia) – Top dog. No doubt. Great doghouse. (Click here)
Top FIVE:
#5 – Ralphie IV (Colorado) – Was No. 1 until I found out that Ralphie IV is female, because male buffaloes are too hard to handle. That's weak. If the male ones are tougher, I want them running out at the start of games. (Click here)
#4 – Mike IV (LSU) – A Bengal Tiger who lives in a 15,000 sq. ft. facility costing $3 million bucks. The swankiest Tiger around. (Click here)
#3 – War Eagle (Auburn) – Have to show some love for a bird of prey. (Click here)
#2 – Bevo XIV (Texas) – Intimidating bull. Great fight song. Can't go wrong. (Click here)
#1 – Renegade (Florida State) – Simply the best entrance in all of college football. Sure the Seminole who rides Renegade is the star, but I like to think of them as a team.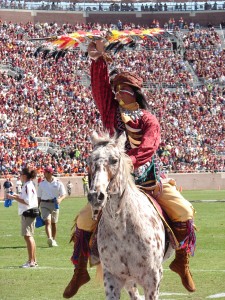 Have any better choices? Tweet or email them to me! Until next time Condorstown…
Ryan Holt a.k.a. Holty, is the voice of the Condors and recently wrapped up year two in Condorstown. He cannot wait for Vick's encore performance. Have a #HoltysBlog idea? Follow him on Twitter @BroadcastHolt or shoot him an email with ideas to rholt@bakersfieldcondors.com
https://www.bakersfieldcondors.com/wp-content/uploads/2023/06/BAK-Website-Header_2324.png
0
0
condors
https://www.bakersfieldcondors.com/wp-content/uploads/2023/06/BAK-Website-Header_2324.png
condors
2013-08-22 13:51:42
2013-08-23 08:03:02
HOLTY'S BLOG: BEST LIVE MASCOTS