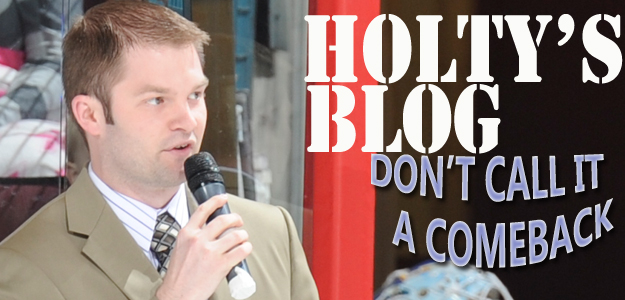 HOLTY'S BLOG: DON'T CALL IT A COMEBACK
I hope I'm not breaking a secret, but Justin Fahsbender has returned to Condorstown. Fahzy is a welcomed addition back to the staff after taking a year to work for the NBA's Houston Rockets. We'll have more on him and other additions later on this month.
But for now, it got me thinking about comebacks. Specifically, hockey comeback stories. What are the best comebacks in history? Bringing back the "30 for 30" theme, watch this short documentary on the comeback of former NHL netminder Clint Malarchuk. (Click Here but warning: parts of it are graphic) That's not just a sports comeback, that's a life comeback.
I'm picking five of my favorites. There's no order. Again, it's my blog, and I'll do what I want.
Mario Lemieux – This is a no-brainer. He returned from retirement on a couple of occasions due to bouts with cancer/injuries and came back even stronger. I mean, he had 91 points in 67 games in 2002-03 nearly 20 years after making his NHL debut.
The Winnipeg Jets – As @BearHockey44 can tell you, Winnipeg isn't exactly a destination city for most of the year. Now, imagine the only major pro sports team leaving town. Granted there was the Manitoba Moose AHL period in Winnipeg, but that does not compare to the NHL. Sidenote: the Moose had some of the most creative number designs in hockey history. (Look here) I'm happy the Jets are back. I'm happy they're not in the "Southeast Division" any longer too. Someone might want to tell that to the Reign.
Richard Zednik – Similar to Malarchuk, Zednik has his throat slashed in an '08 game with the Florida Panthers. He took a year off understandably, but returned and still played another NHL campaign plus two years in the KHL and Sweden.
Lokomotiv Yaroslavl – Speaking of the KHL, I cannot fathom what it was like for the people of the area, families, friends etc. to lose the entire team in a 2011 plane crash. The team returned to the KHL's top division this past year and finished fourth. I can remember in '07 when Elmira's bus crashed and former Holy Cross standout Jon Landry tore his knee. Scary stuff and not often thought about with teams across all sports traveling countless miles every year.
Cam Neely – I don't care if I'm a Bruins homer here as has been alluded to by copier of the blog, @GrizzliesVoice. Neely's career was cut short by Ulf Samuelsson's dirty hit in '91 (look here) which resulted in chronic leg/knee/hip pain. After playing just 21 games over the next two seasons, he had 50 goals in 49 games in 1993-94 sitting out the majority of the season. He was forced to retire in '96 and yes I can remember crying in third grade. Still my favorite Bruin of all-time. Consider this a shot across the bow @Joe_Babik.
Our office is closed next week and re-opens on Monday, June 10th. Until next time Condorstown…
Ryan Holt a.k.a. Holty, is the voice of the Condors and recently wrapped up year two in Condorstown. He has no idea what to do with his week off. Have a #HoltysBlog idea? Follow him on Twitter @BroadcastHolt or shoot him an email with ideas to rholt@bakersfieldcondors.com
https://www.bakersfieldcondors.com/wp-content/uploads/2013/05/2013-5-30-HoltysBlog.jpg
300
625
condors
https://www.bakersfieldcondors.com/wp-content/uploads/2023/06/BAK-Website-Header_2324.png
condors
2013-05-30 11:37:50
2013-05-30 11:37:50
HOLTY'S BLOG: DON'T CALL IT A COMEBACK