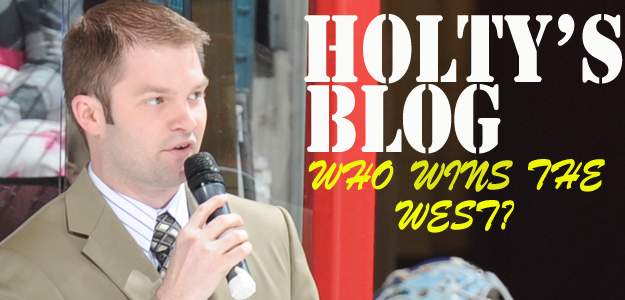 HOLTY'S BLOG: How The West Will Be Won
I decided in September that the blog would only be a summertime off-season thing. Fact is, I didn't think that I would be writing my first one on April 4, 2013. Obviously, the season didn't go as planned, but we move along and begin preparations for next season. Friend of the blog, Kevin Bartl (@KevinBartl), has even started updating the media guide.
For those who are new to this space, welcome! Much like our organization, I don't take myself too seriously. Every Thursday I'll have a new blog for your reading enjoyment. We won't stick with just sports, but certainly will feature some sports topics. Last summer we ranked everything from Media Room Food (click here) to My Favorite Countries (click here) and even broke down numbers behind Justin Bieber's contract offer (click here).
Read or don't read, but I'll remind you (or tell you for the first time) … It's my blog and I'll do what I want.
Now for the blog:
We didn't make the Western Conference Playoffs, but eight other teams did with very little parity out West. There are three really good teams and then the rest. How will it be won? Let me tell you. (Sidenote: I know they already started, but I tweeted my picks on Sunday, so there)
#1 Alaska Aces v. #8 San Francisco Bulls – I've got a cold beer for friend of the blog @JLBullsHockey if the Bulls win this series. In fact, if they get a game. Enjoy the Great White North Locks! Aces in FOUR.
#4 Stockton Thunder v. #5 Las Vegas Wranglers – It's no secret I hate Stockton. Why stop now? Wranglers get Lampe and Madill back just in time. Fallon looks good. I'm on board. Wranglers in SIX.
#2 Ontario Reign v. #7 Utah Grizzlies – Ontario is already up two games as the series shifts over to the Maverik Center. Friend of the blog @GrizzliesVoice will be happy to get out of the box of death broadcast spot in Ontario and he won't have to go back. Grizzlies fight their way to one W though. Ontario in FIVE.
#3 Idaho Steelheads v. #6 Colorado Eagles – Much like Utah, Colorado is a gritty (somewhat dirty) team that will put up a good fight against Idaho (case in point, last night's OT game). The Steelies are too good though and will propel themselves to the next round. Idaho in FIVE.
Semi-Finals
#1 Alaska Aces v. #5 Las Vegas Wranglers – Matchup of last year's Western Conference Final goes the way of the Aces this year. Goaltending is too good. Alaska in FIVE.
#2 Ontario Reign v. #3 Idaho Steelheads – This is going to be a fun series. For my money, the two most impressive teams night-in and night-out. Well except for when we swept Idaho in January (TAKE THAT CITY OF TREES!). Idaho pulls the mild upset here. Austin Smith being the difference. Idaho in SIX.
Western Conference Final
#1 Alaska Aces v. #3 Idaho Steelheads – Did I not just tell you the two most impressive teams were Ontario and Idaho? Overheard at Sullivan Arena this year was a person saying that this was the least impressive Aces team in recent memory. I chuckled, because they're still very good. That said, there's some validity to the statement. Idaho got the right guys back at the right time. Friend of the blog @WillHoenieke has his first child (congrats!) and then gets the Western Conference crown. Idaho in SEVEN.
I don't know anything about the Eastern Conference, other than the only team still alive whom we played was Toledo. I like their team, their building, their name and their radio guys. Good choice. Seventh-seeded Walleye win the East.
I'll take the Idaho Steelheads over the Toledo Walleye in SIX to win the 2013 Kelly Cup.
Until next time Condorstown…
Ryan Holt a.k.a. Holty, is the voice of the Condors and just wrapped up year two in Condorstown. Anyone who knows how good of a prognosticator he is, there is not a chance Idaho wins the Kelly Cup. Sorry Boise. Follow him on Twitter @BroadcastHolt or shoot him an email with ideas to rholt@bakersfieldcondors.com
https://www.bakersfieldcondors.com/wp-content/uploads/2013/04/2013-4-4-HOLTYS.jpg
300
625
condors
https://www.bakersfieldcondors.com/wp-content/uploads/2023/06/BAK-Website-Header_2324.png
condors
2013-04-04 09:00:25
2013-04-04 09:52:30
HOLTY'S BLOG: How The West Will Be Won