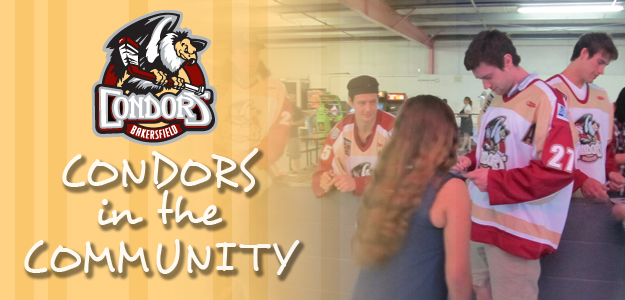 CONDORS IN THE COMMUNITY: Condors Use Season Finale to Raise $12,450 For Two Deserving Causes
CONDORS RAISE $9,050 FOR ACTIVE 20/30 CLUB: 
In the final jersey auction of the 15th Anniversary Season,
the Bakersfield Condors raised another $9,050 for the Active 20/30 Club. The Condors auctioned off the Warm Up jerseys worn pre-game throughout the season in a combination of live and silent auctions over the final few home games.  
This brings the season total for Jersey Off Our Back Auctions to $50,100 benefiting local organizations United Way, League of Dreams, Petroleum Shrine Club and Active 20/30.    
CONDORS CONTINUE EFFORTS TO SUPPORT CHRIS KUSHNERIUK: 
Also on Saturday night, the Condors auctioned off two specialty Chris Kushneriuk jerseys to support the young player in his fight against testicular cancer. After being diagnosed early last summer, Chris has spent this entire season undergoing treatment and surgeries. He has just recently been declared cancer-free and now can focus on recovery and repaying the staggering medical costs he incurred.  The Condors have been fundraising for him throughout the season and were glad to add another $3,400 to that total with the sale of Kushneriuk's 15th Anniversary and HockeyThon jerseys. This is in addition to the $5,000 raised by the Jake Varner style jersey auctioned in December giving Chris $8,400 in jersey auctions alone. 
FRIDAY, APRIL 5:
Director of Community Relations, Mikie Barrett, and Colonel Claw'd will participate in Community Reader Day at Loudon Elementary, 4000 Loudon Street at 1 p.m. 
Baby Cal will take part in Opening Day for League of Dreams baseball beginning at 1 p.m. League of Dreams is an adaptive sports league for children with disabilities. They play on the specially designed "Abilities Field" at Fruitvale Norris Park. 
YOUR LAST CHANCE TO RENEW SEASON TICKETS
The season ticket renewal deadline of Mar. 31 has passed, but we're giving you an extra couple days to get back on board. 
Renew now and you will be eligible to receive the season ticket holder gifts, which are based on how many years you've been a ticket plan holder and how many seats are in your plan. Gifts include jackets, jerseys and more. But you are only eligible for the season ticket holder gift if you renew your tickets NOW!  

https://www.bakersfieldcondors.com/wp-content/uploads/2013/04/2013-04-03_In-the-Community.jpg
300
625
condors
https://www.bakersfieldcondors.com/wp-content/uploads/2023/06/BAK-Website-Header_2324.png
condors
2013-04-03 09:39:46
2013-04-03 09:39:46
CONDORS IN THE COMMUNITY: Condors Use Season Finale to Raise $12,450 For Two Deserving Causes