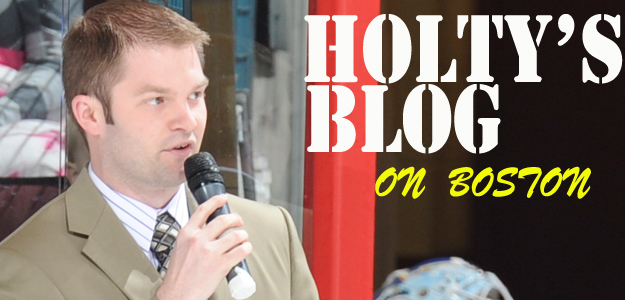 Earlier this week, my hometown was hit with a disastrous terrorist attack that has affected the city and many around the world. Quite honestly, it was a terrible feeling being 3,000 miles away on a day where I knew exactly where I would be if I was home and where many friends were. Come to find out later that my brother was on the same side of Boylston midway between Exeter (1st explosion) & Fairfield (2nd explosion) and it hasn't exactly been a fun week. Thankfully, he and many I know are fine. But for those in the city that were not as fortunate, my thoughts are certainly with them.
I worked for the Boston Public Health Commission and Boston EMS my junior year of college helping craft emergency plans in incidents of crisis. At that time, there was the H1N1 virus scare. Never in my life did I think I would ever see the men and women I worked with daily called into action the way they were. But, I got to see first-hand just how incredible those first responders were back then and how brave they were a few days ago. Thank you to all of them.
When tragedy like this happens, we often turn to sports for a relief. I did yesterday and made sure I caught every minute of the pre-game coverage of the Bruins. Check out this Boston Strong video (click here) played before the game. My cousin's boyfriend is the man pouring orange juice at the 1:04 mark. Then watch the national anthem (click here). Great stuff.
Now for the blog… I figured, hey lets combine Boston with good friend of the blog @KevinBartl's obsession with movies and come up with the Top Five Boston Movies of all-time. You may think it's not sports related, but it will be. Even if it wasn't, I'll remind you, it's my blog and I'll do what I want…
#5 Boondock Saints – This is cult classic. WARNING: not for kids. A favorite movie of mine as it depicts two brothers who protect the city by "taking care" of criminals around the city.
#4 The Verdict – This is an old movie. Pretty sure Bartl was in college when this came out in 1982. It features Paul Newman (Yes, the same one from SlapShot – I told you this was sports related!) as a lawyer and is a very good flick.
#3 The Fighter – We're branching out a little bit with this one, because it's centered in the city of Lowell, which is 30 min. outside Boston, but I'm including it on my list. It's the real-life boxing story of Irish Micky Ward and his troubled brother Dicky. Christian Bale (Dicky) is unbelievably good alongside Mark Wahlberg (Micky). HOLTY NOTE: Go watch the actual Ward-Gatti Trilogy of fights. You won't be disappointed. That's real boxing.
#2 Mystic River – Tim Robbins (Best Supporting Actor), Sean Penn (Best Actor), and Kevin Bacon star in this East Boston dark thriller, directed by  Clint Eastwood, about the murder of Penn's daughter. It's an even better book, if reading is your thing.
#1 Good Will Hunting – Was there any doubt? You mix in South Boston with Ben Affleck, Matt Damon, and probably the best performance Robin Williams ever had and you have the greatest Boston movie of all-time. Gentlemen – you can even get this one for date night on DVD since it has a romantic interest in it, but is not overly sappy. I'm here to help, people! This movie is authentically Boston and is worth watching no matter where you reside.
Until next time Condorstown…
Ryan Holt a.k.a. Holty, is the voice of the Condors and just wrapped up year two in Condorstown. If Vegas didn't choke he would have picked all four ECHL series correctly. Have a #HoltysBlog idea? Follow him on Twitter @BroadcastHolt or shoot him an email with ideas to rholt@bakersfieldcondors.com
https://www.bakersfieldcondors.com/wp-content/uploads/2013/04/2013-4-18-HOLTYS-BLOG.jpg
300
625
condors
https://www.bakersfieldcondors.com/wp-content/uploads/2023/06/BAK-Website-Header_2324.png
condors
2013-04-18 09:32:23
2013-04-18 09:32:23
HOLTY'S BLOG: On Boston