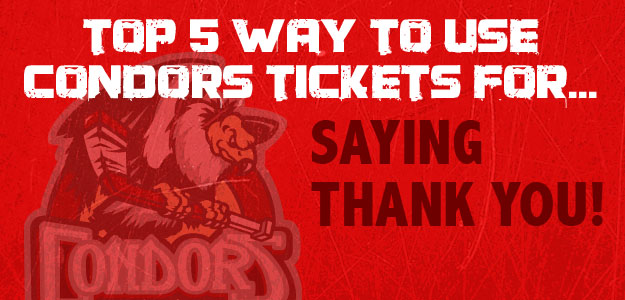 Top 5 ways to use your tickets…
Fans often say, "I love to come to Condors games, but how could I use tickets to all 36 games?" And to that we say, "It's easy!!" There are so many ways to use your Condors tickets. Let us count the ways…
We have here on our website a list of 84 different ways that you can utilize your season tickets to Condors games, other than just keeping them all for yourself, of course. But for right now, we want to focus on the Top 5 ways to say thank you with the gift of Condors hockey.
#12. Take a loyal customer to say "thanks" – This one goes with #32, which thanks new customers as well. Everyone likes to get a little something extra for being a loyal customer. Telling somebody you appreciate their business can go a long way. Do that by handing them four tickets to take their family out for a night at the game, and you will be sure that they remember why they like doing business with you.
#22. Say "thanks" to a retiring officer or employee – Your employees put in countless hours with you, helping your business grow, representing you in the community, etc. When you hold that retirement party, throw some tickets into the pile of thank you's, and they'll be starting off their retirement the right way!
#62. Thank a neighbor who took care of your pets/house while you were away – this is often a thankless job. They are coming over twice a day or whatever to make sure Spike gets his food. Maybe they are even going in the house to clean the litter box (if that's the case you should probably give them their own mini plan). Either way, Condors tickets are a nice gesture that has value. Unlike that cheezy "My neighbor went to NYC and all I got was this lousy t-shirt" souvenir you brought home for them.
#73. Thank volunteers for their contribution – You struggle all the time for ways to say Thank You to those who donate their time for your charity or your volunteer organization. You don't have much to give, because you are fundraising yourself. But thankfully you have Condors season tickets for this purpose. It's not a paycheck, but it tells them that you appreciate their work, and that's cool.
#74. Give them to your child's teacher as a thank you for their help – A teacher that goes the extra mile for your child will never be forgotten. They don't get overtime by staying late after class or spending extra time mentoring them. Do your child's teacher a favor and give he/she a night away from the books and the classroom. Better yet, have your child bring the tickets in and give them to the teacher themselves. It's a good lesson for showing appreciation, and the teacher will love it.
This is just five of the 84. Stay tuned throughout the summer as we highlight more ways to use Condors Season Tickets. And if you don't have season tickets yet, what are you waiting for?? We're gearing up for a big season here in Condorstown. Don't miss out!!
https://www.bakersfieldcondors.com/wp-content/uploads/2013/04/2013-04-16_Top5_tickets.jpg
300
625
condors
https://www.bakersfieldcondors.com/wp-content/uploads/2023/06/BAK-Website-Header_2324.png
condors
2013-04-17 15:40:47
2013-04-17 15:49:27
Top 5 ways to use your tickets…