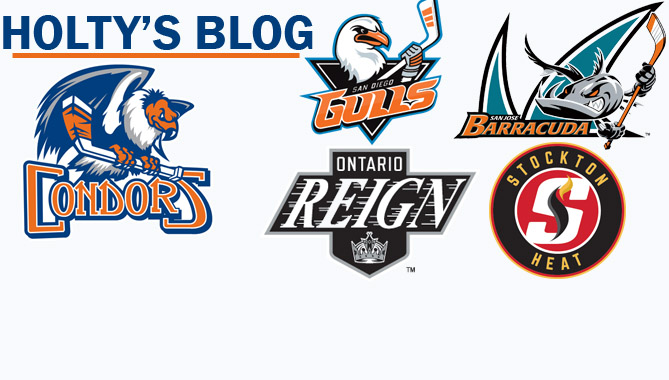 HOLTY'S BLOG – Rivalries and Birthdays
In my best Jim Gaffigan voice, "I can't believe I'm writing a blog on my birthday."
Last year's birthday was spent "up the 99," so naturally, this birthday is already off to a better start.
It's true, I'm getting old folks. Friend of the blog @KevinBartl hates most things associated with birthdays, including his own. We're actually not sure when he was born. That said, he's always the first person in line to grab a cupcake or piece of cake.
Speaking of which, you get to choose a delectable item you would like the office to have from our friends at Smith's Bakery … I always go with the Champagne Cupcakes. They're the best.
I could go on and on, but I won't. Because, as I'll remind you, it's my blog, and I'll do what I want…
Now for the blog…
Earlier this week @Condors tweeted this out…
If you're wondering who you should root for in the late game tonight: Calgary = Stockton. Problem solved.

— Bakersfield Condors (@Condors) May 6, 2015
Someone replied that the Ducks = San Diego and that's just as bad.
And Anaheim= San Diego can they both lose? https://t.co/fals0OP3Uu

— Shane Howell (@shanehowzie) May 6, 2015
So that got me thinking. Of the four teams out in AHL California next season, who is the Condors rival? I like lists, so I listed them. In order. Most hated to least hated. Now granted, you're probably going to see a lot of each team, so this could change, but I think it's a good starting point. In any art of war manual, it's important to only fight on one front. You start getting spread too thin, and that's where you lose.
________ Heat – To me, this is a no brainer even though much is unknown up the 99. I mean, the Heat haven't played a game yet ever. They have a logo that looks an awful lot like Safeway Supermarkets. They are still under the mask of "________Thunder.com." And, they haven't tweeted since April 18. If that's not enough, they reside in that city, are owned by THAT team, and have THOSE colors. From all I hear, their parent club's city is akin to their city. The rivalry of the parent clubs now comes down to the AHL. Many times a year. This folks, is the rival.
San Diego Gulls – As Bartl always reminds me, "Holty – the Condors didn't just start when you got here." And he's right. I've never seen the Gulls. They've always just been a folklore harkening back to days before smartphones and Twitter. Folks must have made pretty cool mixtapes to listen to on their car cassette players traveling to Gulls games. Sure, "those" Gulls are not these "Gulls." But, as their team president Ari Segal said on Condors Insider before they even had a name "we can't wait to start beating up on the Condors again." They're swinging punches already. Hopefully, the nearly 10 years apart hasn't softened the rivalry.
Ontario Reign – They're the closest team geographically to the Condors, though on Friday nights, it takes roughly 6 hours to get there. Over the past few seasons, there have been some memorable moments with the Reign, including a line brawl a few years back. Sure, they'll have a different look, but are a sleeper pick for moving up this list.
San Jose Barracuda – Disclaimer: I once interned for the Sharks AHL team when it was in Worcester. That said, I honestly have nothing against this group other than they have about 57 different logo variations. It will be an interesting experience to have an AHL team in the NHL building, which I think makes it appealing from a road trip stand point, even for visiting fans. Plus, we spent some time with their COO John Tortora while we were up there in January and he was great in showing our group around. That, and the media meal was one of the greatest of all-time. A+ in my book for their operation up there.
Until next time Condorstown…
P.S. Good luck to the Oklahoma City Barons tonight as they open up their second round series with Utica. Utica is to New York as that city up the 99 is to California.
Ryan Holt enters his fifth season in Condorstown in 2015-16. He just turned 27. Follow him on Twitter @Condors or e-mail him rholt@bakersfieldcondors.com for any future blog ideas.
https://www.bakersfieldcondors.com/wp-content/uploads/2015/05/2015-05-07-Blog.jpg
380
669
condors
https://www.bakersfieldcondors.com/wp-content/uploads/2023/06/BAK-Website-Header_2324.png
condors
2015-05-07 10:12:43
2015-09-28 20:40:16
HOLTY'S BLOG – Rivalries and Birthdays