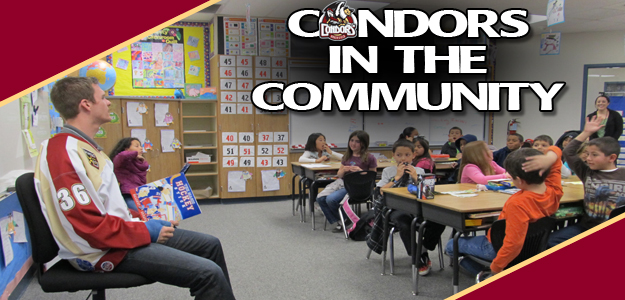 CONDORS IN THE COMMUNITY: Hockey-Thon this Saturday
TONIGHT:
It's Ladies Night and the Feeling's Right … In Condorstown!
Tonight at Rabobank Arena, bring your group of ladies out for a fun night with the Condors. It will run from 6-8 p.m.
Tickets are $40 for season ticket holders and $50 for non-season
ticket holders. It's a special event for the Condors women only as they get special tours of the rink, instruction from the players and coaches, dinner and have an opportunity to ask the team plenty of questions! Also included is a ticket to the on-ice suite for the Condors game on Wednesday, Mar. 14 where you can see the team in action up close.
Confirmed Condors for the event include Parker Stanfield, Tyson Gimblett, Peter Boyd, Evan Trupp, Tyler Helfrich, Chris Kushneriuk, Josh Van Dyk, and Keith Wynn. Condors Head Coach Matt O'Dette will also be there to lead the tours and help answer questions.
If you're looking to learn more about the game and the team, this is definitely the event for you. For more information on this event, call 324-PUCK (7825).
Wed. March 14th:
The Condors hit the ice to take on the Utah Grizzlies at 7 p.m. Doors open at 6 p.m. The team will be holding a book collection and those who donate two books will receive $1 tickets presented by Wells Fargo.
Also, the Condors announced last week an offer of up to four complimentary tickets to Condorstown's unemployed. To earn the tickets, present your notice from the Employment Development Department of California at the box office. Box office hours are Monday through Friday, 10 a.m. – 6 p.m., and 10 a.m.- 4 p.m. on Saturdays.
Condors Insider
returns to the airwaves from 6-7 p.m. and will feature Head Coach Matt O'Dette along with guests from the team as they prepare for games in Idaho. Fans can tune in on 
Fox Sports Radio 970 AM
,
www.foxsports970am.com,
or the iheartradio app.
Fri. March 16th:
Condors broadcaster Kevin Bartl will  be a guest on the Scott Cox Show at 4:00 p.m. on KERN Radio 1180 AM. He'll tell you about all the happenings in Condorstown this weekend.
The Condors host the Grizzlies again at 7 p.m. with doors opening at 5:30 p.m. The first 2,000 fans will receive a Custom Condors Skateboard Deck, courtesy of ABC23 and 106.1 KRAB Radio.
Sat. March 17th:
One of the more anticipated annual events in Condorstown,Condors Fighting Cancer Hockey-Thon starts with the Condors Alumni Game at 4:45 p.m. (Note the special doors open time) and continues when the Condors meet up with the Las Vegas Wranglers at 7 p.m.
Sponsored by KBAK EyeWitness News and KUZZ 107.9 FM, there will be live and silent auctions throughout the night to benefit Links for Life, a local breast cancer resource center. The games conclude 24 straight hours of hockey in Bakersfield with participants in other games raising money through donations. The event has raised over $270,000 since its inception.
Sun. March 18th:
The team hits the road for sin city and will face-off against the Wranglers at 2 p.m. Fans can tune in on Fox Sports Radio 970 AM, available online at www.foxsports970am.com, or through the iheartradio app. The game will be streamed live throughwww.americaone.com.
Donate Blood and Get $1 Tickets
From now until the end of the regular season, anyone who donates
blood at Houchin Blood Bankwill receive a $1 voucher ticket to attend either the Condors game on Wed. March 21st or Wed. March 28th. There are two locations in Bakersfield, at 5901 Truxtun Avenue or 2600 G St. downtown.
GET TICKETS:
Renew your Condors season tickets now for the 2012-13 season and get a special Condors Cup that grants you $1 sodas for the rest of this season! The earlier you sign up, the more you save, and the more tasty $1 beverages you can enjoy at Condors games. Call the Condors office at 324-PUCK to renew your ticket package today.
https://www.bakersfieldcondors.com/wp-content/uploads/2012/03/2012-3-12-Community.jpg
300
625
condors
https://www.bakersfieldcondors.com/wp-content/uploads/2023/06/BAK-Website-Header_2324.png
condors
2012-03-12 15:40:36
2012-03-13 07:11:36
CONDORS IN THE COMMUNITY: Hockey-Thon this Saturday