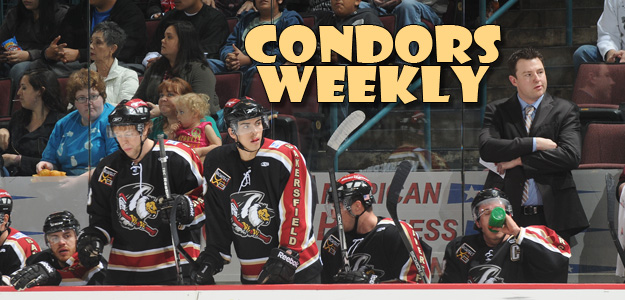 Condors Weekly: Playoff push returns home this week
CONDORSTOWN, Calif. – The Bakersfield Condors went 1-1-0-1 on a three-game trip to Idaho last week, but failed to gain ground in the playoff race. The team now holds a 19-36-4-3 with 45 points in the standings. They trail the 7th place Steelheads by 13 points for the final playoff spot in the Western Conference with 10 games to go.
THIS WEEK (ALL TIMES PACIFIC):
Wednesday, Mar. 14 vs. Utah (7 p.m.)
Friday, Mar. 16 vs. Utah (7 p.m.)
Saturday, Mar. 17 vs. Las Vegas (7 p.m.)
Sunday, Mar. 18 @ Las Vegas (2:05 p.m.)
WEEK IN REVIEW (Home team in CAPS):
Wednesday, Mar. 7
IDAHO 3 vs. Condors 1
G Jerry Kuhn stopped 51 shots to guide the Steelheads to a 3-1 victory on Wednesday night. F Chris Kushneriuk scored the lone Condors goal, while Bakersfield didn't take a penalty in the game. G Bryan Pitton made 33 saves for Bakersfield in the loss.
Friday, Mar. 9
IDAHO 2 vs. Condors 1 (SO)
Bakersfield LW Jesse Gimblett scored a first period goal in his return to the lineup, while Idaho scored in the second frame to tie it up. The goaltenders put on a show the rest of the way, with Bryan Pitton and Jerry Kuhn both making 41 saves through regulation and overtime. But the Steelheads edged the Condors in the shootout to earn the extra point.
Saturday, Mar. 10

Condors 6 vs. IDAHO 5 (SO)
Bakersfield battled back from four separate deficits to force overtime, and then prevailed in the shootout to cap off the weekend with a win. F Tyler Helfrich, F Casey Pierro-Zabotel and LW Kyle Calder each had a goal and an assist and D Justin Pender (right) had three assists in the win. The Condors went three-for-three in the shootout while G Bryan Pitton stopped all three Idaho shooters he faced.
PLAYER AND TEAM NOTES:
The Condors scored with an extra attacker Saturday for the fifth time this season.
The Condors didn't take a single penalty on Wednesday night – the first time in over 10 years the team recorded 0 penalty minutes in a game (Mar. 2, 2002 at San Diego).
LW Jesse Gimblett (right) had 1g-1a in his two games played last week. He missed over a month on injured reserve.
RW Scott Freeman returned from a two-month stay on the IR on Wednesday, only to be injured in that game and miss the rest of the week. He remains tied for 4th on the team in points, despite playing only 29 games.
Bakersfield averaged 44.3 shots per game last week, posting shot totals of 52, 42 and 39 in three games.
F Ian McKenzie saw his seven-game point streak snapped on Wednesday. He had 2g-8a-10pts during the streak, which was the second longest of the season for Bakersfield.
G Bryan Pitton started all three games last week with G Matt Keetley in the American Hockey League. It was the first time since January he had started three in a row.
THIS WEEK'S SCHEDULE
All practices are at Rabobank Arena unless otherwise indicated
Monday, Mar. 12 – OFF
Tuesday, Mar. 13 – 10 a.m. practice
Wednesday, Mar. 14 – 10 a.m. practice
7 p.m. vs. Utah
Thursday, Mar. 15 – 10 a.m. practice
6:00 – 7:00 p.m. Condors Insider (FSR 970AM)
Friday, Mar. 16 – 10 a.m. practice
7 p.m. vs. Utah
Saturday, Mar. 17 – 10 a.m. practice
7 p.m. vs. Las Vegas
Sunday, Mar. 18 – 2:05 p.m. @ Las Vegas
Monday, Mar. 19 – OFF
Four-game week on tap – three on home ice
The Condors host Utah on Wednesday and Friday, and Las Vegas on Saturday. Wednesday night is Book Collection Night, sponsored by Wells Fargo. Donate two books and get into Wednesday's game for just $1. The books will be donated to local schools.
Friday night the first 2,000 fans 17 and under will get a Condors Skateboard Deck, sponsored by ABC23 and 106.1 KRAB Radio.
Saturday night is the annual Condors Fighting Cancer Hockey-Thon, sponsored by KBAK Eyewitness News and KUZZ 107.9. Doors will open at 4:45 p.m. for a Condors Alumni Game, and then the Condors and Wranglers face off at 7 p.m. There will be a live and silent auction throughout the night to raise cash for Links for Life.
Sunday the team wraps up the weekend with a game in Las Vegas. It's the final meeting of the season between the teams; the puck drops at 2:05 p.m.
CONDORS LEAGUE LEADERS:
Team Stats
1,264 PIM – 3rd
70 major penalties – 2nd
11 shorthanded goals – 2nd
Individual league leaders
F Tyler Helfrich – 45 points (6th, rookies)
F Tyler Helfrich – 29 assists (4th, rookies)
RW Scott Freeman – 4 shorthanded goals (t-2nd; 1st, rookies)
RW Scott Freeman – 4 game winning goals (t-2nd, rookies)
F Robby Dee – 4 shorthanded goals (t-2nd; 1st, rookies)
D Tyson Gimblett – 148 PIM (1st, rookies)
D Tyson Gimblett – 12 major penalties (t-1st, rookies; t-1st, defensemen)

F Hans Benson – 16 major penalties (t-3rd)
LW Kyle Calder – 22.9% shooting pct. (4th)
CONDORS LEADERS:
Points: F Tyler Helfrich, 45
Goals: F Robby Dee, 19
Assists: F Tyler Helfrich, 29
PIM: D Tyson Gimblett, 148
+/-: D Josh Van Dyk/F Chris Kushneriuk, +6
GAA: G Matt Keetley, 2.97
Save %: G Matt Keetley, .910
Wins: G Matt Keetley, 12
GET TICKETS:
Renew your Condors season tickets now for the 2012-13 season and get a special Condors Cup that grants you $1 sodas for the rest of this season! The earlier you sign up, the more you save, and the more tasty $1 beverages you can enjoy at Condors games. Call the Condors office at 324-PUCK to renew your ticket package today.


Follow the Condors all season long, for team news, player moves, promotions, and more on Twitter (@Condors) and Facebook (facebook.com/BakersfieldCondors). Be the first to know!
https://www.bakersfieldcondors.com/wp-content/uploads/2012/03/2012-03-12-weekly-.jpg
300
625
condors
https://www.bakersfieldcondors.com/wp-content/uploads/2023/06/BAK-Website-Header_2324.png
condors
2012-03-12 12:09:19
2012-03-12 12:09:19
Condors Weekly: Playoff push returns home this week