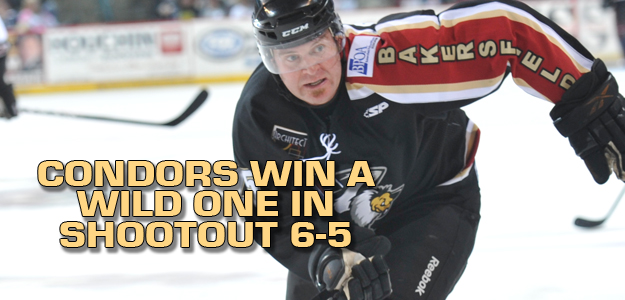 Pierro-Zabotel Strikes Late, Condors Win in a Shootout 6-5
BOISE, Idaho – Casey Pierro-Zabotel tipped home an extra attacker goal with under a minute remaining and the Bakersfield Condors (19-36-4-3, 45pts) were perfect in a shootout as they stunned the Idaho Steelheads (25-29-2-6, 58pts) by a 6-5 margin on Saturday night at CenturyLink Arena.
After a bout between Condors F Hans Benson and Idaho F Marc Rechlicz, the Steelheads struck with LW Jake Hauswirth snapping a shot under the blocker pad of Condors G Bryan Pitton to take a 1-0 at 5:40 of the first period. Bakersfield answered back when F Tyler Helfrich blistered a wrist shot through traffic past Idaho G Jerry Kuhn to tie the game 1-1, 8:50 into the frame. Then, with the Condors on a power play, Ryan Annesley's shot went over Kuhn's shoulder with 11 seconds left to give Bakersfield a 2-1 lead at the break. Shots favored the Condors, 16-13.
Idaho tallied twice, less than two minutes apart in the second period, to retake the lead at 3-2. The Steelheads tied it on the power play with F Patrick Kennedy ripping a one-timer behind Pitton at 6:38 and F Chad Nehring adding the go-ahead goal at 8:24. The Condors tied the game at 3-3 when C Parker Stanfield one-timed a LW Jesse Gimblett feed under the crossbar, 13:04 into the period. The Steelheads would steal the lead back though just before the recess when F Ron Meyes finished off a turnover with 14 seconds left in the period to regain the lead at 4-3.
In the third period, Bakersfield received a tying power play from LW Kyle Calder as he backhanded a shot from in tight, knotting the game at 4-4, 9:48 into the frame. Kennedy scored his second of the night at 13:00 off a rebound to put Idaho back in front, 5-4. However, the Condors refused to quit and got a late equalizing goal with under a minute played and Pitton pulled as D Erik Burgdoerfer's drive from the blue line had eyes and was deflected by Pierro-Zabotel past Kuhn with 54 seconds left in regulation.
After a scoreless overtime, Bakersfield scored three consecutive times in a shootout with goals from Jesse Gimblett, Calder, and Boyd to go along with three straight stops from Pitton to gain the extra point, 6-5.
Condors Droppings:
The Condors conclude the season series against Idaho with a 3-3-0-1 record. They finish the five-game road trip with a 2-2-0-1 standing…Bakersfield is now 2-3 in shootouts this season…Hans Benson fought for the 16th time this season…Peter Boyd's shootout goal was in his second in as many nights…Boise State University sophomore Will Gagnon served as the Condors emergency backup goaltender…Shots on goal: BAK- 39, IDH- 37… PP: BAK 2/3, IDH: 1/2… Three Stars (from Condors broadcaster Ryan Holt): 1. Burgdoerfer (BAK), 2. Kennedy (IDH), 3. Calder (BAK).
Condors Offer Free Tickets to Unemployed on Wednesday
Bakersfield returns home on Wednesday to take on the Utah Grizzlies at 7 p.m. Doors open at 6 p.m. The Condors invite those who are unemployed to the game for free. Individuals may receive up to four (4) tickets to the game Wednesday or any of the three remaining Wednesday home games in the month of March.
To earn the complimentary tickets, fans must present their notice from the Employment Development Department of California at the box office. The box office is open Monday through Friday, 10 a.m. to 6 p.m. and 10 a.m. to 4 p.m. on Saturdays.
Get tickets – and $1 sodas!
Renew your Condors season tickets now for the 2012-13 season and get a special Condors Cup that grants you $1 sodas for the rest of this season! The earlier you sign up, the more you save, and the more tasty $1 beverages you can enjoy at Condors games. Call the Condors office at 324-PUCK to renew your ticket package today.


Follow the Condors all season long, for team news, player moves, promotions, and more on Twitter (@Condors) and Facebook (facebook.com/BakersfieldCondors). Be the first to know!
https://www.bakersfieldcondors.com/wp-content/uploads/2012/03/2012-03-10-Game-Recap.jpg
300
625
condors
https://www.bakersfieldcondors.com/wp-content/uploads/2023/06/BAK-Website-Header_2324.png
condors
2012-03-10 22:06:24
2012-03-11 11:41:52
Pierro-Zabotel Strikes Late, Condors Win in a Shootout 6-5