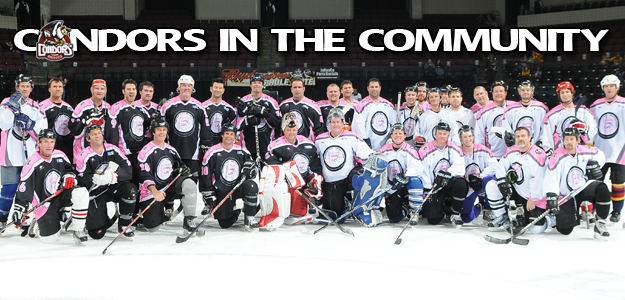 Condors in the Community – 8th annual Condors Fighting Cancer Hockey-Thon a success!!
Condors to Auction off Warm-Up Jerseys:
Get to the arena early for each of the last four home games as the Condors will auction off the players' warm-up jerseys, after warm-ups conclude at 6:45 p.m. and prior to game time. Proceeds will benefit the Active 20/30 Club. Only select players' jerseys will be auctioned off each night, and a full list of jerseys up for bid will be made available prior to the games. For more information, call the Condors front office at 324-PUCK (7825).
Condors Fighting Cancer Hockey-Thon a success!
The 8th Annual Condors Fighti
ng Cancer Hockey-Thon was once again a success! Although the final numbers are still being tallied, dozens of players participated in the 'round-the-clock hockey event, wh ich was capped off by an alumni game and auction through Saturday's Condors game.
Former Condor Andrew Ianiero's (pictured) custom Hockey-Thon sweater fetch $2,800 during the auction, as the highest bid received. Proceeds for the event will benefit Links for Life, a local breast cancer resource center. Total money raised will be announced in the coming days. Prior to this season, over $270,000 has been raised in the event's history.
Tues. March 20th:
The Condors team up with 92.5 La Campesina and Bright House Networks for the Condors Classroom of the Month. A Condors player will give a talk to a deserving classroom at Voorhies Elementary (6001 Pioneer Drive) that has excelled recently.
Wed. March 21st:
The Condors hit the ice to take on the Colorado Eagles at 7 p.m. Doors open at 6 p.m. The team will be holding Jean Collection Night, where anyone who brings in a new or gently used pair of jeans can receive a $1 ticket to the game. High school and college students can receive $1 tickets as well by presenting their current school ID at the box office. The night is sponsored by 92.5 La Campesina and Goodwill Industries.
Also, the Condors announced last week an offer of up to four complimentary tickets to Condorstown's unemployed. To earn the tickets, present your notice from the Employment Development Department of California at the box office. Box office hours are Monday through Friday, 10 a.m. – 6 p.m., and 10 a.m.- 4 p.m. on Saturdays. The offer is valid for the remaining two Wednesday home games.
That morning, Condors broadcaster Kevin Bartl will make an appearance on KUZZ 107.9 at 8:30 a.m. to talk some Condors Hockey, and help promote the month-long Condors Blood Drive, with Houchin Blood Bank.
Thurs. March 22nd:
Baby Cal and Rachel Welch from the Condors community relations department will read to students at Standard Elementary School as part of their Community Reader Day from 8:30-9:30 a.m. The school is located at 115 E. Minner Ave.
Condors broadcaster Ryan Holt will speak to students at Stone Creek Junior High School from 1:40-3:25 p.m. The school is located at 8000 Akers Road. Ryan will tell the students about the importance of school and how it is has impacted his career.
Two members of the Condors, Scott Freeman and Keith Wynn, will appear at the Houchin Blood Bank blood drive from 5-7 p.m along with Condors mascots. The blood bank is located at 5901 Truxtun Ave. Those that have donated blood this month received a voucher good for a $1 ticket to either this Wednesday's game, or next Wednesday, Mar. 28.
Condors Insider
returns to the airwaves from 6-7 p.m. and will feature Head Coach Matt O'Dette along with guests from the team as they prepare for games in Idaho. Fans can tune in on
Fox Sports Radio 970 AM
,
www.foxsports970am.com,
or the iheartradio app.
Fri. March 23rd:
Baby Cal will put the running shoes on at Harding Elementary School, from 8:30-9 a.m. as part of their "Hometown Sports" Jog-A-Thon. The school is located at 3201 Pico Ave.
Condors broadcaster Kevin Bartl will be a guest on the Scott Cox Show at 4:00 p.m. on KERN Radio 1180 AM.
Mon. March 26th:
The Condors will hold their annual Kids Club Party from 6-8 p.m. at Rollerama West, located 7850 Brimhall Road. All members can skate for free and enjoy a slice of pizza and a soft drink, all while meeting the players and mascots, getting autographs, getting tutored in the inflatable slapshot or even playing a little floor hockey with the guys. Siblings who are not members can get in for $5 and skate with the team as well. Call the Condors front office at 324-PUCK(7825) for more inf
ormation.
Donate Blood and Get $1 Tickets
Donate blood at Houchin Blood Bank and receive a $1 voucher ticket to attend either the Condors game on Wed. March 21st or Wed. March 28th. The blood bank is located at 5901 Truxtun Avenue.
GET TICKETS:
Renew your Condors season tickets now for the 2012-13 season and get a special Condors Cup that grants you $1 sodas for the rest of this season! The earlier you sign up, the more you save, and the more tasty $1 beverages you can enjoy at Condors games. Call the Condors office at 324-PUCK to renew your ticket package today.
https://www.bakersfieldcondors.com/wp-content/uploads/2012/03/2012-03-19-Community.jpg
300
625
condors
/wp-content/uploads/2022/08/WebSite-Top-Bar-1.png
condors
2012-03-19 14:43:19
2012-03-19 14:43:19
Condors in the Community – 8th annual Condors Fighting Cancer Hockey-Thon a success!!