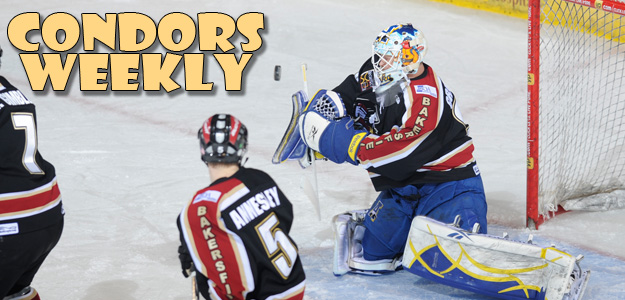 Condors Weekly: Red Hot Condors return home Wednesday
CONDORSTOWN, Calif. – The Bakersfield Condors went 3-1-0-0 on the week, including a three-game sweep of action against Utah and Las Vegas over the weekend, to stay alive in their race against the odds for the post-season. The team now holds a 22-37-4-3 record, with 51 points in the standings.
They own a 12-5-0-2 record in their last 19 games.  The Condors must win all their remaining games in order for an opportunity to overtake Idaho for the 7th and final playoff spot in the Western Conference.

THIS WEEK (ALL TIMES PACIFIC):
Wednesday, Mar. 21 vs. Colorado (7 p.m.)
Friday, Mar. 23 @ Stockton (7:30 p.m.)
Saturday, Mar. 24 @ Stockton (7:30 p.m.)
WEEK IN REVIEW (Home team in CAPS):
Wednesday, Mar. 14
Utah 3 vs. CONDORS 2
In the team's only blemish on the week, Utah opened up leads of 2-0 and 3-1 and held on for a narrow victory on Wednesday night. F Robby Dee hit the 20-goal plateau in the second frame and LW Kyle Calder scored his ninth of the season in the third to pull within a goal. But G Andrew Engelage made 32 saves for the win.
Friday, Mar. 16
CONDORS 5 vs. Utah 2
Attn: 6,252
F Robby Dee and D Justin Pender both scored twice, and F Peter Boyd had three assists to lead the Condors to a 5-2 romp over the Grizzlies Friday night. D Ryan Annesley also scored for the Condors, and G Bryan Pitton made 29 saves for the victory.
Saturday, Mar. 17
CONDORS 4 vs. Las Vegas 3
Attn: 5,512
Rookie G Scott Greenham made 36 saves in his pro debut and F
Peter Boyd scored twice as the Condors made it three in a row against the Wranglers in the season series. D Justin Pender scored for the second consecutive game, and LW Kyle Calder hit double-digits in goals with his 10th of the season to open the scoring.
Sunday, Mar. 18
Condors 4 vs. LAS VEGAS 3
Four different Condors lit the lamp, and the team never trailed as they went into Vegas and swept the weekend home-and-home series on Sunday. G Bryan Pitton made 40 saves for the win and F Peter Boyd had his third consecutive multi-point game with two assists. The Condors ended their season series 4-3-1-0 against the Wranglers.
PLAYER AND TEAM NOTES:
F Robby Dee has tied Lars-Peder Nagel for the third-highest rookie goal total in Condors history. His 22 goals are tied for 2nd in the league among rookies.
F Peter Boyd had 2g-6a in four games last week and was the Condors nominee for the Sher-wood Hockey ECHL Player of the Week.
D Justin Pender recorded the first multiple-goal game of his career Saturday. He had 3g-2a in the three games over the weekend.
F Casey Pierro-Zabotel's shorthanded goal Sunday put the Condors back in the league lead with 12 shorthanded goals.
Friday's crowd of 6,252 was the Condors 7th crowd of the season in excess of 6,000 fans.
The Condors have three players among league leaders in rookie scoring, including F Tyler Helfrich (t-6th) and F Robby Dee (t-9th) in the Top 10. F Peter Boyd is t-17th in rookie scoring.
G Scott Greenham became the sixth goalie in Condors history to win in his first pro start. The others are: Jim Watt (2010-11), Ryan Munce (2005-06), Beau Fritz (2002-03), Danielle Dube (2002-03), Ken Baker (2001-02) and Philippe Bergeron (1999-00).
On Feb 8 the Condors had just 10 wins through 47 games. Since then, the Condors have won 12 games and have a point in 14 of their 19 contests.
THIS WEEK'S SCHEDULE
All practices are at Rabobank Arena unless otherwise indicated
Monday, Mar. 19 – OFF
Tuesday, Mar. 20 – 10 a.m. practice
Wednesday, Mar. 21 – 10 a.m. practice
7 p.m. vs. Colorado
Thursday, Mar. 22 – 10 a.m. practice
6:00 – 7:00 p.m. Condors Insider (FSR 970AM)
Friday, Mar. 23 – 10 a.m. practice
7:30 p.m. vs. Stockton
Saturday, Mar. 24 – 7:30 p.m. vs. Las Vegas
Sunday, Mar. 25 – OFF
Monday, Mar. 26 – TBA
6 – 8 p.m. Kids Club Party (Rollerama West)
Jean Drive & High School/College ID Night Wednesday
The Condors host the Colorado Eagles Wednesday night for Jean Collection Night and High School/Student ID Night. Donate a pair
of jeans that night and get in for just $1, sponsored by Goodwill Industries. And all high school and college students can purchase a lower level ticket for just $1 by presenting their student ID at the box office, sponsored by 92.5 La Campesina.
They wrap up the week with two games in Stockton, on Friday and Saturday night. Both games start at 7:30 p.m. and can be heard live on Fox Sports 970AM, online at
www.foxsports970AM.com
or through your smartphone via the iHeartRadio app. Fans can also watch the game online at
www.AmericaOne.com.
CONDORS LEAGUE LEADERS:
Team Stats
71 major penalties – 2nd
12 shorthanded goals – t-1st
Individual league leaders
F Tyler Helfrich – 46 points (6th, rookies)
F Robby Dee – 22 goals (t-2nd, rookies)
F Robby Dee – 43 points (t-9th, rookies)
RW Scott Freeman – 4 shorthanded goals (t-2nd; 1st, rookies)
F Robby Dee – 4 shorthanded goals (t-2nd; 1st, rookies)
F Peter Boyd – 3 shorthanded goals (t-3rd, rookies)
D Tyson Gimblett – 148 PIM (1st, rookies)
D Tyson Gimblett – 12 major penalties (t-1st, rookies; t-1st, defensemen)
F Hans Benson – 16 major penalties (t-3rd)
LW Kyle Calder – 24.4% shooting pct. (3rd)
CONDORS LEADERS:
Points: F Tyler Helfrich, 46
Goals: F Robby Dee, 22
Assists: F Tyler Helfrich, 30
PIM: D Tyson Gimblett, 148
+/-: D Josh Van Dyk/F Chris Kushneriuk/F Evan Trupp, +7
GAA: G Matt Keetley, 2.97
Save %: G Matt Keetley, .910
Wins: G Matt Keetley, 12
GET TICKETS:
Renew your Condors season tickets now for the 2012-13 season and get a special Condors Cup that grants you $1 sodas for the rest of this season! The earlier you sign up, the more you save, and the more tasty $1 beverages you can enjoy at Condors games. Call the Condors office at 324-PUCK to renew your ticket package today.


Follow the Condors all season long, for team news, player moves, promotions, and more on Twitter (@Condors) and Facebook (facebook.com/BakersfieldCondors). Be the first to know!
https://www.bakersfieldcondors.com/wp-content/uploads/2012/03/2012-03-19-weekly.jpg
300
625
condors
https://www.bakersfieldcondors.com/wp-content/uploads/2023/06/BAK-Website-Header_2324.png
condors
2012-03-19 12:35:21
2012-03-19 12:44:03
Condors Weekly: Red Hot Condors return home Wednesday