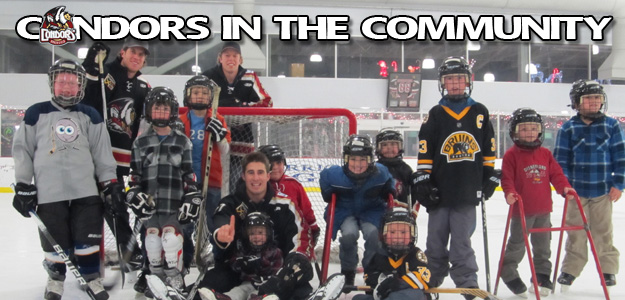 January 3, 2012 
Looking back:
The Condors raised$14,375 for the Mercy and Memorial Hospitals Get Fit Club through a specialty jersey auction held following the Condors victory over Stockton on 12/26. The Revolutionary War/Don't Tread on Me sweaters were a hit, with #55 Jesse Gimblett garnering the highest bid of $1,200.
#27 Ian McKenzie (pictured), #10 Michael Gergen, and #18 Chris Kushneriuk
helped teach the game of hockey at the"Try Hockey for Free" Clinic held at the Bakersfield Ice Sports Center last Thursday.
SAVE THE DATES!
The always anticipated "Tip A Condor" event will be held atHooters, located at 4208 Rosedale Highway Suite 100 on Tuesday, February 21st. Time TBD. Don't miss out on this great chance to interact with the players as they serve your food. There will also be plenty of items up for auction and fun had by all!
Another highlight to the Condors calendar has been set as well with"Ladies Night" to be held on Monday, March 12. Time TBD. It's a special event for the Condors women only as they get special tours of the rink, instruction from the players and coaches, and have an opportunity to ask the team plenty of questions! If you're looking to learn more about the game and the team, this is definitely the event for you.
For more information on either of these events, call 324-PUCK (7825). There will be more information to follow in the coming weeks.
This week in Condorstown:

Thurs. January 5th:
Baby Cal will play street hockey at the Boys and Girls Club of Bakersfield located at 801 Niles Rd. from 2-3 p.m. Members can play with Cal and have fun during the winter break!
Condors Insider returns to the airwaves from 6-7 p.m. on Fox Sports Radio 970. Kevin Bartl and Ryan Holt will host the show from Bakersfield and will be joined by Head Coach Matt O'Dette along with members of the team. You'll get all the inside information during the show and will hear the latest news from around the ECHL with the ECHL plays of the week.
Fri. January 6th:
The Stockton Thunder come to Condorstown for a meeting with the Condors at 7 p.m. Spider-Man comes to town to pose for pictures and meet fans presented by MY45 and La Campesina 92.5 FM. The game is also one of six Bright House Networks and Wells Fargo Kids Clubs games where members will receive free lower level tickets to the game. To find out more information or to get your young Condors fan signed up, call 324-PUCK (7825).
Sat. January 7th:
The weekend wraps up with a second tilt against the Thunder at 7 p.m. 50 lucky fans will win customized Flip Cams, presented by Bright House Networks and 106.1 KRAB Radio. The cameras feature images of Condors players of the past and present.
Mon. January 9th:
Discovery Elementary School will be the place to be at 8 a.m. as Baby Cal and Condors staff help kickoff a fundraiser with the students. The school is located at 7500 Vaquero Avenue. To find out more information on how you can use the Condors to help raise money for your school, click here.

Get Tickets:
Pick-4 Plans are the perfect plans for the Condors fan on the run. Choose four games that fit around your schedule. Plans start at just $32. For more information or to reserve your tickets call 324-PUCK (7825) today.
Individual tickets are on sale through Ticketmaster and the Rabobank Arena box office by calling 1-800-745-3000. Box office hours are 10 a.m.-6 p.m. Monday thru Friday and 10 a.m.-4 p.m. on Saturdays with extended hours on game days. The box office is closed on Saturday, December 24th. For more information on ticket packages, exciting promotions, and to sign up for the Kids Club for just $10, visit the online home of the Condors,   www.bakersfieldcondors.com.
https://www.bakersfieldcondors.com/wp-content/uploads/2012/01/2012-01-03-community.jpg
300
625
condors
/_media/logo_1819.png
condors
2012-01-03 17:43:35
2012-01-03 17:43:35
Condors in the Community: Baby Cal to Play Street Hockey at Boys and Girls Club on Thursday