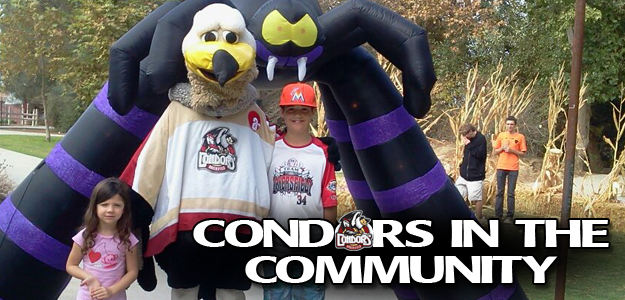 CONDORS IN THE COMMUNITY: Colonel Repels Down Building, Stanfield Youth Jerseys on Saturday!
Colonel Claw'd gets to repel down Stockdale Tower, winger Zach Cohen gets to go back to school and Condors host a booth at the 2012 Bakersfield Business Expo.  Plus, get your FREE Youth Jersey at Saturday's game and last call for Condors 15th Annual Charity Golf Tournament!
TUESDAY, OCTOBER 23:
Condors player Zach Cohen will speak to the entire 2nd grade at Olive Drive Elementary at 1 p.m. about the importance of good sportsmanship and what it takes to be a good teammate.
Condors broadcaster Kevin Bartl hits the airwaves for his weekly appearance on the Scott Cox Show at 5 p.m. on KERN News Talk 1180.  The season has begun – so don't miss out on behind the scenes news and insights about the team and front office.

WEDNESDAY, OCTOBER 24:
Condors front office members Matt Friedman and Brad Urbani will attend the 
Kern County Hispanic Chamber of Commerce Mixer and Open House
being held at Kaplan College, 1914 Wible Rd at 5:30 p.m.
Peter Boyd with some younger fans at a FUN Sports practice.
THURSDAY, OCTOBER 25:
Director of Community Relations Mikie Barrett and mascot Baby Cal will be part of the student council inauguration atThorner Elementary at 8:45 a.m. Barrett will swear in students as they take their oath of office.
Stop by the Condors table at the Bakersfield Business Expo at the Rabobank Convention Center from 4-8 p.m. Mix and mingle with more than 140 local businesses and ask Condors reps how you can get a season ticket plan for as low as $8 a month!
Tune in to the Condors Insider for interviews with the players and coaches from 6-7 p.m. Hosted by Condors duo Kevin Bartl and Ryan Holt, Condors Insider can be heard onFox Sports Radio 970 AM and the iheartradio app.
FRIDAY, OCTOBER 26:
Baby Cal and Account Manager Matthew Friedman will help students at Berkshire Elementary Kick Off their very own Condors Fundraiser! If your school or group is looking for a fun and easy way to make some money and have a night out – contact the Condors Office at 324-PUCK(7825).
Colonel Claw'd finally goes Over The Edge…of Stockdale Tower that is.  The Condors fearless mascot will take part in a preview for the Boy Scouts fundraiser and repel down the tallest building in Bakersfield. Come watch Colonel go over at1 p.m.
SATURDAY, OCTOBER 27:
Baby Cal and account manager Wendy Carpio will join the fight against multiple sclerosis at the National MS Walk 2012 at Yokuts Park at 9 a.m.
Colonel Claw'd will join the fun at the KOHL'S Cares for Kids Fall Carnival starting at 9 a.m. in the KOHL'S parking lot on Gosford Road.
CONDORS HOME GAMES THIS WEEKEND:
The Condors are on Dignity Health home ice to take on the Las Vegas Wranglers Friday, October 26 and the Stockton Thunder on Saturday, October 27.  Friday night everyone in attendance will receive a 2012-13 Condors Team Poster courtesy of KERN 1180 AM and Castle Printing.
On Saturday, October 27, the first 2,000 children, 12 and younger, will receive a #8 Parker Stanfield "SoCal Kid" Youth Jersey presented by La Preciosa 105.3 FM and Three Way Chevrolet-Cadillac.
Doors open at 6 p.m., the puck drops at 7 p.m., both nights. For more information please call 324-PUCK (7825).
LAST CHANCE TO GOLF WITH A CONDOR AT THE  15th ANNUAL CHARITY GOLF CLASSIC:
The Bakersfield Condors are once again teaming up with Kern Bridges Youth Homes for the 15th Annual Charity Golf Tournament taking place Monday, October 29th at the prestigious Bakersfield Country Club. Golfers will enjoy a premier course, delicious food, awesome prizes and of course, the chance to golf with a Condors player! All proceeds benefit Kern Bridges Youth Homes – for more information call 324-PUCK (7825) or sign up now by clicking here.
CONDORS KIDS CLUB
Join the coolest club in town for only $10 and you will receive free lower level tick
ets to 6 Condors home games, an official ID badge, Kids Club gift, exclusive party with the team and free admission to the Kids Zone all season long!  You can sign up in the office or online by clicking on CondorsKids.

https://www.bakersfieldcondors.com/wp-content/uploads/2012/10/2012-10-22_In-the-Community.jpg
300
625
condors
https://www.bakersfieldcondors.com/wp-content/uploads/2023/06/BAK-Website-Header_2324.png
condors
2012-10-22 14:56:04
2012-10-22 15:45:02
CONDORS IN THE COMMUNITY: Colonel Repels Down Building, Stanfield Youth Jerseys on Saturday!