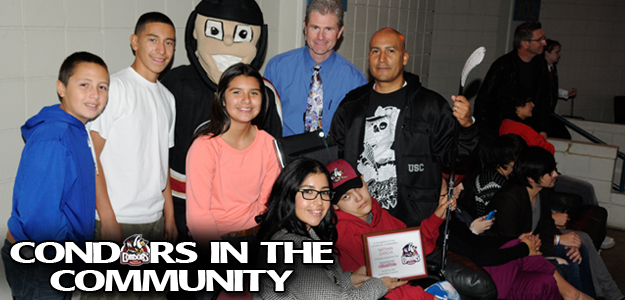 CONDORS IN THE COMMUNITY: Condors Players in Taft and Mascots Play Tennis
Condors players go to Taft schools, mascots double-up to play tennis for local non-profit and as always, catch up with the latest happenings in Condorstown on Scott Cox & the Condors Insider.  Condors take to home ice this weekend with a Condors Kids Club game on Friday and special guests U.S. Olympic Silver Medalists April Ross & Jen Kessy on Saturday!

CONDORS WELCOME NATHAN GARCIA WITH SPIRIT OF CONDORSTOWN AWARD:

The Bakersfield Condors welcomed a special guest into the locker room prior to Sunday's game. 12-year old Nathan Garcia got to meet the team and coaches before receiving
his 
Spirit of Condorstown
award. Nathan has terminal brain cancer and is struggling to make it to his 13th birthday on December 17. Despite his prognosis, Nathan maintains an attitude of living life to the fullest and helping others. His birthday wish was not for himself, but to help other sick kids. He has asked the community to donate toys to the children in hospitals and so far more than 1,000 toys have been collected.
Click on the links below to see what Condors players had to say about getting the chance to meet Nathan and the inspiration he provided.
TUESDAY, DECEMBER 11:
Condors players and Director of Community Relations, Mikie Barrett, will be speaking to multiple Taft area schools from 1-3:30 p.m. Students will get to hear more about the lives of hockey players and get their hockey questions answered as they prepare to attend the December 15 game as a group for "Taft Night".
Condors Vice President of Communications, Kevin Bartl, hits the airwaves for his weekly appearance on the Scott Cox Show at 5 p.m. on KERN News Talk 1180.  Don't miss out on behind the scenes news and insights about the team and front office.
THURSDAY, DECEMBER 13:
Tune in to the Condors Insider for interviews with the players and coaches from 6-7 p.m. Hosted by Condors broadcast duo Kevin Bartl and Ryan Holt, Condors Insider can be heard on Fox Sports Radio 970 AM and the iheartradio app.
FRIDAY, DECEMBER 14:
Condors players, mascots & Director of Community Relations, Mikie Barrett, along with friends at La Campesina Radio & Brighthouse Networks will be presenting the December Classroom of the Month award for the 2012-2013 school year. Winners receive a special classroom visit and tickets to an upcoming Condors game.
CONDORS HOME GAME: FREE ADMISSION FOR KIDS CLUB MEMBERS
The Condors host the Idaho Steelheads on Friday, Dec. 14, for 15th Anniversary Flag Giveaway Night, sponsored by KBAK Eyewitness News, Fox Sports Radio 970 AM and Three-Way Chevrolet-Cadillac. The first 3,000 fans 5 & older will receive one of these commemorative 3′ x 5′ color banners. Plus, free admission for Condors Kids Club members by showing ID badge at the box office. 

Join the Kids Club today for only $10!
Sponsored by Wells Fargo, Kids Club members receive free lower level tickets to select Condors home games, an official ID badge, Kids Club gift, exclusive party with the team and free admission to the Kids Zone all season long!  You can sign up in the office or online by clicking on  
CondorsKids
.
SATURDAY, DECEMBER 15:
Colonel Claw'd and Baby Cal take their antics to the court for a charity tennis tournament and toy drive benefitting the Jamison Children's Center. Hosted by RJ's Bar & Grill, RJ's Grill and Catering and Limousine Scene, the event is being held at Bakersfield Raquet Club, 1660 Pine Street and starts at 10:00 a.m.  Proceeds benefit the Jamison Center, the only facility in Kern County that accepts children from law enforcement who have been taken from their home due to poverty, neglect or abuse according to Jim Luff, president of Kern Partnership for Children and Families, the financial foundation of the center.
CONDORS HOME GAME: US OLYMPIC SILVER MEDALISTS AND CLASSROOM CHAMPIONS NIGHT
The Condors welcome Team U.S.A. Beach Volleyball Silver Medalists April Ross and Jen Kessy, courtesy of KLLY 95.3 and Coldstone Creamery. The duo will pose for pictures with fans in the Condors Photo Booth and also host a Q & A before the game. The Q & A is open to all ticket plan holders and participating groups of 10 or more. Call the Condors at 324-PUCK (7825) for information on how to get your youth sports team an opportunity to hear Olympians speak.
Plus, students who have achieved outstanding attendance at select schools will get to attend a game free courtesy of SC Architect and Classroom Champions.
GET YOUR CONDORS HOLIDAY 4-PACK:
Holiday 4-Pack Plans are the perfect gift for anyone looking to
have a good time. Starting at just $32, purchasing a Holiday 4-Pack plan will save fans more than 20% off the box office. Plus, by getting two 4-Pack plans fans will receive a Condors snuggie, perfect for staying warm during those cool winter nights. Fans can customize their Holiday 4-Pack with ANY four games, including some of the biggest nights upcoming in Condorstown!

https://www.bakersfieldcondors.com/wp-content/uploads/2012/12/2012-12-10_In-the-Community.jpg
300
625
condors
https://www.bakersfieldcondors.com/wp-content/uploads/2023/06/BAK-Website-Header_2324.png
condors
2012-12-10 16:26:56
2012-12-11 09:08:17
CONDORS IN THE COMMUNITY: Condors Players in Taft and Mascots Play Tennis