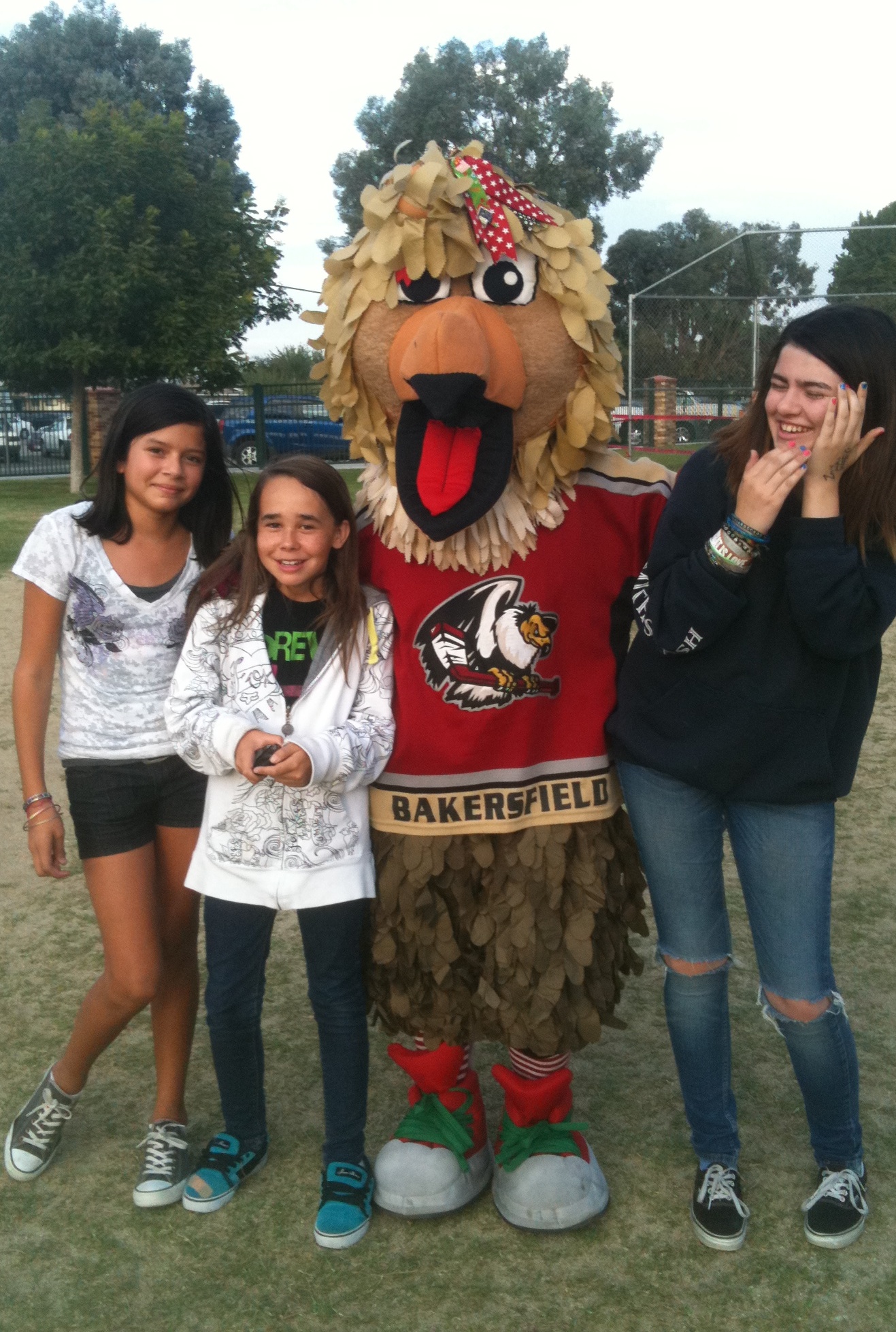 Condors in the Community: Condors will be at the DBA Third Thursday at Mill Creek Park
June 13, 2011
This week in Condorstown:
Monday, Jun. 13
Condors VP of Operations, Justin Fahsbender, will be attending the CSUB Spring Partnership Meeting being held at CSUB, located at 9001 Stockdale Highway, at 3:30 p.m. This event
allows businesses to partner with CSUB in hiring new employees and interns.
Tuesday, Jun. 14
Colonel Claw'd and Condors staff will be at the Downtown Business Associations Mix and Mingle Mixer being held at The Gardens at Mill Creek Park, located at 700 19th St., from 5 to 7 p.m.
Thursday, Jun. 16
The Condors will be out at Mill Creek Park from 5:30 to 8:30 p.m. for Third Thursday held by the Downtown Business Association. The former Downtown Street Faires have moved to the park and will be held the third Thursday of the month through September. The Condors will have the inflatable slapshot booth, and prize wheel set up to give everyone a chance to win cool Condors prizes! Colonel Claw'd will also be joining the festivities! The park is located downtown, between 19th and 21st street, just east of R Street. Visit www.bakersfielddba.net for more information.
Saturday, Jun. 18
Colonel Claw'd and Condors staff will be at the Apostolic Faith Lighthouse Community Fair, located at 6701 Niles St., from 11 to 12 p.m. Colonel will be joining the guests in arts and crafts and various activities.
Recap of last week:
The Condors office may have been closed last week but the Condors made it out to a few community appearances. On Saturday, June 11, Baby Cal joined local kids at Russo's Books in the Marketplace for story time. Colonel Claw'd then joined the Girl Scouts of America for their Fair and Carnival, to help raise money for the Girl Scout Organization.
Summer Reading Program
The Condors are teaming up with the Kern County Libraries this summer for the Summer Reading Program. Kids who read 10 or more books will be awarded a ticket to a Condors game next season. The program will run from June 6 to July 30. Stop by Beale Library located at 701 Truxtun Ave., for more information on the program or give the Condors office a call at 324-PUCK(7825).
Have the Condors at Your Event:
Even though the hockey season has concluded, the Condors will still be out in the community all throughout the off-season. If you're interested in having any of our mascots, Colonel Claw'd, Baby Cal or Slapshot, the inflatable Slapshot Booth or the Condors prize wheel out to your camp, youth program, school or other event, contact the Condors. Condors staff are also available to speak at your service luncheons, such as Rotary Club, Lions Club, among others. Call 324-PUCK (7825) for availability or more information.
Get ready for 2011-12:
Ticket plans are on sale now for the 2011-12 season for as low as $48! The earlier you commit, the better seat location you can secure, and the longer you can spread out your payments.
Call the Condors at 324-PUCK (7825) or go to  www.bakersfieldcondors.com/web/tickets for more info. Office hours are Monday through Friday from 8:30 a.m. until 5 p.m. For more information visit  www.bakersfieldcondors.com. or click here for the 2011-12 full schedule.
https://www.bakersfieldcondors.com/wp-content/uploads/2011/06/bb.jpg
1957
1317
condors
https://www.bakersfieldcondors.com/wp-content/uploads/2023/06/BAK-Website-Header_2324.png
condors
2011-06-13 13:22:04
2011-06-21 13:32:21
Condors in the Community: Condors will be at the DBA Third Thursday at Mill Creek Park