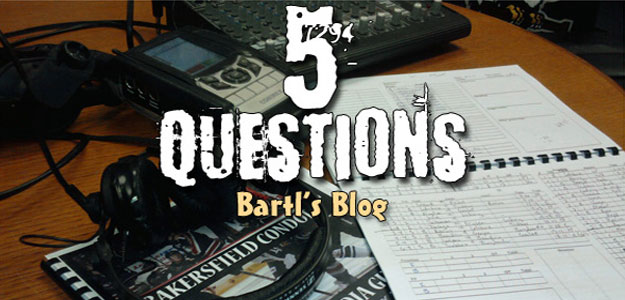 5 Questions about the season that was…
Wednesday night's Game 7 victory by Boston effectively wrapped up the 2010-11 hockey season. All hockey that is to be played has been played, and all eyes are on 2011-12. So with that, I have five questions about what happened, and what will happen soon.
5. What's up with the new head coaching search? I've seen the list. There are a lot of prospects on it. And probably half of those are legit head coaches. Picking a head coach is a relatively unknown task here in Condorstown, considering Marty Raymond was already on board for 2 years when he was given the title back in 2004. Other than that, only two head coaches have been hired in the team's history. As Matthew Riley said in The Californian Thursday morning, every day that passes the Condors lose a little bit of time this summer, but it's an important decision that deserves time and due diligence be taken.
4. Does anyone remember the 1990 Bruins? I do. And this season's B's squad reminded me of that one… they were physical, they had a stud defenseman as captain, they had an underrated goaltender with acrobatic unorthodox style, they had a great regular season record and playoff run, goal-scorers and role players… they even had their own player known as "The Rat" (Ken Linseman). Of course, that team was run in four games in the Final by a different Canadian-based club in Edmonton. And it was in that series that the name Petr Klima became a unique footnote in history.
Speaking of the 1990 Bruins, check out these highlights of Cam Neely, now a member of the Bruins front office. I dig the 80's synth-pop music. Makes it feel like 100 years ago. Neely would be a superstar in any era, he was that kind of a player. If you never got to see him, it's too bad. And if you think Ovechkin-Crosby is a rivaly, YouTube "Cam Neely Ulf Samuelsson".
3. The Winnipeg Falcons? It's another rumor that came to me via twitter yesterday. I'm pretty sure that if Winnipeg takes on this moniker, they will have few fans at this end of the Central Valley.
2. What's the difference between the Protected List and the Season Ending Roster? We get this question every summer. Personally, I don't like their names… they seem to be called the opposite of what they should be called, but that's neither here nor there.
For the most part, players at this level are as free agent as it gets in pro sports. Everyone is signed to a one-year contract and players bounce around from season to season. The Condors have three chances to protect some players each season. The Protected List, on June 1, pretty much protects everybody under contract the previous season, plus a few others. The Season Ending Roster whittles that list down by a few, limiting it to 20 contracted players. Then on July 1 the team can make eight Qualifying Offers off that list, with no more than four "veterans" being sent QO. The vets can wait it out and still yet become free agents before the season starts, so really, that leaves the number of players the Condors can protect to be less than 30% of the previous season's roster.
1. What the heck is wrong with Vancouver? I have no idea, but they have serious problems. Last night's post-Stanley Cup Meltdown meltdown by Canucks fans was both embarrassing and predictable. The Twittersphere was already percolating with anticipation of rioting before the 3rd period even started, and 'Nucks fans did not disappoint. Check out the scene after their 1994 failure.
Not that winning the Cup might have guaranteed any better behavior… see this bit from 1993 in Montreal after a victorious Cup Final performance that was so out of hand that $10M (in 1993 $$) was done and the players were held in the arena until the mob could clear out.
Kevin Bartl is the Vice President of Communications for the Condors, entering his ninth season with the club. His blog comes out every Tuesday, or whenever he gets around to it. Follow him on twitter at @KevinBartl.
https://www.bakersfieldcondors.com/wp-content/uploads/2011/06/Untitled-6.jpg
300
625
condors
https://www.bakersfieldcondors.com/wp-content/uploads/2023/06/BAK-Website-Header_2324.png
condors
2011-06-16 14:56:51
2011-06-20 09:06:36
5 Questions about the season that was…