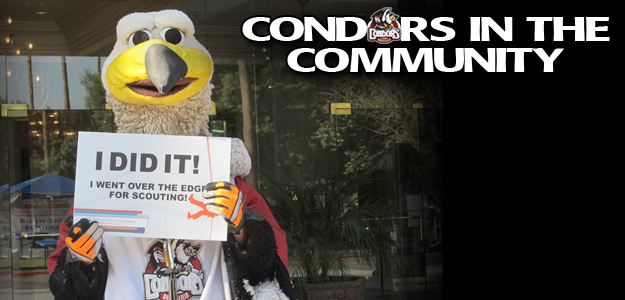 CONDORS IN THE COMMUNITY: Join Us at Safe Halloween & Try Hockey for Free Night
Condors take part in Safe Halloween and Try Hockey for Free Night on Saturday, November 3rd. Also, there is still time to get your school or group signed up for Condors 9th Annual Field Trip Educational Day – Thursday, November 15.
TUESDAY, OCTOBER 30:
Condors broadcaster Kevin Bartl hits the airwaves for his weekly appearance on the 
Scott Cox Show
at 5 p.m. on 
KERN News Talk 1180
.  Don't miss out on behind the scenes news and insights
Colonel repelling down
Stockdale Tower last Friday
about the team and front office.
WEDNESDAY, OCTOBER 31:
Colonel Claw'd gets an early start to Halloween fun by joining the KGET-Channel 17 News at Sunrise show. From 5 -7 a.m. you can catch Colonel on air throughout the morning's spooktacular show.
Baby Cal celebrates Halloween with the special education students at East Bakersfield High at 10:30 a.m.
Trick-or-Treat with Condors staff, mascots and Assistant Coach, Kevin Barrett, at the Kern County Museum's Safe Halloween from 5-9 p.m.  This premier Trick-or-Treat event gives kids the full Halloween experience while eliminating many safety concerns for parents. The Condors will be stationed at the Norris School building on museum grounds. Kids 12 and under are encouraged to stop by for a special Condors 'treat'.
THURSDAY, NOVEMBER 1:
Condors Merchandise & Game Ops Manager, Josh Huber, and Colonel Claw'd will kick off a Condors fundraiser for the students of 
Colonel Nichols Elementary
at 10 a.m. To find how your organization can make money with the Condors, 
click here.
Baby Cal stops by Wingland Elementary School, 701 Douglas St., for Book Fair Family Night starting at 5 p.m.
Tune in to the Condors Insider for interviews with the players and coaches from 6-7 p.m. Hosted by Condors broadcast duo Kevin Bartl and Ryan Holt, Condors Insider can be heard on Fox Sports Radio 970 AM and the iheartradio app.
SATURDAY, NOVEMBER 3: TRY HOCKEY FREE NIGHT
If you've ever wondered what playing hockey is really like – now's your chance! The SJCH Ice Sports Center of Bakersfield, in conjunction with USA Hockey, is hosting Try Hockey for Free starting at 6:30 p.m. This event is for kids ages 4-9 and equipment will be available for use – all at no cost.  Condors players will be on hand to show beginners some tricks of the trade. To register, contact Paul Willett at 661-852-7402.
CONDORS 9th ANNUAL FIELD TRIP DAY NOVEMBER 15:
It's not too late to bring students out to the Condors Annual Field Trip Day game on Thursday, November 15 at 10:30 a.m. For just $5 per student, the event includes lunch and an informative 16 page educational booklet that can be utilized back in the classroom.  For information on how you can bring out a group or school call the Condors office (661) 324-PUCK (7825).
CONDORS KIDS CLUB
Join the coolest club in town for only $10 and you will receive free lower level tick
ets to 6 select Condors home games, an official ID badge, Kids Club gift, exclusive party with the team and free admission to the Kids Zone all season long!  You can sign up in the office or online by clicking on CondorsKids.

https://www.bakersfieldcondors.com/wp-content/uploads/2012/10/2012-10-30_In-the-Community.jpg
300
625
condors
https://www.bakersfieldcondors.com/wp-content/uploads/2023/06/BAK-Website-Header_2324.png
condors
2012-10-30 16:10:24
2012-10-31 09:44:17
CONDORS IN THE COMMUNITY: Join Us at Safe Halloween & Try Hockey for Free Night