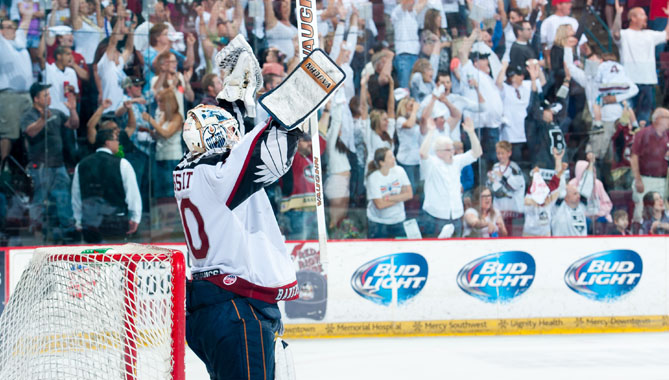 Best Season in Condors History Ends
ANCHORAGE – The Bakersfield Condors, owned by the Edmonton Oilers, saw their historic postseason run end in Game 6 of the Western Conference Finals as the Alaska Aces took a 4-1 win and the series, 4 games-to-2.
D Erik Burgdoerfer scored the lone goal of the game for Bakersfield.

1st Period
Aces goal: D John Ramage, 5-on-3 power-play goal, from the left circle on a one-timer. Time of goal: 5:04; Aces lead, 1-0
Aces goal: LW Turner Elson tipped home a centering pass from the top of the crease. Time of goal: 7:09; Aces lead, 2-0
Shots: BAK – 5 | AK – 8
2nd Period
Aces goal: C Jordan Morrison took a pass and fired home a shot from the slot past G Laurent Brossoit. Time of goal: 18:08; Aces lead, 3-0
Shots: BAK – 3 | AK – 8
3rd Period 
CONDORS goal: D Erik Burgdoerfer on the power play from the left-wing circle. Assists: Miller, Collins; Time of goal: :46 seconds; Aces lead, 3-1
Aces goal: C Nick Mazzolini drove a shot home from the slot. Time of goal: 4:03; Aces lead, 4-1
Shots: BAK – 9 | AK – 16
W: Coleman (6-2; 17/16)
L: Brossoit (10-6; 32/28)
Condors droppings:
Three Stars: 1. Coleman (AK) 2. Mazzolini (AK) 3. LaFranchise (AK)
Final shots: BAK – 17 | AK – 32
Power plays: BAK – 1/2 | AK – 1/6
Bakersfield went 10-6 in the postseason, won all three of their overtime games, had four third period victories when trailing, and advanced to the Western Conference Finals for the first time in team history.
Nearly 37,000 fans watched the Condors playoff run at Rabobank Arena, the most in the ECHL with a per game average of 4,618, 4th most in the league.
Scratches: Joe, Gawryletz, Holmberg, Watson, Bennett
WESTERN CONFERENCE FINALS
Condors fall to Alaska, 4 games to 2.
G1 – Fri, 5/16, L, 1-2
G2 – Sat, 5/17, W, 3-2 (OT)
G3 – Fri, 5/23, W, 5-4
G4 – Sat, 5/24, L, 1-4
G5 – Sun, 5/25, L, 0-4  
G6 – Tues, 5/27, L 1-4
WESTERN CONFERENCE SEMIFINALS
Condors (#6) def, Stockton Thunder (#7) (4-games-to-1)
WESTERN CONFERENCE QUARTERFINALS
Condors (#6) def. Utah Grizzlies (#3), (4-games-to-1)
https://www.bakersfieldcondors.com/wp-content/uploads/2014/05/FinalSlate.jpg
380
669
condors
https://www.bakersfieldcondors.com/wp-content/uploads/2023/06/BAK-Website-Header_2324.png
condors
2014-05-27 22:55:22
2014-05-27 22:55:22
Best Season in Condors History Ends