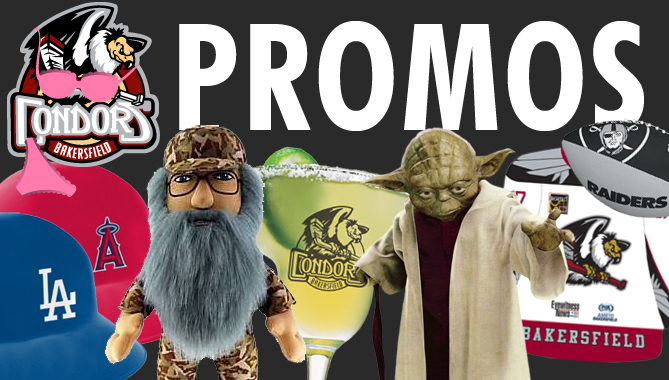 Budget-busting promos for 2014-15
CONDORSTOWN, Calif. – The Bakersfield Condors, owned by the Edmonton Oilers, announced today the first batch of promotions, confirmed for 22 games during the 2014-15 season. The remaining games' promos will be announced at a later date.
WHAT RILEY (@PREZRILES) SAYS:
"Fans in Condorstown had better come out, because we are way over on our expense budget with these promotions," said Condors Team President Matthew Riley. "Between these batting helmets, the fedoras, the extra-fancy rally towels, the computer tablets, and the Kings replica championship rings, we are rolling out some high-end promos. In fact, if we could all just keep this between us and not tell the folks up in Edmonton, that would be great."
Opening Weekend in Condorstown highlights the budget-breaking promotional calendar with a
Condors Jersey Rally Towel Giveaway (pictured) on Friday night followed by a LA Kings Stanley Cup Celebration on Saturday complete with replica Championship Rings. Bailey, the Kings famous mascot, and the Kings Ice Crew will be on hand to rock the house.
Other exciting (and really expensive) giveaways include: computer tablets, batting helmets, fedoras, youth jerseys, Duck Dynasty Talking Plush Figures, welcome mats, footballs, knit caps, and fly swatters.
Must-see event nights include fans throwing Teddy Bears (Nov 29) and Undies (Feb 15) onto the ice for charity.
Oct 17, Fri Jersey Rally Towel Giveaway
Oct 18, Sat LA Kings Stanley Cup Celebration & Championship Ring Giveaway
Oct 23, Thu $5 Margaritas / $1 Sodas
Oct 24, Fri Deluxe School Kit giveaway
Nov 1, Sat 49ers vs. Raiders vs. Chargers Football Giveaway
Nov 14, Fri Star Wars Night / Team Poster Giveaway
Nov 20, Thu (10:30am) Field Trip Day
Nov 29, Sat Teddy Bear Toss
Dec 11, Thur $5 Margaritas / $1 Sodas
Dec 13, Sat Knit Cap Giveaway
Dec 14, Sun Skate with the Team
Dec 26, Fri Computer Tablet Giveaway
Jan 2, Fri Duck Dynasty Talking Plush Figure Giveaway and Look Alike Contest
Jan 3, Sat Welcome Mat Giveaway
Jan 30, Fri Cap Giveaway (flat bill or traditional)
Feb 15, Sun Undie Sunday / Jerseys off our Backs Night
Feb 21, Sat Youth Jersey Giveaway
Feb 27, Fri Fedora Giveaway
Feb 28, Sat Bobblehead Giveaway
Mar 13, Fri Dodgers vs Angels Batting Helmet Giveaway
Mar 27, Fri Fly Swatter Giveaway / Hairiest Back Contest
Apr 7, Tue Prohibition Repealed Anniversary – $5 Margaritas
Family Pizza Deal Night (all Sundays) – family size pizza & 4 sodas for $25
Kids Club Nights:
Fri. November 14
Sat. December 13
Fri. January 9
Fri. February 28
Sat. March 28
Fri. April 10
Your kids can attend these games for free with a Kids Club membership. Plus, parents can save money and attend these games as well!
Sign your kids up for the coolest club in town for just $10 PLUS exclusive events and parties with the team, click here
ENSURE YOU TAKE HOME THE BEST GIVEAWAYS AND PROMOTIONS
Condors ticket plans to the most affordable family fun in Bakersfield are on sale now ensuring you get to take home the best giveaways and promotions. Huge savings on box office pricing, discounted parking, exclusive access to VIP events, early entry, 15 minutes before general public to ensure you get desired giveaways, into all Condors games and much much more! Check out our mini-plans as well, with plans to fit every lifestyle. Click here or contact the team's front office at 324-PUCK (7825).
JUMP BACK ON BOARD AND GET 50 TICKETS TO JERSEY RALLY TOWEL GIVEAWAY! 
Had a Condors ticket plan in the past and looking to jump back on board? After the team's most successful season, the Condors are giving anyone who did not have a ticket plan in 2013-14 (but was a past season ticket holder), 50 tickets to Opening Night featuring a Condors Jersey Rally Towel Giveaway, simply by purchasing a full season ticket for the upcoming season. You can even purchase a mini-plan and receive 20 tickets to Opening Night!

Opening Night is just 72 days away on Oct. 17. 

Click here

 or call 324-PUCK (7825)
https://www.bakersfieldcondors.com/wp-content/uploads/2014/08/2014_08_06_promos.jpg
380
669
condors
https://www.bakersfieldcondors.com/wp-content/uploads/2023/06/BAK-Website-Header_2324.png
condors
2014-08-06 11:37:52
2014-08-06 11:37:52
Budget-busting promos for 2014-15