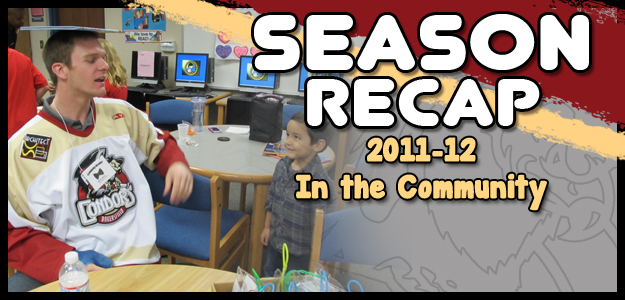 Condors Eclipse $4.3 Million Mark Donated to Charity
CONDORSTOWN, Calif. –The Bakersfield Condors were once again a leader in the community during the 2011-12 season. Through the generosity of the great fans in Condorstown who supported the team's community and charitable endeavors, the team raised $348,490.00 for various charities and non-profit organizations during the 2011-12 season. That total, added to previous seasons, brings the Condors charitable donations in team history to over 4.3 million dollars.
Check out some of the community highlights from the 2011-12 season…

TEDDY BEAR TOSS 2011 COLLECTS OVER 6,200 BEARS

Teddy Bear Toss in Condorstown is an annual, much-anticipated tradition that delivered on its promise of bringing
teddy bears and other stuffed animals to over 50 local charities in Kern County. Held on Nov. 26, 2011 and sponsored by 29 Eyewitness News, KERN Radio 1180 AM, and Wells Fargo, the event's main attraction was rookie sensation Scott Freeman's third period tally which sent Rabobank Arena into a fur-filled frenzy of flying teddy bears out onto the ice. All told, nearly 9,000fans threw 6,271 bears which were collected and distributed through the United Way of Kern County. In the event's history, 73,111 teddy bears have been thrown onto the ice for donation to charity.

Click here to watch Scott count the bears on Fox 58.

Click here to watch the fur fly after his goal.

JERSEY AUCTIONS AND RAFFLES
The Condors held four specialty Jersey auctions during the season with all proceeds donated to charity. As a whole, the four auctions raised $50,050.00. That total brings the team's total donations through jersey auctions in team history to an astounding $818,343.00.
Held on Nov. 12, 2011, the 9/11 Memorial-SEAL Team 6
jerseys presented by ABC 23, KUZZ 107.9 FM and American Business Machines raked in $14,825.00 for the Wounded Heroes Fund.
On Dec. 26, 2011, the Revolutionary War/Don't Tread on Me jerseys presented by ABC 23, 92.1 MAX FM, and Mercy & Memorial Hospitals took in $14,375.00 for Mercy and Memorial Hospitals' Get Fit Club.
Then, following the game on Feb. 4, 2012, the Condors special NASA-themed space jerseys sponsored by Bright House Networks, La Campesina 92.5 FM, and Bud Light brought $13,850.00 for the Asthma/COPD Education Center.

In addition, the Condors auctioned off their pre-game jerseys prior to the final four home games of the season and raised $7,000.00 for the Active 20/30 Club of Bakersfield.
Also, the Condors raffled off game-worn sweaters from years past during each of the 36 home games, which took in an extra $22,370.00 for local non-profits.

CONDORS DONATE TICKETS AND REWARD EXCELLENCE IN SCHOOL
Through various non-profit, school, and fundraising initiatives, the Condors donated 10,522 tickets to charity organizations and schools during the 2011-12 season valued at over$70,000.00.
Fundraising with the Condors was once again a success for many schools and non-profits as they raised over
$46,000.00 for their projects and causes by selling Condors tickets. For more information on how you can partner with the Condors, sell tickets, and receive cash for your school or organization for the 2012-13 season, click here.
The ABC 23, SC Architect, and Kern County Firefighters Classroom Champions program recognized 2,896 students who achieved outstanding classroom attendance marks during the season and allowed them to receive complimentary tickets to Condors home games.
The T.H.I.N.K. (Turn Hockey Into New Knowledge) program sponsored by Mercy & Memorial Hospitals and Diamond Technologies afforded the opportunity for 4,109 students to see the Condors play through exceptional performance in the classroom. One lucky student from the T.H.I.N.K. program was awarded with a free computer to help with their studies.
Through the generous donations of fans and
corporate partners, the Condors continued the Big Buddies program and were able to provide 2,589 tickets to many local non-profit organizations and schools, affording them an opportunity to see games that they may not otherwise have had the means to attend.
Also, prior to the season the Condors donated 5,000 ticket vouchers to local children in the Kern County Library summer reading program who met their summer reading goals.
CONDORS FIGHTING CANCER HOCKEY-THON A SUCCESS
The 8th Annual Condors Fighting Cancer Hockey-Thon presented by 29 Eyewitness News and KUZZ 107.9 FM raised
$31,000.00
for Links for Life, a local breast cancer resource center. The 24-hour hockey marathon was played with participants raising money and culminated with a Condors alumni game prior to a Condors victory over Las Vegas on March 17, 2012.
Live and silent auctions also contributed to the total with former Condor Andrew Ianiero garnering$2,800.00 for his custom Hockey-Thon jersey. With this season's contributions, Condors Fighting Cancer Hockey-Thon has now raised over$304,000.00 in the event's history.
A LOOK AT WHAT ELSE WE'VE DONE
Tip-A-Condor, held at Hooters on Feb. 20, 2012, raisednearly $7,500.00as players earned tips by serving as waiters and the team holding an auction of great sports memorabilia along with custom pictures and prizes. The proceeds were donated to the Kern County Shrine Club. To watch video from the event, click here.
Almost 2,000 cans of food were collected at the Open House to kick off the season and the canned food collection night presented by My 45 and 92.5 MAX FM held on Feb. 28, 2012. The food was then donated to the Kern County Food Bank and the Kern County Gleaners.
368 coats were collected on Nov. 10, 2011 on Project Warm Families Coat Collection Night presented by 98.5 The Fox and Goodwill Industries. The coats were then donated to Goodwill Industries.
The Condors were out for blood in the month of March and with the help of Houchin Blood Bank saw 1,945 donors give blood and receive ticket vouchers to see the Condors play on March 28, 2012 sponsored by My 45 and KUZZ 107.9 FM.
416 books were collected at the game on March 14, 2012 and were donated to local schools sponsored by Wells Fargo.
Toys were the name of the game on November 22, 2012 and fans brought 330 new toys to the game which benefited the California Highway Patrol's CHiPs for Kids program. The collection was sponsored by R&D Leather Furniture.
Condors mascots, front office staff, players, and coaches made 123 community appearances at schools, events, and charitable fundraisers around Kern County to spread the word of Condors hockey and to help others in need.
Part of the front office's continued involvement in the community is through the Adopt-A-Highway program. Multiple times throughout the season, the organization heads out to the team's stretch of highway on Ming Ave. across from the Marketplace to pick up trash left behind. It's just another way that the Condors help keep Bakersfield beautiful.
Held in October, the 14th Annual Condors Charity Golf Classic at RiverLakes Golf Course was a great chance for fans to interact with the players all while playing a round of great golf. This year's event raised $2,000.00 for Kern Bridges Youth Homes.
INVITE THE CONDORS TO YOUR NEXT EVENT
A three-time winner of the 
Beautiful Bakersfield Award
, given to those who have improved the image and quality of life in the community, the Condors will once again be active during the off-season making appearances and attending charitable events. If you would like a visit from a mascot or a member of the organization, please call 324-PUCK (7825) or fill out the community appearance request form by clicking
here
.
RAISE MONEY FOR YOUR ORGANIZATION
Nearly $50,000.00 was raised for local schools and non-profits by the organizations selling Condors fundraising tickets. Big fundraisers included Valley Schools, Juvenile Diabetes Research Foundation (JDRF), Guns & Hoses, Penpoint Dance Academy, O.J. Actis Band, and the Girl Scouts of California South. Don't miss out on your opportunity to use the Condors to help raise money for your organization. Click 
here
to find out more information.
FOLLOW THE CONDORS ALL OFF-SEASON LONG
Make sure to follow along with all that's happening in Condorstown. From community appearances, to player signings and funny videos, stay up to date with what the team is doing away from the ice during the summer months. Click any of the links below to see the latest and as always set your homepage to www.bakersfieldcondors.com, the web center of Condorstown.



https://www.bakersfieldcondors.com/wp-content/uploads/2012/04/2012-04-10-In-the-Community-Recap.jpg
300
625
condors
https://www.bakersfieldcondors.com/wp-content/uploads/2023/06/BAK-Website-Header_2324.png
condors
2012-04-18 10:45:22
2012-04-18 10:47:37
Condors Eclipse $4.3 Million Mark Donated to Charity