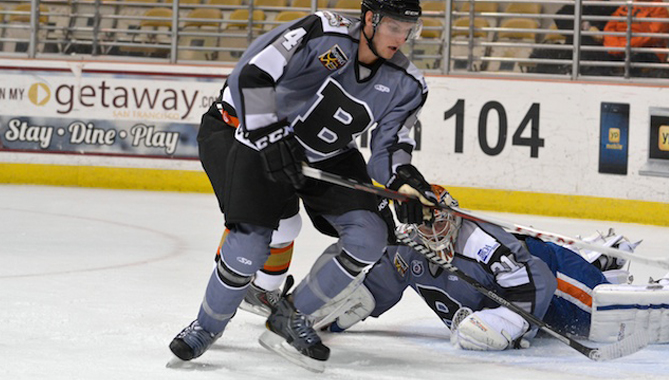 Condors fall in overtime to Stockton, 4-3
STOCKTON, Calif. – The Bakersfield Condors (1-0-1) could not hold on to a third period lead and fell, 4-3, in overtime to the Stockton Thunder (1-0-0) at Stockton Arena in preseason action on Friday night. All of the Condors scoring came in the second period, including the first preseason tally from returning Condor Joel Broda.
Game Recap
First period
Bakersfield was unable to capitalize on two power play chances, but ended up outshooting Stockton by a 9-8 margin.
Thunder Goal:  F Austin Mayer's shot from the side of the net bounces off G Paul Karpowich and just over the line. Assists: D Michal Spacek, F Matt Bergland; Time of Goal: 9:50;Result: Thunder lead, 1-0.
Second Period
Despite being outshot, 19-11, the Condors score three times in the middle frame, including two goals, 19 seconds apart.
CONDORS GOAL: C Joel Broda split the defense and followed up his own shot off a feed from RW Jordan Knackstedt. Assist: Knackstedt; Time of Goal: 1:50; Result: Tied, 1-1
CONDORS GOAL: Off a set faceoff play, F Mike Hellyer ripped a shot that knocked off the water bottle from the top of the left-wing circle. Assists: D Nick Pageau, C Travis Ouellette; Time of Goal: 7:43; Result: Condors lead, 2-1
CONDORS GOAL: Seconds later F Jake Morley tucked a low one-timer underneath G Brian Foster from the top of the crease. Assists: D Nick Pageau, C Travis Ouellette; Time of Goal: 8:02; Result: Condors lead, 3-1
Thunder goal: Mayer notched his second of the night, poking home a loose puck off his own rebounded shot. Assist: F Ben Rosen; Time of Goal: 15:26; Result: Condors lead, 3-2
Third Period 
Condors outshot, 9-7.
Thunder goal: D Landon Oslanski on the power play, blasts one off iron and in, from the blue line. Assists: F Andrew Clark, F Ryan Hayes; Time of Goal: 13:16; Result: Tied, 3-3 
Overtime
Thunder goal: F Joey Martin finished off a feed in front, past Karpowich and won it for Stockton. Assist: D Ryan Constant, F Jordan Henry; Time of Goal: 3:03; Result: Thunder win, 4-3.
W – Brian Foster (26/29; 63:03) – 1-0-0
L –  Paul Karpowich (34/38; 63:03) – 1-0-1
View the scoresheet
Condors Droppings:
Three Stars: 3) Pageau (BAK), 2) Oslanski (STK) 1) Mayer (STK)
Shots on goal: BAK- 29 ; STK – 38
Power plays: BAK- 0/4 ; STK – 1/4
Pageau and Ouellette each finished the night with two points.
Lines: Collins-Broda-Knackstedt; Lutes-Schaber-Macaulay; Shupe-Morley-Hellyer; Ouellette-Greiner-Burgdoerfer // Cunningham-Pageau; Sobotka-Burgdoerfer; Leach-Macaulay
Scratches: Steffes, Abney Crhak, Marciano, Wheeler, Mitman, Brenner, Bidlevskii, Haines, Oakley
Download 2013-14 Condors schedule:  Click here
Skate with the Condors after preseason game Sunday
The Condors lone home preseason game is on Sunday, Oct. 13 at 4 p.m. on Dignity Health Home Ice at Rabobank Arena. Presented by My45, KERN 1180 AM, and R&D Leather, bring a new, unwrapped toy for donation to CHiPs for Kids, and receive $1 terrace level admission. All lower level tickets are $10 while all upper level tickets are just $5.
Following the game, skate with the Condors and get autographs from the team. Limited skate rental is available for $5.
Opening Night Countdown: 7 days; Tickets just $10/month
Don't miss Opening Night when the Condors host the Colorado Eagles on Friday Oct. 18! Queen Victoria, the world famous Condor, will make a special encore appearance and we'll give away 2,000 Angry Birds plush hats. Click here to see all of the great, family fun promotions announced. Ticket packages are on sale now for the 2013-14 season for just $10/month. Click here or call 324-PUCK (7825) for more information.
https://www.bakersfieldcondors.com/wp-content/uploads/2013/10/STK-Slate.jpg
380
669
condors
https://www.bakersfieldcondors.com/wp-content/uploads/2023/06/BAK-Website-Header_2324.png
condors
2013-10-11 22:04:35
2013-10-11 22:04:35
Condors fall in overtime to Stockton, 4-3