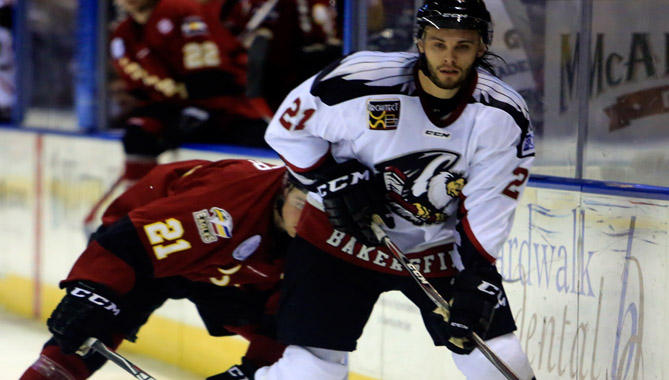 Condors get point in overtime loss, 6-5
LOVELAND, Colo. – The Bakersfield Condors (23-25-3-5, 54pts), owned by the Edmonton Oilers, held a 5-2 lead in the third period and picked up a point as the Colorado Eagles (36-19-0-3, 75pts) stormed back for a 6-5 overtime win on Wednesday night at the Budweiser Events Center
D Nick Pageau (1g-2a) and RW Austin Block (1g-2a) each had three-point nights for the Condors.
CONDORS GOAL: RW Austin Block (1) snapped a shot from the slot. Assists: MacNeil, Sylvestre; Time of goal: 4:05; BAK leads, 1-0
CONDORS GOAL: D Nick Pageau (6) blistered a shot from the point. Assists: Block, Sylvestre; Time of goal: 14:22; BAK leads, 2-0
CONDORS GOAL: LW Jordan Kremyr (13) tipped a shot at the top of the crease. Assists: Pageau, Block; Time of goal: 17:03; BAK leads, 3-0
FIGHT: C Josh Currie dropped F Jordan Kwas in his third fight of the season.
Shots: BAK – 7 | COL – 2
SECOND PERIOD
EAGLES GOAL: F Chris Duszynski (7) took a feed at the top of the crease and beat G Frans Tuohimaa. Assists: Kwas, Rodwell; Time of goal: 3:21; BAK leads, 3-1
EAGLES GOAL: F Greg Gardner (11) forced a turnover and snapped a shot from the right-wing circle. Assists: Bidwell, Zimmerman; Time of goal: 9:36; BAK leads, 3-2
 Shots: BAK – 8 | COL – 14
THIRD PERIOD 
CONDORS GOAL: LW Jonathan Lessard (14) took a feed in front and beat G Aaron Crandall. Assists: Currie, Schaber; Time of goal: :33; BAK leads, 4-2
CONDORS GOAL: Minutes later, C Nick MacNeil (8) followed up his own rebound. Assists: Kremyr, Pageau; Time of goal: 1:25; BAK leads, 5-2
EAGLES GOAL: C Trent Daavetilla (14) off a shot in close. Assist: Kraemer, Nixon; Time of goal: 4:51; BAK leads, 5-3
EAGLES GOAL: F Jordan Kwas (7) scooped home a loose rebound at the side of the net. Assists: Zahn, Duszynski; Time of goal: 14:38; BAK leads, 5-4
EAGLES GOAL: F Chris Knowlton (8) broke down the left-wing and beat Tuohimaa blocker side. Assists: Kwas, Zahn; Time of goal: 17:07; Game tied, 5-5
Shots: BAK – 4 | COL – 18
OVERTIME/SHOOTOUT
EAGLES GOAL: D Vitalijs Pavlovs (12) snuck a shot through a maze of bodies in front. Assists: Nemec, Moon; Time of goal: 3:25; COL wins, 6-5
GOALTENDERS
BAK: Tuohimaa (36/30; 11-13-2-2)
COL: Crandall (23/18; 4-5-2-0)
CONDORS DROPPINGS:
Three Stars: 1. Pavlovs (COL) 2. Kwas (COL) 3. Pageau (BAK)
Final shots: BAK – 23 | COL – 36
Power Plays: BAK – 2/7 | COL – 0/3
LW Jordan Kremyr has four goals in his last six games
C Josh Currie's fights were the team's 42nd and 43rd fighting majors in 56 games
LW Jonathan Lessard scored during Colorado's "Minute of Madness" to start the third period. Bakersfield has scored twice during the popular event, the last two goals for any team in two seasons.
Tonight was the first game of a five-game road trip; the Condors will play eight of their next nine on the road, including tonight
D Akim Aliu and D C.J. Ludwig were called up to Oklahoma City yesterday
Scratches: D Ben Lindemulder, G Ty Rimmer, F Luke Judson, D Gentry Zollars
DODGERS vs. ANGELS BATTING HELMET GIVEAWAY – Friday, Mar. 13, 7 p.m.
Condors vs. Utah Grizzlies
The first 2,000 fans 17 and under get their choice between a Dodgers or Angels Batting Helmet – the team that runs out first will be declared Condorstown's favorite
Sponsored by My45, KNZR 1560 AM/97.7 FM
AHL CONDORS MEMBERSHIPS NOW AVAILABLE!
Returning season ticket holders can take advantage of early enrollment in the brand new AHL Condors Membership. Enrolling by March 15 for 2015-16 will freeze your full or monthly installment price for the next THREE seasons, plus many other great benefits, including free parking! Contact the Condors at 324-PUCK (7825) for more information.
https://www.bakersfieldcondors.com/wp-content/uploads/2015/03/2015-03-04-Recap.jpg
380
669
condors
https://www.bakersfieldcondors.com/wp-content/uploads/2023/06/BAK-Website-Header_2324.png
condors
2015-03-04 22:11:41
2015-03-04 22:11:41
Condors get point in overtime loss, 6-5