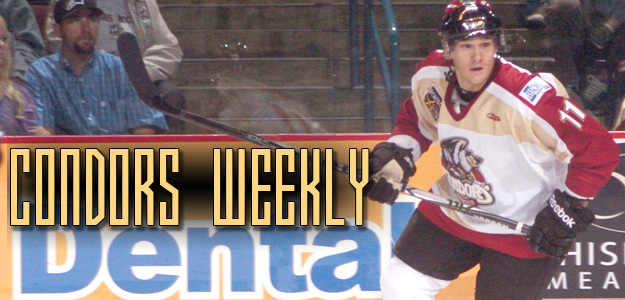 Condors weekly: Condors pack their bags for three games in Alaska
Bakersfield, Calif. –The Bakersfield Condors played host to the Idaho Steelheads and Las Vegas Wranglers this past weekend at Rabobank Arena and came away with two points after a victory over the Steelheads on Friday night and a loss to Las Vegas on Saturday. Bakersfield currently holds the second spot in the ECHL's Pacific Division with a record of 3-3-1-0, 7 pts. The brief home stint is complete as the team jets up to Alaska for three games.
THIS WEEK (ALL TIMES PACIFIC):
Wednesday Nov. 2 @ Alaska (8:15 p.m.)
Friday Nov. 4 @ Alaska (8:15 p.m.)
Saturday Nov. 5 @ Alaska (8:15 p.m.)
WEEK IN REVIEW (Home team in CAPS):
Friday October 28
CONDORS 5 vs. Idaho 3
C Mathew Sisca (left) scored his first professional goal as the Condors raced out to
a 4-0 lead and never looked back in a 5-3 victory over the Idaho Steelheads. RW Scott Freeman scored twice in the second period, including a shorthanded penalty shot for his fifth and sixth goals of the season. G Matt Keetley earned the victory making 26 saves on 29 shots.
Saturday October 29
Las Vegas 4 vs. CONDORS 1
Attendance: 5,699
Bakersfield was shorthanded nine times, surrendered three unanswered goals and fell to the Las Vegas Wranglers, 4-1. Mathew Sisca tallied for the second game in a row.

PLAYER AND TEAM NOTES:
RW Scott Freeman is sixth in the ECHL in scoring with 10 points.
Freeman is tied for second in the league in goals scored with six.
Freeman leads all rookies in scoring (10) and is tied for first in goals (6).
Freeman had a six-game point streak (6g, 4a) snapped in the loss to Las Vegas.
D Jimmy Martin had a three-game point streak (0g, 3a) snapped in the win over Idaho.
Mathew Sisca is on a two-game goal scoring streak after scoring his first two professional goals over the weekend.
Kevin Lohry made his season debut over the weekend after he was activated off of injured reserve.
LW Hans Benson (right) has recorded the team's three fighting majors this season after dropping the gloves with Chris Hepp on Friday night.
The three goals the Condors scored in the first period on Friday against Idaho was the most in one period this season for the team.
The Condors have surrendered just one power-play goal in 22 chances (95.5%).
QUOTE OF THE WEEK:
"The first period is how we have to play, but obviously we need to play that way in the second and the third too," said Matt O'Dette following the team's 5-3 victory over the Idaho Steelheads on Friday. The Condors tallied three times in the first period en route to a 5-3 win.
UPCOMING SCHEDULE:
Monday, Oct. 31 – 10 a.m. practice (Rabobank Arena)
Tuesday, Nov. 1 – 7 a.m. departure for Alaska
Wednesday, Nov. 2 – 8:15 p.m. game at Alaska
Friday, Nov. 4 – 8:15 p.m. game at Alaska
Saturday, Nov. 5 – 8:15 p.m. game at Alaska
Sunday, Nov. 6 – noon, return from Alaska
ON THE DOCKET:
Bakersfield hits the road for three games in Alaska, beginning on Wednesday, November 2nd at 8:15 p.m. Catch all the action on Fox Sports Radio 970 AM, www.foxsports970am.com, or on the iheartradio app on your smartphone.
Saturday's game, beginning at 8:15 p.m. is also the "Condors Game of the Week" on SoCal's Sports Monster, Fox Sports Radio 610 AM Lancaster, www.foxsports610.com.
CONDORS LEAGUE LEADERS:
Condors – 5,350 avg attendance (5th, ECHL)
RW Scott Freeman – 10 points (6th, ECHL; 1st, Rookies)
RW Scott Freeman – 6 goals (t-2nd, ECHL; t-1st, Rookies)
RW Scott Freeman – 4 assists (t-4th, ECHL)
RW Scott Freeman – 2 power play goals (t-3rd, ECHL)
RW Scott Freeman – 2 game-winning goals (t-2nd, ECHL)
C Mathew Sisca – 6 points (t-9th, Rookies)
G Bryan Pitton – 145 saves (5th, ECHL)
CONDORS LEADERS:
Points: RW Scott Freeman, 10
Goals: RW Scott Freeman, 6
Assists: C Mathew Sisca/RW Scott Freeman/LW Jesse Gimblett, 4
PIM: LW Hans Benson, 19
+/-: D Jimmy Martin/C Casey Pierro-Zabotel, +3
GAA: G Matt Keetley, 2.68
Save %: G Bryan Pitton, .912
Wins: G Matt Keetley, 2
GET TICKETS:
Ticket packages, starting as low as $48, are on sale now by calling the Condors front office. Special group rates are available for just a minimum of 10 people (advanced purchase required). Reserve your group or party today by calling 324-PUCK (7825).
Individual tickets are on sale now through Ticketmaster and the Rabobank Arena Box Office. Box Office hours are 10 a.m. – 6 p.m. Monday – Friday, and 10 a.m. – 4 p.m. on Saturday, with extended hours on game and event days. You can also call Ticketmaster at 1-800-745-3000 or visit them online at  www.ticketmaster.com. Ticket packages start at just $48! Call the Condors office at 324-PUCK (7825) or go online to www.bakersfieldcondors.com for more information.


Follow the Condors all season long, for team news, player moves, promotions, and more on Twitter (@Condors) and Facebook (facebook.com/BakersfieldCondors). Be the first to know!
https://www.bakersfieldcondors.com/wp-content/uploads/2011/10/2011-10-31-Weekly-Release-Freeman.jpg
300
625
condors
https://www.bakersfieldcondors.com/wp-content/uploads/2023/06/BAK-Website-Header_2324.png
condors
2011-10-31 15:38:48
2011-10-31 15:38:48
Condors weekly: Condors pack their bags for three games in Alaska