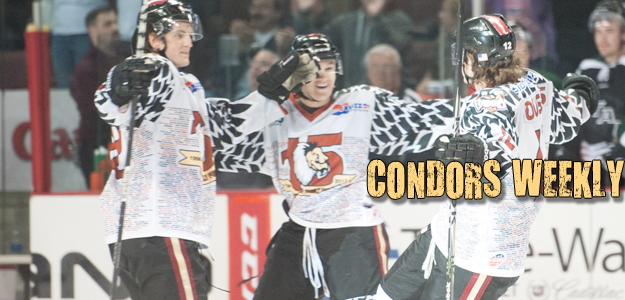 CONDORS WEEKLY: Playoff hopes alive after two-win week
CONDORSTOWN, Calif.
– The Bakersfield Condors kept their playoff hopes alive with two wins over the past week, both against the Utah Grizzlies.
Bakersfield is currently 21-41-2-3 with 47 points in the standings. They trail the 8th place San Francisco Bulls by eight points in the standings. Bakersfield has five games remaining, with three on home ice, and will host the Bulls twice in the final week of the regular season.
COMING UP (all times Pacific):
Tuesday, Mar. 19 at Las Vegas (7 p.m., Orleans Arena)
Friday, Mar. 22 vs. Las Vegas (7 p.m., Rabobank Arena)
Sunday, Mar. 24 vs. San Francisco (5 p.m., Rabobank Arena)
LAST WEEK (Home team in CAPS):

Wednesday
CONDORS 2 – Utah 1 (SO)

RW Scott Freeman (pictured) scored the game's opening goal in the first 
period, only to see Utah come back and tie it up in the third period. After a scoreless overtime period, the team's headed to a shootout where Freeman tallied the lone goal for either side through five rounds and the Condors took two points, 2-1. G Brian Stewart denied 42 of 43 shots during regulation and overtime before blanking the Grizzlies on five attempts in the shootout.
Friday
CONDORS 4 – Utah 3 (SO)
Bakersfield once again scored first as D Erik Burgdoerfer potted a first-period tally from the right-wing circle. However, the Grizzlies would come back again to take a 2-1 lead after periods. In the third, Burgdoerfer snatched his second of the night to tie it at 2-2 before F Nick Prockow gave the Condors a 3-2 lead midway through the third. The Grizzlies would score late to force overtime. After the tams were held scoreless, the Condors needed goals from Burgdoerfer and D Deron Cousens in the shootout to sweep away Utah in six rounds, 4-3.
Sunday
STOCKTON 2 – Condors 1
Luck was not on the side of the Condors as they fell behind 2-0 after two periods of play. D Kyle Haines brought Bakersfield to within one in the third period when his shot from the blue line was mishandled by G Olivier Roy. The Condors then went on six minutes worth of power play time in the final 10 minutes of the third, including a two minute, 5-on-3 man advantage, but could not equalize and fell for the first time in three years on St. Patrick's Day.
NOTES:
The Condors post-game jersey auction on Friday raised $18,600 for the Petroleum Shrine Club benefiting Shriner's Hospital for Children. C Jacob Lagace's jersey fetched the most at $3,000.
The Condors own a 6-3-0-1 mark on St. Patrick's Day all-time.
C Nicholas Tremblay returned to the lineup after missing two games with a lower-body injury.
G Brian Stewart has stopped 40 shots on 11 occasions this season and went 10-11 on shootout attempts this week.
F Brett Lyon (pictured) fought three times in the final twogames on the week to bring his total to 15 with the Condors this season. D Art Bidlevskii also dropped the mitts for the first time with Bakersfield on Sunday
D Erik Burgdoerfer sits just four games shy of the 200 mark in his Condors career. Only four d-men have played 200 or more games in a Condors sweater: Glen Mears, Scotty Balan, Quinn Fair and Kevin Truelson.
Burgdoerfer's two-goal night was the first of his professional career. He has points (2g-2a) in his last three games.
LEAGUE LEADERS:
G Brian Stewart is 2nd in the ECHL with 1,274 saves
Stewart is 7th in the ECHL with a .917 save pct.
F Francis Verreault is t-5th in ECHL in rookie scoring with 46 points. Verreault is also 5th among rookies with 158 shots on goal. He has missed the past seven games with injury.
G Scott Greenham is tied for second in the league lead with five shootout wins and is 2nd with a .962 shootout save percentage (the 1st place goalie has faced just five shootout attempts).
F Nicholas Tremblay is 5th among rookies with a 20.6% shooting percentage.
F Brett Lyon is 3rd in the ECHL (and leads all rookies) with 20 major penalties. He is 1st among rookies with 176 penalty minutes.
D Deron Cousens (pictured) is tied for the league lead among defensemen with a perfect 1.000 shootout percentage (2-2). Both of his shootout goals have been game-winners.
TEAM LEADERS
Points – F Francis Verreault (46)
Goals – LW Jacob Lagace/F Francis Verreault (16)
Assists – F Francis Verreault (30)
PIM – F Brett Lyon (176)
+/- – F Shawn Skelly (+12)
Wins – G Scott Greenham (11)
GAA – G Brian Stewart (3.22)
Sv % – G Brian Stewart (.917)
THIS WEEK:
Mohawk Giveaway and Hockey-Thon this weekend!!!!
Have no hair? No problem! The Condors are giving away Condors Mohawks to the first 2,000 fans, 17 and under, at the game on Friday presented by My 45, Kelly 95.3 FM, and Cal Water.
On Sunday, the Condors will hold Condors Fighting Cancer Hockey-Thon at 5 p.m. presented by 29 Eyewitness News and KUZZ 107.9 FM. The game wraps up 24 hours of hockey in order to raise money for Links for Life, a local breast cancer resource center. Prior to the Condors game at 5 p.m., there will be an alumni game and shootout at 3 p.m. featuring the likes of Kevin Barrett, Andrew Ianiero, Liam Huculak, Glen Mears, Steve Dowhy, Scott Hay, and more! After the Condors game, fans are invited to skate with the team with limited skate rental available for $5. Doors will open at 2:45 p.m. on Sunday for the alumni game.
The Condors begin the week with a Tuesday night contest in Las Vegas at 7 p.m. Tune in to all the action on Fox Sports Radio 970 AM, www.foxsports970am.com or on America One. "Condors Countdown" starts 15 minutes before the drop of the puck.
$1-A-Day Merchandise Credit when you Renew by March 31
Renew your season tickets today and take advantage of great benefits, such as the dollar-a-day merch credit and the season ticket holder gifts based on how many years you've been a ticket plan holder! Call the Condors at 324-PUCK (7825) and speak with your ticket representative, or 
visit the ST renewal page
on the website.
https://www.bakersfieldcondors.com/wp-content/uploads/2013/03/2013-3-18-condors-weekly.jpg
300
625
condors
https://www.bakersfieldcondors.com/wp-content/uploads/2023/06/BAK-Website-Header_2324.png
condors
2013-03-18 13:14:22
2013-03-18 13:14:22
CONDORS WEEKLY: Playoff hopes alive after two-win week