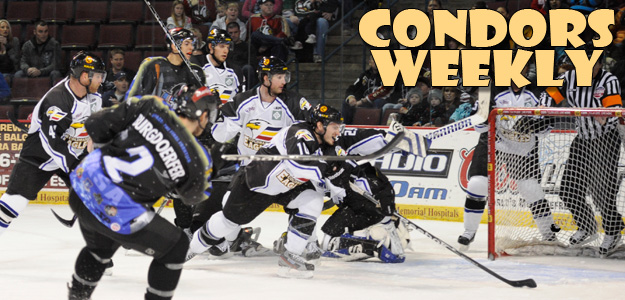 Condors Weekly: Trip to Utah and Vegas, home on Saturday
CONDORSTOWN, Calif. – The Bakersfield Condors struggled through a 0-3-0-0 week, as they wrapped up a six-game homestand last week. Bakersfield is 10-32-4-1 on the season with 25 points in the standings.

THIS WEEK (ALL TIMES PACIFIC):
Wednesday, Feb. 8 at Utah (6:05 p.m.)
Friday, Feb. 10 at Las Vegas (7:05 p.m.)
Saturday, Feb. 11 vs. Las Vegas (7 p.m.)
WEEK IN REVIEW (Home team in CAPS):
Wednesday, Feb. 1
Stockton 4 vs. CONDORS 1
The visiting Thunder received a 55-save performance from G
Olivier Roy, and jumped out to a 4-0 lead en route to the win. LW Jesse Gimblett scored the Condors lone goal in the third. Stockton was outshot 56-28.
Friday, Feb. 3
Colorado 6 vs. CONDORS 3
The Eagles scored the first three goals of the game, and answered both times the Condors cut into the lead. Newly-signed LW Kyle Calder had a goal and an assist and F Casey Pierro-Zabotel had two helpers for Bakersfield in the loss.
Saturday, Feb. 4
Colorado 5 vs. CONDORS 3
The Condors held leads of 2-1 and 3-2, the latter coming early in
the third period, but the Eagles rattled off three unanswered goals in the final 12 minutes to sneak out the victory. LW Jesse Gimblett, D Erik Burgdoerfer and F Peter Boyd scored the goals for the Condors.
PLAYER AND TEAM NOTES:
Saturday night G Bryan Pitton stopped Eagles F Michael Forney on a first period penalty shot. It was the first penalty shot surrendered by the Condors this season.
Condors goalies are now 16 for 24 in penalty shots all-time. It was only the 10th penalty shot allowed at home in the 14-year history of the Condors.
Five of the next six games are on the road, with trips to Utah, Las Vegas and Alaska over the next two weeks.
LW Jesse Gimblett was the last player to play in all 47 Condors games this season, but he left Saturday's game injured and will miss the team's next game in Utah on Wednesday.
F Alex Hudson remains in the American Hockey League with the Manchester Monarchs. He made his AHL debut Saturday night and recorded one shot on goal.
UPCOMING SCHEDULE: (subject to change.)
All practices are at Rabobank Arena unless otherwise indicated
Tuesday, Feb. 7 – depart for Utah
Wednesday, Feb. 8 – 6:05 p.m. at Utah Grizzlies
Thursday, Feb. 9 – 6 – 7 p.m. "Condors Insider" (FSR 970AM)
Friday, Feb. 10 – 7:05 p.m. at Las Vegas Wranglers
Saturday, Feb. 11 – 10 a.m. practice
7 p.m. vs. Las Vegas Wranglers
Sunday, Feb. 12 – OFF
Brief road trip, then Youth Jersey Giveaway Saturday night
The Condors head to Utah for a Wednesday ni
ght game, then head to Las Vegas for a Friday night meeting before returning home to cap off the weekend.
Saturday night the first 2,000 kids 12 and under will receive a Youth Jersey featuring the familiar #11 of leading scorer RW Scott Freeman. The jerseys are sponsored by ABC23, La Preciosa 105.3 and Rabobank.
CONDORS LEAGUE LEADERS:
Team Stats
23.17 PIM/Game – 3rd
59 major penalties – 2nd
9 shorthanded goals – t-1st
Individual league leaders
RW Scott Freeman – 4 shorthanded goals (2nd; 1st, rookies)
RW Scott Freeman – 5 shorthanded points (t-1st)
LW Hans Benson – 14 major penalties (t-3rd)
RW Scott Freeman – 30 points (t-7th, rookies)
RW Scott Freeman – 15 goals (t-3rd, rookies)
F Robby Dee – 14 goals (t-5th, rookies)
RW Scott Freeman – 4 game winning goals (t-1st, rookies)
F Robby Dee – 3 shorthanded goals (t-2nd, rookies)
F Tyler Helfrich – 20 assists (t-4th, rookies)
D Tyson Gimblett – 120 PIM (1st, rookies)
D Tyson Gimblett – 10 major penalties (t-1st, rookies; t-2nd, defensemen)
CONDORS LEADERS:
Points: RW Scott Freeman, 30
Goals: RW Scott Freeman, 15
Assists: F Tyler Helfrich, 20
PIM: LW Hans Benson, 132
+/-: RW Scott Freeman, +4
GAA: G Matt Keetley, 3.09
Save %: G Matt Keetley, .906
Wins: G Matt Keetley, 6
GET TICKETS:
Pick-4 Plans are perfect for Condors fans on the go – enjoy the benefits of being a season ticket holder, and pick the four games that you can make it out to! Plans start at just $32. For more information or to reserve your tickets call 324-PUCK (7825) today.
Individual tickets are on sale through Ticketmaster and the Rabobank Arena box office by calling 1-800-745-3000. The box office is open from 10 a.m. to 6 p.m. Monday through Friday. And 10 a.m. to 4 p.m. on Saturday, with extended hours on game days. For more information on ticket packages, exciting promotions, and to sign up for the Kids Club for just $10, visit the online home of the Condors, www.bakersfieldcondors.com.


Follow the Condors all season long, for team news, player moves, promotions, and more on Twitter (@Condors) and Facebook (facebook.com/BakersfieldCondors). Be the first to know!
https://www.bakersfieldcondors.com/wp-content/uploads/2012/02/2012-02-06-weekly.jpg
300
625
condors
https://www.bakersfieldcondors.com/wp-content/uploads/2023/06/BAK-Website-Header_2324.png
condors
2012-02-06 15:47:41
2012-02-06 16:18:35
Condors Weekly: Trip to Utah and Vegas, home on Saturday