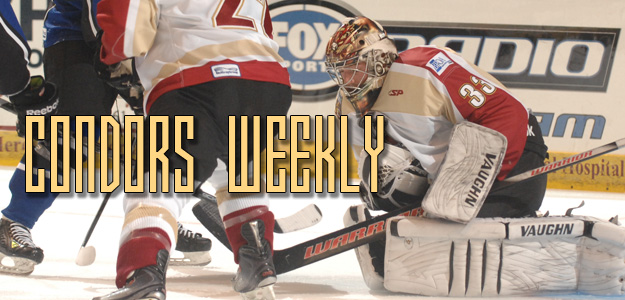 Condors Weekly: Two weekend games coming up at Rabobank Arena
BAKERSFIELD, Calif. – The Bakersfield Condors embarked on a three-game road trip last week, and despite dropping all three games by just one goal, including an overtime loss on Saturday night, they remain in the top spot in the Pacific Division (tied with Las Vegas) with five points (2-2-1-0). The team returns to the friendly confines of Rabobank Arena for a pair of home games this weekend.
THIS WEEK (ALL TIMES PACIFIC):
Friday, Oct. 28 vs. Idaho (7 p.m.)
Saturday, Oct. 29 vs. Las Vegas (7 p.m.)
WEEK IN REVIEW (Home team in CAPS):
Wednesday, Oct. 19
UTAH 3 vs. Condors 2
The Condors rallied from 1-0 and 2-1 deficits, only to surrender the game winning goal with just 59 seconds left in regulation in Utah on Wednesday night. RW Scott Freeman (pictured) scored both of the Condors
goals. G Bryan Pitton held the Condors in it early, as the Grizzlies outshot Bakersfield 14-2 in the first, and made 43 saves in the game.
Friday, Oct. 21
UTAH 4 vs. Condors 3
D Erik Burgdoerfer, F Peter Boyd and F Ian McKenzie all scored for the Condors in a 4-3 loss in Utah, who took a 2-1 lead in the first period and never looked back. The clubs each scored twice in the third period but the equalizer eluded the visiting Condors. G Matt Keetley made 27 saves in the loss.
Saturday, Oct. 22
LAS VEGAS 3 vs. Condors 2, OT
The Condors rallied twice in the game to force overtime, only to fall in the final minute of the extra session in their first meeting with the Las Vegas Wranglers on the season. F Eric Lampe notched his second of the game, on the power play, to record the win. D Matt Campanale and LW Jesse Gimblett both scored for Bakersfield, while G Bryan Pitton suffered the loss with 35 saves.
PLAYER AND TEAM NOTES:
RW Scott Freeman is tied for the league lead with four goals and tied for 2nd in the league in scoring with eight points.
Freeman is also 1st in the ECHL with a current five-game point streak, getting on the scoresheet every game this season.
The line of LW Jesse Gimblett – C Mathew Sisca – RW Scott Freeman each have four assists on the season and have seven total goals. The rest of the team has scored eight goals.
Saturday's game was the first overtime game of the season for the Condors
D Matt Campanale's first professional goal on Saturday was the game-tying goal and forced overtime
D Jimmy Martin (right) recorded his first professional point with an assist on Wednesday
LW Jesse Gimblett has three multi-point games out of the first five contests
LW Hans Benson recorded the first two fighting majors of the season for the Condors on their road trip
QUOTE OF THE WEEK:
"The crowd was unbelievable; they really gave us a lot of energy." – Peter Boyd, during the broadcast on Saturday night, referring to the Condors home opener. Boyd's late goal in that game was his first pro goal and also secured a 3-1 victory for Bakersfield.
UPCOMING SCHEDULE: (practice times subject to change)
Monday, Oct. 24 – TBA
Tuesday, Oct. 25 – 10 a.m. practice (Bakersfield Ice Sports Center)
Wednesday, Oct. 26 – 10 a.m. practice (BISC)
Thursday, Oct. 27 – 10 a.m. practice (Rabobank Arena)
– 6 – 7 p.m. "Condors Insider" (Fox Sports Radio 970AM)
Friday, Oct. 28 – 10 a.m. pre-game skate (Rabobank Arena)
– 7 p.m. Game vs. Idaho
Saturday, Oct. 29 – 10 a.m. pre-game skate (Rabobank Arena)
– 7 p.m. Game vs. Las Vegas
Sunday, Oct. 30 – OFF DAY
ON THE DOCKET:
The Condors host a pair of games this weekend, Friday against Idaho and Saturday against Las Vegas. Friday's game features a visit from the infamous Green Men, from Vancouver. The Green Men will bring their antics, which have brought them notoriety around the NHL, to Condorstown. Everyone will also receive a Condors Magnet Schedule, sponsored by Fox Sports Radio 970 AM and Bakersfield Hyundai.
Saturday the Condors host the Las Vegas Wranglers… and the dark lord of the Sith… for Star Wars Night, sponsored by ABC23 and KERN 1180 AM. Many characters from the movies – including stormtroopers, jawas, bounty hunters, jedi, and even Darth Vader himself – will be in attendance hanging out with fans and posing for pics in the Condors Photo Booth. The doors open at 5:30 p.m. and the puck drops at 7 p.m. both nights.
All games, home and away, can be heard over the airwaves at Fox Sports Radio 970 AM, online at foxsports970am.com, and on your smartphone through the iheartradio app. You can also watch the games streaming live through America One.
CONDORS LEAGUE LEADERS:
Condors – 6,788 avg attendance (2nd, ECHL)
RW Scott Freeman – 8 points (t-2nd, ECHL; t-1st, Rookies)
RW Scott Freeman – 4 goals (t-1st, ECHL; 1-1st, Rookies)

RW Scott Freeman – 4 assists (t-4th, ECHL)
RW Scott Freeman – 2 power play goals (t-2nd, ECHL)
LW Jesse Gimblett (left) – 4 assists (t-4th, ECHL)
LW Jesse Gimblett – 7 points (t-5th, ECHL)
C Mathew Sisca – 4 assists (t-4th, ECHL)
CONDORS LEADERS:
Points: RW Scott Freeman, 8
Goals: RW Scott Freeman, 4
Assists: C Mathew Sisca/RW Scott Freeman/LW Jesse Gimblett, 4
PIM: LW Hans Benson, 14
+/-: D Jimmy Martin, +3
GAA: G Matt Keetley, 2.52
Save %: G Matt Keetley, .918
Wins: G Matt Keetley/G Bryan Pitton, 1
GET TICKETS:
Individual tickets are on sale now through Ticketmaster and the Rabobank Arena Box Office. Box Office hours are 10 a.m. – 6 p.m. Monday – Friday, and 10 a.m. – 4 p.m. on Saturday, with extended hours on game and event days. You can also call Ticketmaster at 1-800-745-3000 or visit them online at www.ticketmaster.com. Ticket packages start at just $48! Call the Condors office at 324-PUCK (7825) or go online to www.bakersfieldcondors.com for more information.


Follow the Condors all season long, for team news, player moves, promotions, and more on Twitter (@Condors) and Facebook (facebook.com/BakersfieldCondors). Be the first to know!
https://www.bakersfieldcondors.com/wp-content/uploads/2011/10/2011-10-24-weekly.jpg
300
625
condors
https://www.bakersfieldcondors.com/wp-content/uploads/2023/06/BAK-Website-Header_2324.png
condors
2011-10-24 15:33:49
2011-10-24 15:33:49
Condors Weekly: Two weekend games coming up at Rabobank Arena