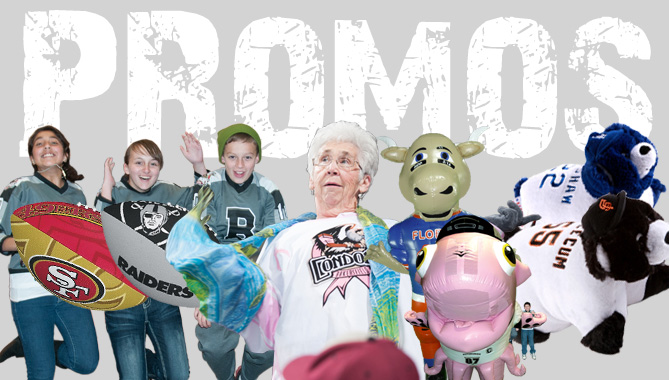 Dancin' Granny Bobble-Hip highlights promos
CONDORSTOWN, Calif. – The Bakersfield Condors, ECHL affiliate of the Edmonton Oilers, have announced several more exciting promotional nights for the 2013-14 season including Youth Jersey Giveaway, a special Dancin' Granny Bobble-Hip Giveaway, Dodgers/Giants Micro Pet Pillow Giveaway, and Kids in Free Night.
Condorstown will decide which NFL team runs Bakersfield on Saturday, Nov. 16 with a San Francisco 49ers v. Oakland Raiders Football Giveaway. There will be 1,000 49ers footballs and 1,000 Raiders footballs, for kids 12 and under, handed out as they enter Rabobank Arena. Whichever team's footballs run out first, will be declared 
Condorstown's official favorite football team.
When you are looking for somewhere to take the kids during Christmas break, look no further than the Condors game on Thursday, Dec. 26 as all kids, 12 and under, are in for FREE. No gimmicks, no catch, absolutely FREE.
The bitter rivalry between the Los Angeles Dodgers and San Francisco Giants will be settled once and for all on Saturday, Jan. 11 withDodgers v. Giants Micro Pillow Pet Giveaway Night. Similar to the football giveaway, there will be 1,000 Micro Pillow Pets of each team handed out at the doors, to kids 12 & under and 
whichever team's pillows we run out of first, that team will be declared Condorstown's official favorite baseball team.
Last year's Cowboy Hat Giveaway was so popular that we are bringing it back even better this season on Friday, Jan. 17. The first 2,000 fans, 5 & older, get a stylish Condors Cowboy Hat to sport around Condorstown.
Make sure to get your tickets early and avoid the lines on Saturday, Feb. 8 as kids will be look good on Youth Jersey Giveaway Night. The one-night only event gives the first 2,000 kids, 12 & younger, a rockin' jersey featuring a Condors player on the back.
It will pay off to have a presidential last name on Monday, Feb. 17 during the special matinee President's Day game. Anyone with the same last name as one of the 44 United States Presidents will get in for just $1. That's right. All you Washingtons, Lincolns, Tafts, Jacksons, and hey maybe even an Adams or two, get your discounted tickets and take in the special holiday game at 1 p.m.
The 10th annual Condors Fighting Cancer Hockey-Thon will
take place on Saturday, Feb. 22 with the Condors hitting the ice to complete a 24+ hour hockey marathon featuring local youth and adult teams benefiting Bakersfield Relay for Life. In the event's previous nine seasons, over $323,121 has been raised for local charity. A twist this season will have the Condors wear special jerseys during the game which will be auctioned off for Relay for Life.
A must-see every season, the world famous ZOOperstars! return on Friday, March 14 to entertain children of all ages. Past performers have included Peyton Manatee, LeBronco James, Whale Gretzky, Tim Tebull, and more! They're wacky, zany, and always fun. Check out a video of their past performance in Condorstown,click here.
Internationally-known and a crazy Condorstown fan-favorite, D
ancin Granny will be honored with a unique Dancin' Granny Bobble-Hip Giveaway on Saturday, March 15. The first 2,000 fans, 5 & older, will take home this once-in-a-lifetime giveaway featuring the dancing of everyone's favorite, Cotton-eye Joe lovin', granny!
Keep the bobblehead collection going on Saturday, April 5 with aCondors Player Bobblehead Giveaway for the first 2,000 fans, 5 & older. The player (or players?!) will be announced at a later date.
*Other promotional nights will be announced in the coming weeks.*
**All of the above games start at 7 p.m., doors at 6 p.m. with the exception of the President's Day Game, which starts at 1 p.m.**
See the announced promotional schedule: 
Click here
Pre-order new jerseys: Click here
Download 2013-14 Condors schedule:  Click here
Opening Night Countdown: 39 days; Tickets just $10/month
Don't miss Opening Night when the Condors host the Colorado Eagles on Friday Oct. 18! Queen Victoria, the world famous Condor, will make a special encore appearance and we'll give away 2,000 Angry Birds plush hats. Click here to see all of the great, family fun promotions announced. Ticket packages are on sale now for the 2013-14 season for just $10/month. Click here or call 324-PUCK (7825) for more information.
Best ways to use your season tickets, #53: Offer tickets to your assistant.
For a complete list of 84 ideas you or your business can use Condors season tickets, 
click here
.
https://www.bakersfieldcondors.com/wp-content/uploads/2013/09/2013_09_09_promos.jpg
380
669
condors
https://www.bakersfieldcondors.com/wp-content/uploads/2023/06/BAK-Website-Header_2324.png
condors
2013-09-09 11:05:57
2013-09-09 13:55:49
Dancin' Granny Bobble-Hip highlights promos