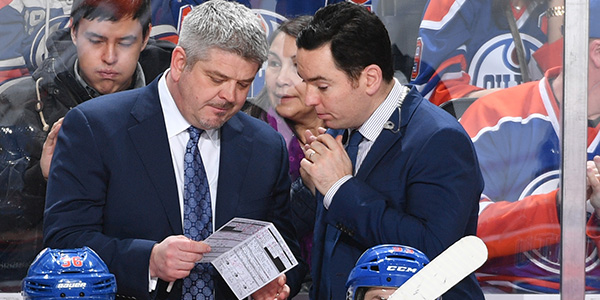 GETTING TO KNOW: JAY WOODCROFT
Jay Woodcroft was named Bakersfield Condors Head Coach on Friday, April 27, 2018 following a 13-year tenure in the NHL with Detroit, San Jose, and Edmonton  as an assistant coach.
He joined Bob Stauffer on Oilers Now (630 CHED) and discussed the opportunity in Bakersfield.
Q: Thoughts on the promotion (and being named head coach in Bakersfield)?
JW: "Super excited about the opportunity in front of me. Earlier this week, Peter had sat down and talked to me about the position. It was a process, but one I'm thankful I went through. Excited about the things that are happening in the organization and my family and I are excited about the opportunity."
"Personally I think it's something that needed to happen in my coaching career. It's an exciting step for us as a family. Organizationally, it is a great time. There is a new wave of young players coming into the organization and it's a responsibility that I take very seriously."
Q: You spent 13 years in the NHL, started as a video coach and worked your way up — assistant coach, associate coach — but head coaching is taking the plunge, it's a different job, isn't it?
JW: "Yes it is. I spoke with both Todd (McLellan) and Peter (Chiarelli) about that topic over the last little bit. There are some different responsibilities. I've been fortunate to work with a coach who's at the top of his field and have had an every day education on how to do it right. Todd is an unbelievable head coach to learn from. Every day was a masters class in human relations, high performance, and tactics. I joke with a lot of my colleagues that I received a PhD at McLellan University."
"He redefined my definition of words like leadership, humility, and empathy. He taught me that successful coaches don't make it about them.  It's about doing it right on a daily basis. I'm very lucky to get that education from Todd and earlier in my career in Detroit with Mike Babcock."
Q: With your experience with Todd, it seems there will be more synchronicity within the organization?
JW: "Absolutely. I think the best path for Oilers prospect development is through Bakersfield. Our relationship will benefit the players and ultimately the organization. There's a set of standards and a way of doing things that I look forward to bringing to this opportunity. At the end of the day, it's going to benefit the young players coming into the organization."
Q: Thoughts on the American Hockey League and how coaches have used it as a path to the NHL?
JW: "I've always had a great deal of respect for how competitive the American Hockey League is. Not just the players that are getting produced, but also the coaches in the league. Most coaches at some point have worked their way through the AHL.  It's a very good league and I'm excited to go there.  I want to maximize the potential of every player."
Q: Your thoughts on the young players, particularly forwards, coming into the organization next season?
JW: "Peter and I talked about certain players that might be in Bakersfield to start the season, but it was just broad outlines. I look forward in the next few days of really rolling up my sleeves and really getting involved along with Peter and Craig in building this roster going forward.  There are a number of prospects coming into the organization or relatively new in the organization. One of the benefits I've had over the past three years is I've been able to see and work with some of these guys in development camps in the summer and training camp."
Edmonton Oilers Head Coach Todd McLellan had this to say on Woodcroft:
TM: "It's an important step for him as an individual. He's been an assistant coach, he started out as a video coach and he's worked his way through. He's been a tremendous asset to me as an individual and to our staff. If you interviewed players one-on-one, they would also echo those thoughts, not only in Edmonton, but going all the way back to San Jose and Detroit. There are a lot of players that have developed real positive relationships with him. It's time for him to branch out and experience the pressures of a head coach. He can take the program we're implementing here and bring that to the American Hockey League level."
https://www.bakersfieldcondors.com/wp-content/uploads/2018/04/Woody_Small.jpg
300
600
condors
https://www.bakersfieldcondors.com/wp-content/uploads/2023/06/BAK-Website-Header_2324.png
condors
2018-04-27 13:56:10
2018-04-27 13:56:28
GETTING TO KNOW: JAY WOODCROFT