HOLTY'S BLOG: A GOOD START
It's a Thursday and a game day in Winnipeg, so this is the first-ever #HoltysBlog game day blog.
You may only read blogs written in the United States, but as I'll remind you, it's my blog and I'll do what I want.
Now for the blog…
– Nice way to start the season with a 4-1 win over Manitoba on Tuesday. Check out the highlights.

– Jujhar Khaira had 10 goals last season and tucked two on Tuesday. He's playing with a ton of confidence and is using his size to his advantage. Last season, he came into his own with Tyler Pitlick on his right side. This year, at least for the opener, Taylor Beck proved to be a nice compliment.
– Kris Newbury, who is 64th all-time in AHL scoring, was signed to a PTO yesterday. He's played nearly 800 AHL games over 14 years and is in the lineup tonight. Rest of the lines below.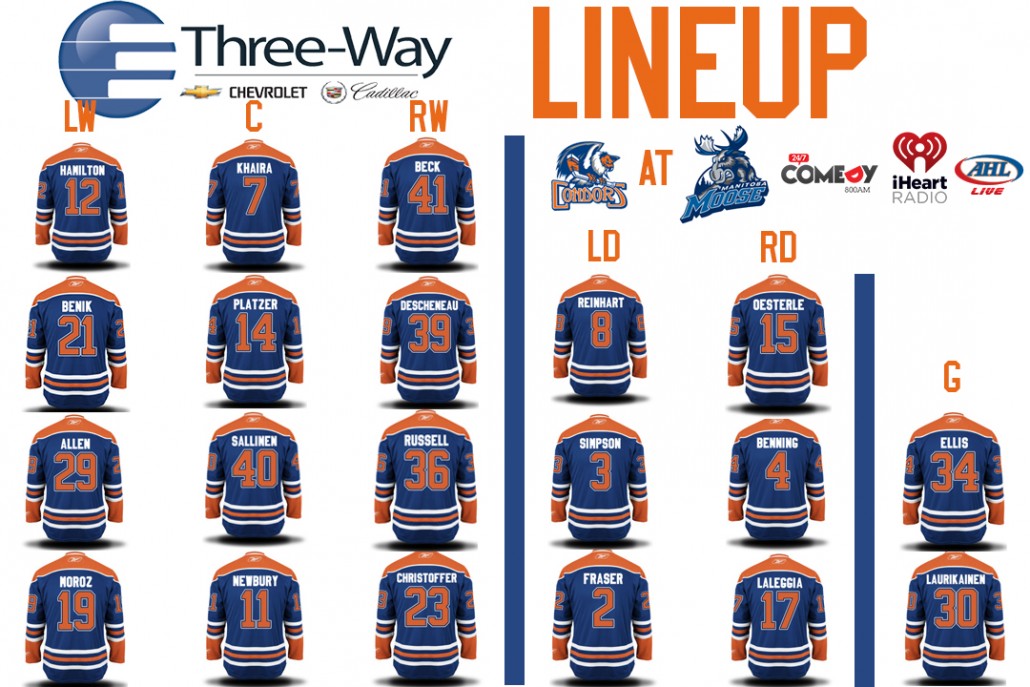 – I said all offseason this team would be good defensively and I thought they came out of the gates well on Tuesday. Rookie goalie Nick Ellis didn't see a shot for the opening 10 minutes and the breakouts were crisp.
– Speaking of Ellis and I mentioned this on the air, he's as quiet in the net as he is off the ice. Just goes about his business and is very controlled in net.
– Craig Simpson will join me on the broadcast tonight during the first intermission. He's part of the Heritage Classic Oilers alumni team this weekend. Craig MacTavish skated with the Condors yesterday as he prepares for the games against the Jets alumni. Reminder that we're on Comedy 800 again tonight with the Dodgers on Fox Sports 970.
– Asked a few of the guys about the home opener on Saturday and while their immediate focus was on the game tonight, to a man, they're excited to play in front of the home crowd. It's been a long week on the road and that will give the team a burst of energy on Saturday.
– Before the game Saturday, from 4-6 p.m. on the plaza in front of the arena, Rabobank will host a BBQ with fun, food, and more. Come check it out and donate two canned goods at any Rabobank location thru Friday and receive a coupon for a free hot dog.
– If you haven't read it yet, Mike Griffith's article on Ryan Hamilton and family in Sunday's Bakersfield Californian is well worth a read.
– Condors Unleashed debuts on Tuesday at 2 p.m. on Bakersfield.com. Dillon Simpson and Gerry Fleming will be the guests and we'll eat Mountain Mike's pizza.
– Cold in Winnipeg? Not as bad as it could be! Had my first A&W Teen Burger for pre-game on Tuesday, so I went back with that today.
– Lock of the week? Denver at home -8 against Houston.
Until next time Condorstown… Enjoy the game tonight
https://www.bakersfieldcondors.com/wp-content/uploads/2016/10/HB_1020.jpg
300
600
condors
https://www.bakersfieldcondors.com/wp-content/uploads/2023/06/BAK-Website-Header_2324.png
condors
2016-10-20 12:24:43
2016-10-20 12:25:24
HOLTY'S BLOG: A GOOD START