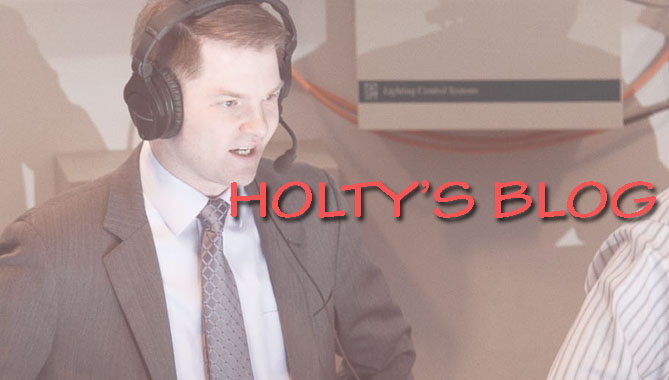 HOLTY'S BLOG: A Memorable Postseason
Hello friends and welcome to another exciting edition of Holty's Blog. It's been a while since we last talked. That's a good thing. It means there was a long season and a shortened offseason, all of which I can get used to in a hurry.
The title of the blog is a little misleading, because the past playoff run was the ONLY playoff run of my short career. I'm not counting Worcester's run in 2010 ended by Manchester (featuring many players on the current Kings squad), because I wasn't paid. Sidenote: that Manchester run was ended by Troy Mann's Hershey Bears.
The schedule for next season came out yesterday. I'm not even breaking it down. To be honest, I want to just skip it and go straight to the playoffs, whatever they look like next season. There are a few proposals being looked at currently and will be voted on at the upcoming Board of Governors meetings in Las Vegas.
With that said, I want to give you my most memorable (not necessarily favorite) Condors playoff moments of this year. Some you may have heard about, most you probably haven't. This isn't "Collin Bowman scoring with no time left" type of list. That's too easy. And as I'll remind you, it's my blog and I'll do what I want. Now for the blog…
5) Chet & The Boys – The Condors had their own Black Aces if you will. They were a group of guys who saw little to no ice during the playoffs, but still showed up ready to work each and every day. During one optional skate late in the year, Troy told "Chet & The Boys" to go out and get a skate in and the name was born, with taped on nameplates and all. They played spirited 3-on-3 games post-practice and morning skates with Murph & Willy and even Edmonton goalie coach Sly Rodrigue. It would be easy for those guys to sulk and bring the mood down, but they didn't. That alone showed how tight this team was.
4) Thurber Scare – Notice I said memorable, not enjoyable. April 19, 2014 we drove the shuttle around 1 p.m. over to see No. 24 at the hospital. I don't think I was prepared for the situation. A healthy kid the day before was all of a sudden in the intensive care wing of a Salt Lake trauma center. I'll never forget that day. I am thankful he is alright first off and even more thankful that 3 weeks later he sent an "Ol Ray Ray is cleared, get me a flight, I'm playing" text to Bartl. True Thurber fashion. (Stick tap to friend of the blog, @GrizzliesVoice, who let us take the shuttle during our stay in Utah. They didn't have to, but they did, and for that, they're one of the best in my book)
3) PuckGate – This is when I knew I loved the playoffs. At practice on May 8, 2014, "someone" on Stockton decided to individually place the practice pucks on their bench. Normally, they are in a bucket and can easily be dumped on the ice. Well, the Condors didn't appreciate that and following practice, "someone" fired them into the seats around the arena causing a minor stink between staffs and such. Bakersfield went on to win the next two games and the series in five.
2) 6,411 – The number of fans in Condorstown for Game 3 of the Western Conference Finals. If I took my headset off, I could not hear Bartl a foot away from me. It was that loud. The videos, the lights, the fireworks, and the energy makes me wonder what it will be like if the team reaches the Kelly Cup Finals.
1) First Class / Team Meals – A combo one, but my favorite one. Team meals have always been a staple of the Condors traveling party, but we certainly splurged during the playoffs. We had team meals in town at Sorella's (Round 1), The Mark (Round 2), and then Ginger (Round 3) in Anchorage.  They were great meals to sit down and spend time as a staff and team. I'll reiterate that these were 30 or so guys who truly cared about one another.
I can safely guarantee that no organization spent more money on team meals than the Condors. It's a testament to the first class operation we have here in Bakersfield in all aspects, but especially the way the organization (including the Oilers), treats the players and staff. As many players said in exit interviews, this is a destination spot for players to come. Oh, and speaking of first class, we flew like kings to Anchorage because they were the only seats left. Probably the first and only time I will ever do that, but it was worth every minute of it. Don't see many other ECHL teams flying the way we did.
Until next time Condorstown…
Ryan Holt, a.k.a. "Holty" just completed his third season as the voice of the Condors and has loved every minute of it. His accent has withered away, which makes his boss Kevin Bartl extremely happy. Follow him on Twitter @BroadcastHolt or shoot him an email at rholt@bakersfieldcondors.com.
https://www.bakersfieldcondors.com/wp-content/uploads/2014/06/2014-06-05-HoltysBlog.jpg
380
669
condors
https://www.bakersfieldcondors.com/wp-content/uploads/2023/06/BAK-Website-Header_2324.png
condors
2014-06-05 09:32:44
2014-06-05 10:07:56
HOLTY'S BLOG: A Memorable Postseason