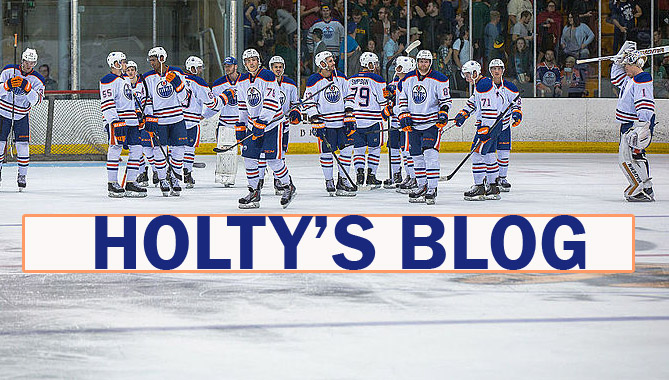 HOLTY'S BLOG: A New Chapter
The Oklahoma City Barons fell, 1-0, in a winner-take-all Game 7 with Utica last night, thus ending their five-year run in the American Hockey League. It was a run that saw the Oilers top affiliate reach the postseason in each of their five seasons, win 40+ games in four of those seasons, and appear in the Western Conference Finals twice. There has been an established success on-the-ice in the AHL within the Oilers organization, something that looks to make a seamless transition when the puck drops in October.
This will be a quick blog since I want to go eat lunch. As I'll remind you, it's my blog and I'll do what I want, but when I'm hungry, everything else is a distant second.
Now for the blog…
Bakersfield becomes the 9th primary AHL affiliate of the Oilers since 1982. Can you name them all? I guess technically, "we are all Moncton Alpines!" Others include the Cape Breton Oilers, Toronto Roadrunners, Hamilton Bulldogs, and of course, the Oklahoma City Barons.
Certainly there is plenty to hash out this summer as we await official word on coaching staffs, jerseys, potential players, and the like, but when posed the question last night after the game, head coach Gerry Fleming offered up this quote to friend of the blog @TheChrisWescott:
"It's sad… but we're going to a city eagerly awaiting our arrival."
Truer words have never been spoken. Condorstown is anxious for the fall to arrive maybe more so than any other year. Every new thing this summer only further intensifies the excitement. Take for instance my morning spent over designing our staff polos which are going to be great. Just seeing the new logo, new colors, and of course new polos, made me excited to get this going.
Condorstown is ready. It's ready to bring to the table what has been built for 17 years and take it to the next level.
To be honest, I don't even think everyone realizes how great this will be for this city.
One final note: the Penticton Young Stars Tournament will be held in gorgeous Penticton, B.C. on Sept 11 – 14. The Oilers rookies will compete with Calgary, Vancouver, and Winnipeg. To give a timeline, this tournament leads into Oilers main camp, then Condors main camp, and the trickle down. Many players in the Young Stars tournament will end up in Bakersfield this season and down the road.
Until next time Condorstown…
Ryan Holt is the Director of Media Relations and Broadcasting for the Condors and enters his fifth season in Condorstown this year. He thinks there is nothing better for lunch than a really good Italian sub. Follow him on Twitter @Condors or shoot him ideas/comments to rholt@bakersfieldcondors.com 
https://www.bakersfieldcondors.com/wp-content/uploads/2015/05/Blog.jpg
380
669
condors
https://www.bakersfieldcondors.com/wp-content/uploads/2023/06/BAK-Website-Header_2324.png
condors
2015-05-21 11:08:48
2015-05-21 11:55:08
HOLTY'S BLOG: A New Chapter