HOLTY'S BLOG: A THREE-PART SUPERBLOG
This may as well be called the SuperBlog, because it combines three of my favorite things: hockey, food, and horse racing.
You may only want one topic per blog and that's fine, but as I'll remind you, it's my blog and I'll do what I want.
Now for the blog…
First: the hockey portion
– Three signings kicked off the offseason this week. As always, bookmark the player tracker here to stay on top of who is headed where this summer.
Welcome aboard! Chad Butcher, Evan Polei, and Dave Gust have signed #AHL deals for this season #Condorstown >> https://t.co/OpLakxPMfJ pic.twitter.com/FJ8nWbkD2p

— Bakersfield Condors (@Condors) May 2, 2017
– The World Championships get underway this weekend in Germany & France. Jesse Puljujarvi will represent Finland and Patrick Russell is with Denmark. The latter scored in a tune-up game against Switzerland this week.
Excited and honored to represent Denmark 🇩🇰 pic.twitter.com/u5s6dyW4i1

— Patrick Russell (@PRussell63) May 3, 2017
– How's this for a picture? Condors Team President Matthew Riley was in Edmonton for Game 3 on Sunday and ran into former Condors captain Joel Broda. He and wife Blaire are expecting their first child in July.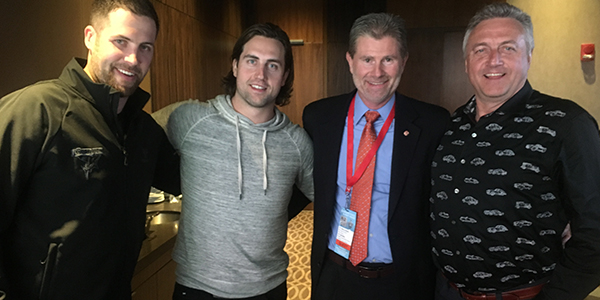 – Game jerseys on sale now! In the online team store. No auction, just buy.
Second: the food portion
We visited two new cities this year, so we have to update the best spots to eat on the road list. Again, devoted readers of the blog know that I enjoy nothing more than a good meal on the road. These five places are either new cities OR a return city, but we stayed in a different hotel. Those are the qualifications to be included. No particular order.
TUCSON: "Hi-Fi" – we watched U of A play their first game of the NCAA tournament here and pretty much ate every appetizer they had. Some of the best nachos around. Lots of bar games as well too which is always a plus.
SAN ANTONIO: "Down on Grayson" & "Boiler House" – again, friends of the blog will recall that I'm not a Riverwalk guy. I think it's a little tacky and way too crowded. Our trip this year though, we stayed further down the Riverwalk in the less touristy area. Popped over to the Pearl Brewery district and found both of these places. Got the Chicarrones and a Shiner at Boiler House and then Down on Grayson had the Chicken Tortilla Soup and the Parm Fries. Really good atmosphere at both places and not touristy, which works well.
CHARLOTTE: "Enso Asian Bistro" & "Sycamore Brewing" – Listen, Charlotte was fun. They're probably headed East next year, so no more trips there, but we certainly enjoyed our time. Not only did the team sweep the Checkers, but the scallops with the edamame mashed potatoes at Enso were awesome. I didn't get to Sycamore Brewing because it was a game day, but I had family in town and based off their headaches the next day, it sounded like a fun afternoon.
MANITOBA – "Joey's" – friends of the blog know I'm not a chain guy, but since this is a Canadian chain and we didn't stay downtown, I'm counting it. I'm big into appitizers if you couldn't tell and the lettuce wraps were perfect before the blue cheese steak.
SAN JOSE: "Mo's…The Breakfast + Burger Joint" – we stayed in Campbell on a quick trip to San Jose. If it was an off day, I certainly would have enjoyed this place more, but as is, breakfast is my favorite meal of the day. No, not brunch. Breakfast. I got the Mo's(t) Amazing Bacon Pancakes. I'd have a picture usually, but I ate them too quickly. Since I ate those too quick, I made sure I got a pic of breakfast in San Antonio…
As a follow up to the previous tweet, I present jumbo crab cake eggs benny. pic.twitter.com/oFgJ9CWUZa

— Ryan Holt (@CondorsHolty) April 6, 2017

Third: the horse racing portion
I can sense the anticipation building for who will get the honor of Holty's Blog Lock of the Week Kentucky Derby Selection presented by Dunkin Donuts. Here's a look back at past results:
2016: Exaggerator (2nd) // Mor Spirit (10th)-Outwork (14th)
2015: Dortmund (3rd) // Materiality (6th)-Upstart (18th)
2014: No blog due to the blog lockout
2013: Orb (1st) // Overanalyze (11th)-It's My Lucky Day (15th)
2012: I'll have Another (1st) // Creative Cause (5th)-Gemologist (16th)
Of this list, only Orb was a favorite, because, as you know, life's too short to bet the favorites.
It's going to be an off track on Saturday, meaning anything is possible, especially with 20 horses. So we need a mudder. Friends of the blog @Joe_Babik & @WillHoenike picked the 15 McCracken (5-1) and @GrizzliesVoice took the 19 Practical Joke (20-1).
Without further ado.
16 Tapwrit (20-1) – grey and loves the slop
15 McCracken (5-1) – the lack of a big-name jockey scares me
8 Hence (15-1) – Steve Asmussen has never won the Derby, but has a win in the mud
Just submit that $2 exacta box, sit back, relax, and well, enjoy a solid Saturday. Remember, scared money don't make money.
Until next time Condorstown…
Ryan Holt aka Holty is the Voice of the Condors and recently wrapped up his sixth season. Yes, it's also his birthday this weekend. Follow him on Twitter @CondorsHolty for more nonsense or shoot him an e-mail to rholt@bakersfieldcondors.com with questions, comments, or blog ideas.
https://www.bakersfieldcondors.com/wp-content/uploads/2017/05/2017_05_04_HB_Small.jpg
300
600
condors
/wp-content/uploads/2022/08/WebSite-Top-Bar-1.png
condors
2017-05-04 10:49:09
2017-05-04 12:58:59
HOLTY'S BLOG: A THREE-PART SUPERBLOG