HOLTY'S BLOG: CATCHING UP WITH COACH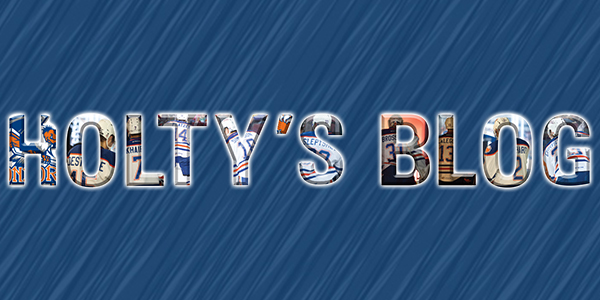 We have a few new staff additions, a new richest former Condor, a catch up with the coach, and a lot more to get to in the blog. So let's get after it.
You may like when I tease things, and that's fine, but as I'll remind you, it's my blog and I'll do what I want.
Now for the blog…
– I've hinted at some new additions to the hockey ops staff for a little bit now, and yesterday the team officially added Derik Johnson and Alec James "downstairs."
The hockey ops staff is set for #Condors20, including the addition of Derik Johnson as a video coordinator >> https://t.co/NVRgiuNV1F pic.twitter.com/U6Zj01KFNi

— Bakersfield Condors (@Condors) August 16, 2017
– Johnson spent the past two-plus seasons in the ECHL mostly and played college hockey at Minnesota-Duluth. He's the son of Oilers Assistant Coach Jim Johnson and will help break down and analyze video with the coaching staff. With the added emphasis placed on video breakdown, advanced stats and the like, it's definitely important to have someone dedicated to that area when compiling reports.
– Stuff you don't get anywhere but the blog: Johnson was a teammate in the BCHL with Joey LaLeggia; LaLeggia had 82 points in 58 games as a d-man that year
– James comes to us from the Inland Empire where he worked for that group down there. He also has a PR degree so that'll be helpful for behind the scenes social media content. We've gotten to know him over the last two years and he was a huge help during the Outdoor Classic weekend. He replaces Nick Lazor who became a head equipment manager at UMass-Lowell a few weeks back.
– Congrats to Leon Draisaitl who became the richest former Condor yesterday with an 8-year, 68 million dollar contract extension with Edmonton.
The #Oilers have signed Leon Draisaitl to an eight-year contract extension with an AAV of $8.5 million: https://t.co/33JNhg5WQb pic.twitter.com/6U7qiKVvWh

— Edmonton Oilers (@EdmontonOilers) August 16, 2017
– I know he wasn't here long, but it was interesting to go back less than two years ago to his first interview here and see the growth; hard to believe he's only 21

– Look for a video later this afternoon with Gerry; the coaching staff is about two weeks out from heading up to Edmonton for rookie camp and then training camp so it's a good time to pick his brain on the offseason
– My biggest questions going into this season? There were many moving parts this offseason, especially at forward with the additions of Malone, Callahan, Rattie, Ferlin, and Downing; how will they all come together and mesh with the likes of LaLeggia, Currie, Hamilton etc? What is the split going to be like presumably with Nick Ellis and Eddie Pasquale? Can guys like Ethan Bear and Caleb Jones step right in and be impactful rookie d-men to compliment the veterans? Could we see a five "forward" power play if LaLeggia quarterbacks one unit?
– If you have a question for Gerry, tweet it to me or shoot me an e-mail.
– Speaking of Ellis, nice article on him in a publication back home in Maryland
Severna Park's @nellis_34, the goalie for the AHL's @Condors, is pursuing his dream of playing in the NHL. https://t.co/suyQadVko8

— PressBox (@PressBoxOnline) August 15, 2017
– Lock of the week? Want to take you back to Boston where the Red Sox just got done sweeping Matt Riley's Cardinals out of Fenway. They welcome the Yankees to town this weekend so let's take them getting two of three from the pinstripes. On another note, this might be the funniest video on the internet currently.
— Jared Carrabis (@Jared_Carrabis) August 16, 2017
Until next time Condorstown…
Ryan Holt aka Holty enters his seventh season as Voice of the Condors. He's open to any and all lunch suggestions. Follow him on Twitter @CondorsHolty for more nonsense or shoot him an e-mail to RHolt@bakersfieldcondors.com with questions, comments, feedback, or blog ideas.
https://www.bakersfieldcondors.com/wp-content/uploads/2017/08/HB_Small-.jpg
300
600
condors
https://www.bakersfieldcondors.com/wp-content/uploads/2023/06/BAK-Website-Header_2324.png
condors
2017-08-17 09:39:18
2017-08-17 09:51:39
HOLTY'S BLOG: CATCHING UP WITH COACH